The Pantone Color Institute has chosen this year's Color of the Year to be Radiant Orchid. The company describes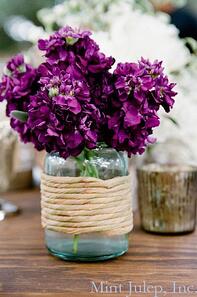 a color that: "...blooms with confidence and magical warmth that intrigues the eye and sparks the imagination. It is an expressive, creative and embracing purple—one that draws you in with its beguiling charm. A captivating harmony of fuchsia, purple and pink undertones, Radiant Orchid emanates great joy, love and health" (Pantone). To hear about how Leatrice Eisman, Pantone's Executive Director, and her team at Pantone decide which colors will be chosen each year, watch this video!
This color may not be the first to come to mind when planning your barn wedding. Why not? Well, it's a relatively brighter color, it's not one that someone may associate with being rustic and it's pinks and purples- may not lend to the masculine balance for some couples. But, we have great news! There are lots of ways to incorporate this unique color palette into your day. The ways to have a bold color is to make it big, or make it an accent. Turn up the intensity or turn it down depending on the style of your wedding. Be creative! Be daring! Be unique! Be YOU.
1. In the fall, a deep purple, falling under the Radiant Orchid color umbrella, is stunning with an orange or peach palette. Maine is one of the best states to come for fall foliage peeping, and having those vibrant colors as your fall wedding backdrop is something that is impossibly duplicatable. Check out these photos by Heather Chick Photography, Weddingchicks.com, and Twobirds Bridesmaids. There are many different shades and hues that fall under Radiant Orchid.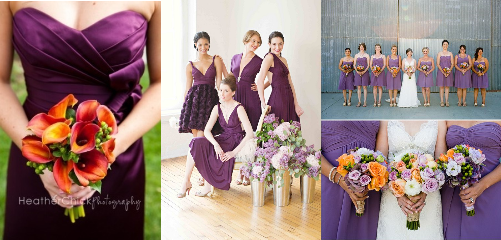 2. Farmer's Tables are a really big trend in the barn wedding world now. They are rustic and functional. They provide a nice area to do a family style dinner, buffet or even plated. Warm and rich in their color and natural grain, and require light accent decorating. No need to cover up something that is beautiful! A Radiant Orchid accent to the table could be very beautiful. Check out these inspiring tablescapes and ideas for your wedding, provided by Style Unveiled, I Do! Romance by SitInMySeats and Tuscan Bride.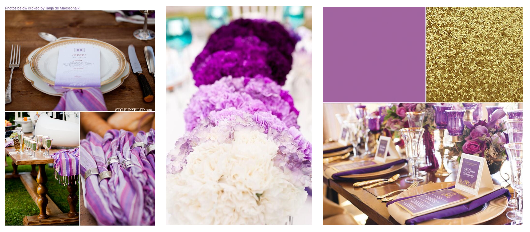 3. Cakes and desserts and everything else! The wedding cake is no longer the traditional frilly, over-buttercreamed, sugary sweet, tiered extravaganza. Most Pastry chefs and bakers are talented in staying ahead of the food trends, offering differnt flavors, colors, decorating techniques, etc. You can have a sculpted theme cake, different shaped tiers instead of the traditional round, flavored buttercreams, flavored and different colored fondant, gum paste flowers, lace, pearls and bling to match your dress. Anything!! (Remember, Maine summer berries fall within the color profile.) The list goes on and on. Have fun with the sweets! Everyone looks forward to it. Even the ones who "don't eat sweets" but always end up eating something "just to try it."

(Photos presented by DiscoverWedding.ru, Weddingomania.com and The Cake Blog)
4. Your stationary and itinerary is the first introduction to your guests of your wedding colors and theme. These components are important for you and your bridal party to stay on track with with the schedule of the day, but more importantly it is going to tell your guests where to go, when, what part of the wedding day is happening next, etc. You can get very creative with your stationary. El's Cards, a Maine-based custom hand-painted stationary company is creating individual works of art for each other their clients. Add color and personal details to really make your stationary your own. Etsy is a great resource to not only find inspiration but to find great deals on hand-made items.

(Invitations created by Citlali, El's Cards and LoveofCreating)
Whether your wedding colors are black and white, red and orange, pink and purple, blue and green, teal and magenta, rainbow and rainbow, the list goes on and on... the purpose of your day is to create memories, laughter, pictures, and special moments that you and your guests will never forget. Enjoy the planning and the day; it goes by so much faster than you could ever imagine.