You know the drill, for the past decade+ now, you visit the bride and groom's wedding website, click
on the link to their registry of choice, then search for some basic, run-of-the-mill household item. And while the fondue set seemed infinitely more meaningful than those red silicone kitchen utensils, it's only a matter of time before the happy couple realizes they don't have enough cupboard space. What happens next? That fondue set they bust out 1-2 times per year (at best) ends up on the chopping block and makes its way to The Goodwill Store. Here are a few reasons Custom Fire Ring, a small family business in Clifton, ME will be the answer on how to give a gift that will keep on giving.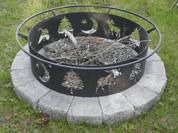 1. Like great friendships, a custom fire ring will stand the test of time
Made from solid steel, a custom fire ring is built to last. Personalize it by adding cutouts which proudly display their new family name, wedding date and other things you know are meaningful to them. You'll surely hit a homerun in the gift-giving department with this approach.
2. Make it memorable
You can give cash, but there's a good chance those funds get lumped together with everyone else who gave money and it'll likely wind up going towards next month's cable bill. And with the ever-increasing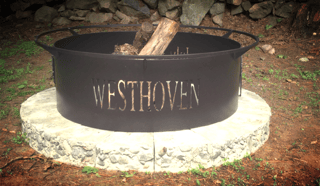 cost of cable, it's possible your gift won't even cover a single month. Even if it does, what are the odds of your friends remembering who helped them pay a Comcast bill which was due on April 23rd, 2016. Giving a gift as unique as a custom fire ring will not only assure you of being remembered, your gift will continuously bring back great memories time and again.
3. Made in Maine
There's likely a very personal reason why your friends chose to get married in Maine, especially if they're not from Maine. Being able to find a handmade, one-of-a-kind gift which is from a place that's near and dear to their hearts will demonstrate your understanding of what a special place Maine is to them. Chances are they have an appreciation for nature as well, and a Maine fire pit wherever they are, will bring back a memory for a lifetime.