Wedding favors are a requirement for any well planned, rustic maine barn wedding. Today, many modern brides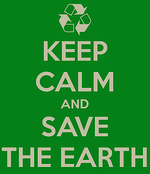 are also concerned with favors that express their personality while reducing the foot print on mother earth. Here are 5 examples of rustic wedding favors for the earth friendly bride.
1. Mini Succulent Pots
Not only are succulents beautiful and rustic, they are now becoming very trendy in the wedding world. You can use them in so many different components of your wedding day and utilizing them in the guest's favor, will carry the memories with it longer than a few Hershey Kisses. Another bonus for utilizing succulents: super easy to care for at home. If you have succulents in your bridal bouquet, you can plant them after the wedding! Click here for some helpfu advice on how to care for succulents. To make these rustic wedding favors yourself, ask your friends and family who have small children if they can save you their baby food jars. Rinse, wash and sterilize the jars before using. Double Bonus for this wedding favor: You can use these as table/place settings. Reduce, Reuse, Recycle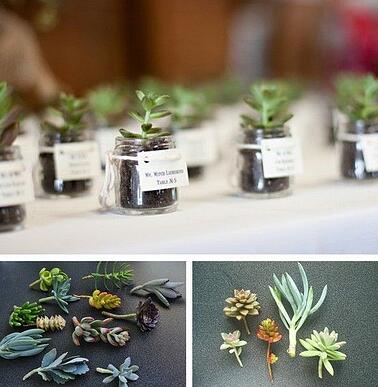 We love this idea for so many reasons. First, you can customize your colors and shapes of your seed papers to match those of your wedding colors. Next, it is so easy for your guests to do at home! All you need is: quality soil, small pot, cup of water and your seed paper. First, fill the pot 2/3 full with soil. Next, water it just a bit. Lay your seed paper flat onto the moistened soil. Finally, cover with a bit more soil and water slightly. Keep in a warm sunny place and water as needed. Voila! More plants on the planet. And lastly, you can get very creative with your favors using the different shapes of the seed paper or seed bombs.

Many trees are cut down every year by large paper mill companies. It's part of life. But offering a seedling to replant in someone's backyard or property can make a little bit of difference and will give your guest the constant reminder of where that tree came from. They will give off a lovely pine scent at your wedding which matches well with a rustic barn wedding.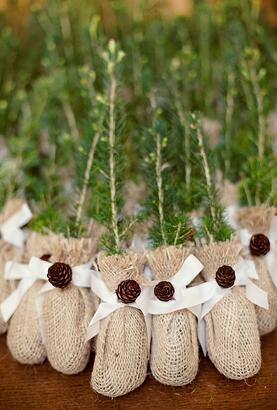 Nothing says "Maine Rustic Barn Wedding" quite like mason jars. We like the idea of utlizing the mason jars for multiple purposes such as securing a straw into the lid with a rubber stopper so the guest will have a cup to use during and after the wedding. Add to that a sticker on the front with the guest's name and table number, and you have a table setting! This is useful when trying to manage costs if you are on a budget.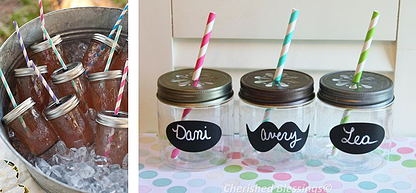 One of the earth's greatest blessings, the honeybee, has been on a quick demise in recent years. Thankfully, people throughout the country are now creating their own beehives to help repopulate the bees. What is great for the bees is great for humans, too! More honey is always a good sign, whether it be on some toast, in your tea when you're sick and even as a favor at your wedding. These can be created by a company or you can save some money and DIY this part of your wedding and add a personalized touch to the jars.