One of my favorite things
to do every year, and it never gets old or boring, is to go apple picking. The peak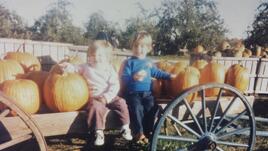 seasons for the different varietals varies; check local orchards ahead of time to find out right from the growers. Apples not only add color, dimension, and delicious scents, they will add function, flavor and will be a nutritional treat for your guests. Now, depending on what time of year your wedding is held will depict the apples available. I specify apples, but if there are other fruits or vegetables that you want to incorporate in the decor, be aware of those peak times of availability. Especially if you will be
picking your own
in western Maine.
Click here
for a guide to common apple varieties and when they're available. Remember, if you are looking for a particular varietal call the orchards ahead of time.
Make it part of your rehearsal day! Add a touch of personalization and some bonding time with your bridal party while you pick apples for your centerpieces or place settings, wedding favors etc. An outdoor adventure with the people you want around most on your big day, is a great way to relieve some stress, relax and get fresh air, and create memories and laughter to last a lifetime.
If you are looking to incorporate Maine apples into your wedding but would rather enjoy different Farmers Markets, we have some places you can visit.
1. Centerpiece
The centerpiece of the table is relatively important. It is what all of your guests are going to look at for the greater part of the reception. It needs to have color, function, flow, and of course match your rustic Maine wedding! Apples give you all of the components your want and then you get to eat them or make applesauce!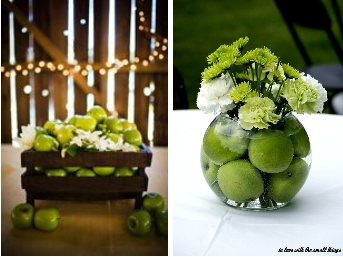 Find out here how to make this a DIY project!
2. Wedding Favor and Interactive Station
Two important components when planning your barn wedding is what the favors will be, that will remind your guests of a wonderful celebration. The second is ensuring those memories with fun, interactive things for your guests to do while you are mingling with your other guests. Having a Caramel Apple Bar allows your guests to create their own, unique wedding favor to enjoy then, or take with them.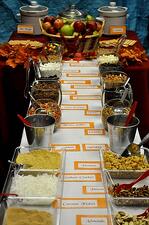 3. Table/Seating Card
Seating cards can be a tricky detail. You want to spend your budgeted money on something to inform your guests as to where they are seated, but you don't want it to be wasteful and forgotten. Apples are convenient for a snack after the reception is over and the food is gone, or for breakfast the next morning. If you have several leftover from the reception, you can make some treats! Applesauce, spiced apple cake, caramelized apples over french vanilla ice cream, apple tarts, apple dumplings... You get the idea- make something delicious! At the same time, use a gift from your bridal shower.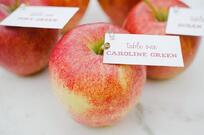 4. Pie vs. Cake
A fun, rustic trend is to serve pie, whether it be in slices or mini individual, instead of a traditional wedding cake. You can offer a wide variety for your guests to choose from and even create your own flavor just for your day. B.Lovely Events has some great ideas if you want to incorporate pies into your wedding instead of cake. Or if you are a bit on the traditionalist side and want a wedding cake, opt for an apple cake instead of the usual flavors.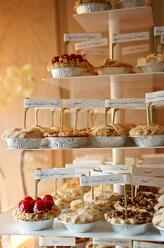 Check out the B. Lovely Blog for other ways to display this treat.
5. Wedding ceremony arbor
I came across a wonderful idea for a fall or rustic country wedding. For the 62% of couples that get married outdoors, you will more than likely need an arbor, arch or frame of some sort for your cermoney. Thanks so much to Emilie Inc. for this amazing photo and capturing inspiration for others.
No matter where you are in "Vacationland", Maine has amazing orchards all over the state, where you can pick your own varieties or get them conveniently at local farmers markes. They are great to have in any wedding or event.