Personalized or customized cocktails are quite the hit at weddings. Generally, these special drinks are served to the guests on the way into the cocktail reception after the ceremony, be the dinner reception.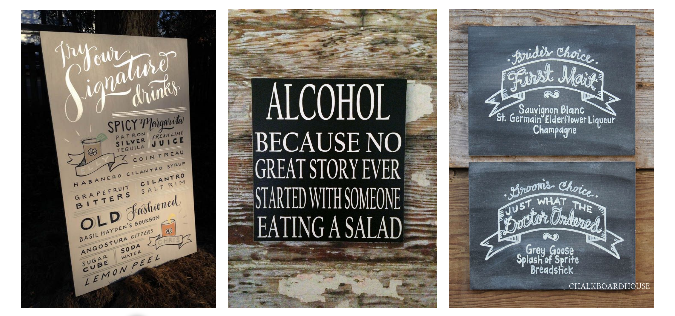 Passed hors d'oeuvres and other savory delights are served at this time. This will keep your guests occupied while you are taking pictures and enjoying the very first official moments of being a married couple. Here are our 7 Favorite Cocktails at
Granite Ridge Estate & Barn
for the 2014 season. Check out our highlighted Maine-made liquors used in some of the recipes!
1. Blueberry Lemonade
This refreshing cocktail is delicious at any time of year. Because of the lemonade component, summer and early fall are wonderful times to have this beverage. Cold River Vodka in Freeport makes a Blueberry Vodka that is just perfect for this drink. It's very easy to make your own lemonade, too. This will cut down on the processed sugars that are in store-bought lemonade. But, if making it isn't an option, we highly suggest using Simply Lemonade. For the Cold River's recipe for "The Maine Squeeze" click on the link and enjoy with friends and family during your wedding day.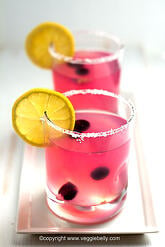 Photo courtest of VeggieBelly
2. Enchanted Tea
A wonderful addition to a summer night is a glass of ice cold tea. After being introduced to the 'Arnold Palmer' (half lemonade, half tea) several years ago, my go-to summer refreshment was quickly updated. Recently, I was referred to the Bridal Guide website and came across the perfect recipe for an adult version. You can use Maine's export, Sweet Carolina Sweet Tea Vodka or their Half & Half Vodka.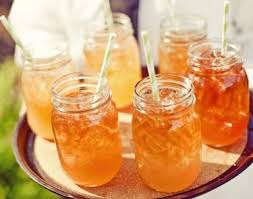 Photo courtesy of Southern Belle Magazine
3. Mojito
Mojitos have the refreshing flavors of mint and lime with a hint of sweetness from a stalk of sugar cane. This beverage can also add a pop of color to overall decor. Change up the flavors from the traditional version with the addition of another fresh fruit, such as grapefruit or mango.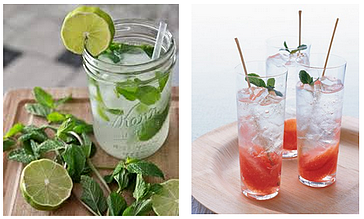 Photos courtesy of Linda Wagner and Martha Stewart Weddings
4. Apple Pie
If you are having a fall Maine barn wedding, a few specific things may come to mind. One of those things might be Apple Pie. I swear my mom makes the best in the world! To get a good apple pie, you need a balance of the apples, sweetness, spices and a tart kick. For an Apple Pie cocktail, it is the same. Use a local apple cider or juice in season for best flavor. Try this spin on an original, for a smaller version with a punch!
5. Customized Martini
The martini is a true American classic cocktail dating back to the late 1800's. There is a variety of ways to order a martini- shaken, stirred, dry or wet, dirty, with a twist. Now, thanks to the amazing skills of talented bartenders, you can have your own martini any way you like. Matching the flavors and colors to your wedding cocktail hour and reception can add a beautiful added detail.
Utilizing Maine blueberries is always a fabulous detail to different parts of your Maine wedding, whether it be in your centerpieces, bouquet and boutonierres, or the cake. Click on the link below to make this tasty custom cocktail from OneMartini.com and you can use Maine-made Cold River Blueberry Vodka.
For the addition of warm colors with a tropical twist, try the Pineapple Upside Down Cake Martini from Contemporary Bride.
Do you LOVE cake?! The wedding cake and/or desserts are a big part of the event. How to get more cake into the wedding, besides having the wedding cake? Put it in a glass! Find out from Drinked In professionals how to get your wedding cake flavor into your custom cocktail.

Photos courtesy of One Martini, Contemporary Bride and Drinked In.
6. QuiQui
This cocktail is quite the tangy treat to enjoy during the cocktail hour and/or reception. With the list of ingredients including tequila, cognac, mango nectar, fresh orange juice, triple sec, fresh lemon and lime juice, you're looking at a beautifully colorful beverage that packs a good punch. Find out how to make the perfect QuiQui here.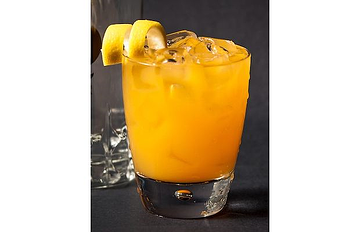 7. Watermelon Lemonade- Non-Alcoholic
Not everyone will want or be able to consume an alcohol beverage at your wedding or event. Make sure you have options for all of your guests. Martha Stewart published a deightfully refreshing cocktail, sans alcohol. For the most fresh version of this, enjoy during the summer when the fruits are in season. Click here to learn how to create a refreshing, alcohol-free beverage for your guests.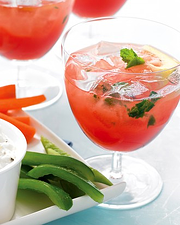 Signs courtesy of Paper Tangent, NotTooShabbyChicHome and ChalkboardHouse.