As the director of Granite Ridge Estate & Barn, part of my job is to connect and network with wedding professionals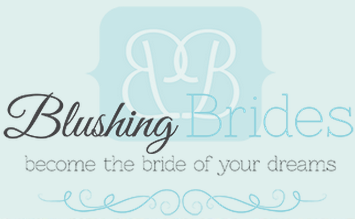 in and around Maine. It is one of my favorite aspects of what I do, because I LOVE meeting new people. And, above that, I love meeting new people that can help our couples have the most amazing wedding experience they can have. I had the pleasure of meeting Grace Mahoney, CEO and Principal Designer of Blushing Brides, at the Grow Brand Camp in October. We have become great friends ever since. Recently, we discussed some of the Do's and Don'ts of Hiring Hair and Makeup Artists for your Maine Barn Wedding. Below, Grace describes what to do and what not to do when picking the perfect fit for you!
1. DO your homework.
" We have the most successful experiences with those who do their research ahead of time.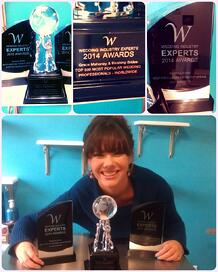 Couples that have checked out our website, photo gallery and especially our testimonials, already have a plethora of information about us and what we do. People can know immediately if we fit with them and their budgets. Hire a team that has their act together, are friendly, helpful, cheerful, and this might sound strange, but use proper grammar and sentence structure. I know- weird right? But, it is important to clients! If you ask 5 questions, you should expect 5 answers in return. Everyone is human and may miss things, but they need to be consistent. READ the reviews! Choose the vendor that cares about you and what you want your day to look like. You can tell when someone truly cares and when you are just another client. "
2. DON'T contact a vendor unless you are excited to work with them
"Seems kind of silly to say or think, but it makes sense! On our website, we ask potential clients, 'How excited are you about working with Blushing Brides?' I truly believe the way you found your 'one' in real life, is how you should find your 'one' in each vendor you choose. You will know if the fit is perfect. If you don't love your vendors, it can cause some issues and uneasiness throughout the planning process. And, as you know if you have ever planned a wedding or event, when you have a thousand other things going on feelings of uneasiness are NOT good. Being excited about the vendor you choose is so important."Check out this review posted on The Knot website!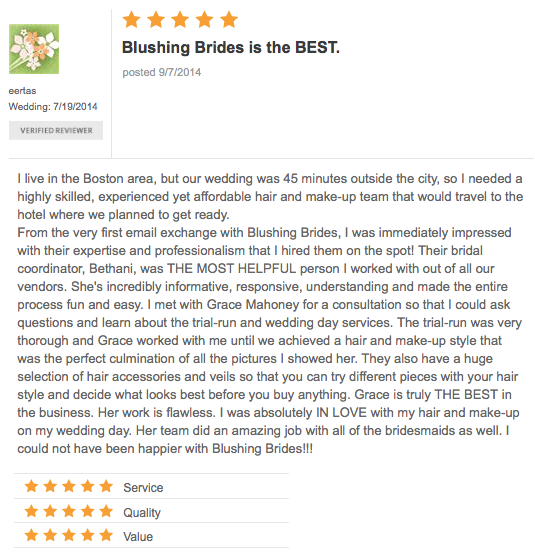 3. DO communicate your vision
"I would say 85% of our couples, mostly brides, come to us saying, "I have no idea what I want. You're the pros, and I want to leave it up to you." This is okay because, as professionals,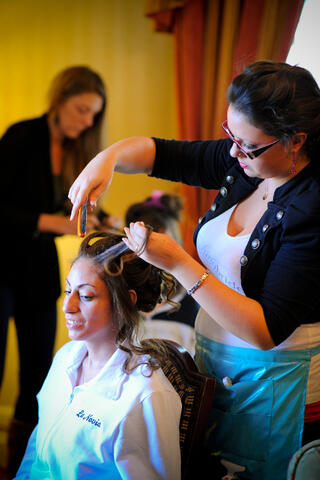 we understand that we need to help create what you have in your mind. If you are a bride with a specific vision and vision for your day, tell us up front! Don't be shy with specifying exactly what you want. If there are multiple parts of your day, tell us! Need to cover up a tattoo? Tell us! Do you love dancing so much that your hair gets messed up everytime? (Because I am totally this way!) Tell us! Not all makeup artists can accommodate what you need. Communication is key."
Photo courtesy of Bharat Parmar Photography
4. DON'T wait until the last moment to book!
"Many couples don't realize that the longer you wait to book ANY vendor, the chances of the good ones still being available are slim to none. At Blushing Brides, we ask that you have your venue picked first before contacting us. We need your date to tell you if we are available. It will also allow us to give you a more accurate quote on travel expense, if there is any. We should be one of the first vendors you choose after the venue is picked. Booking too late limits your options on who you can choose and you also lose out on the relationship that is built during the planning process."
5. DO look for a vendor that does hair and makeup, instead of hiring two seperate vendors.
" Ever heard the expression, 'Kill two birds with one stone?' Well, this is sort of the same thing, but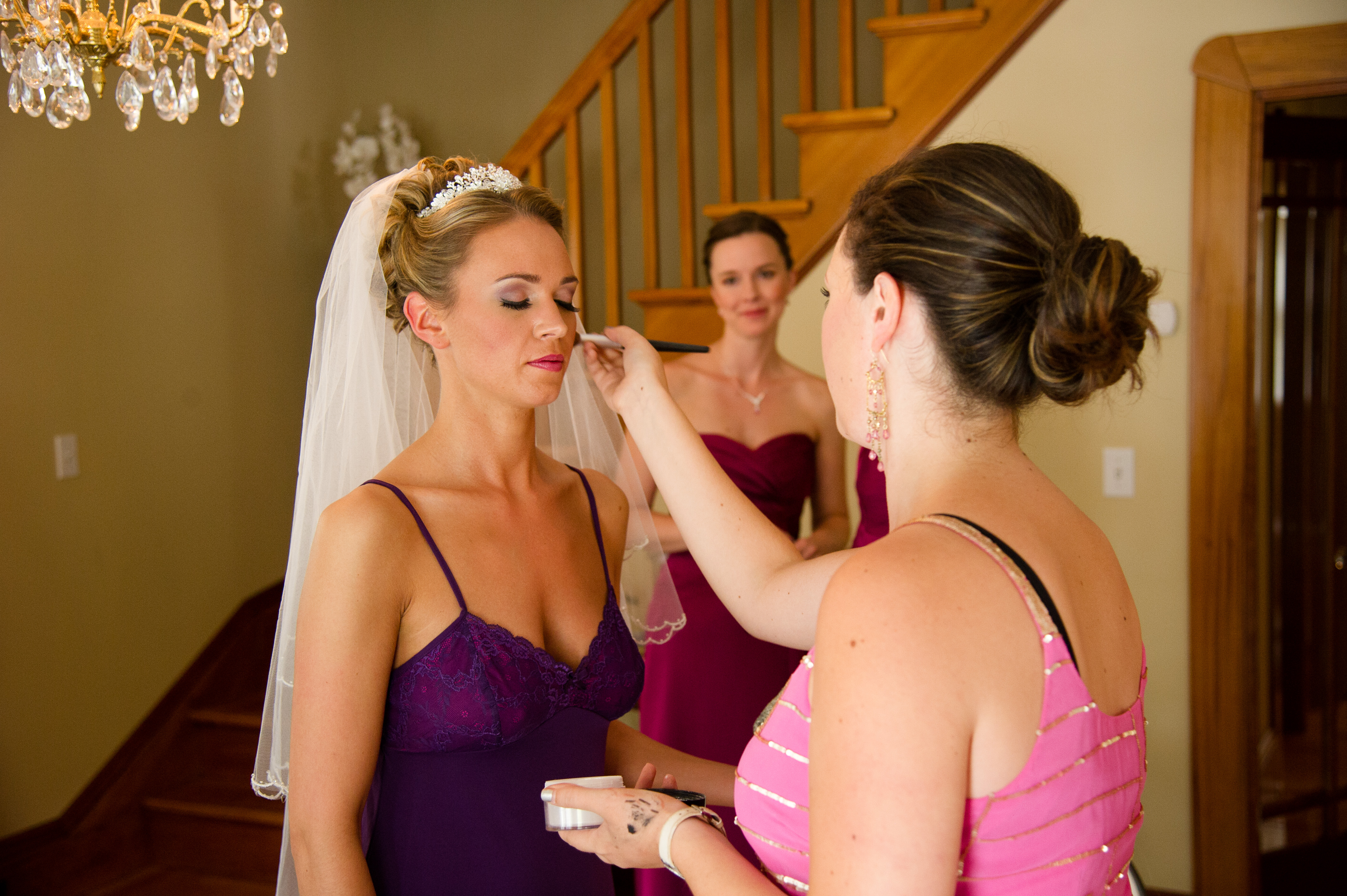 without the violence. I suggest hiring a company that does multiple things for a few reasons. First, it cuts down travel expenses for multiple vendors. And, second, it saves time on communication throughout the planning process. Email can be easy, but they can be difficult to manage. Most importantly, it is the scheduling of the day of the wedding. One company deals with it all for you, instead of having two, three or four companies to coordinate-- simplifying things on the day of the wedding is key!"
Photo courtesy of Tom Gibbons Photography
6. DON'T hire a one person show.
"This is a tough one for me to say because I know a lot of really talented makeup and hair artsits that are a one person deal. And while it may work for some weddings, it may not be ideal for others. Let's say you have 6 bridesmaids, two mothers and one, or two, brides that need to have their hair and makeup done. If the wedding is at 4:30pm, chances are hair and makeup will need to begin early in the morning, probably around 8am. That means the first person to get their hair done will have to wait 8 hours before it's even time for pictures. Yikes! Then, what happens if that one person gets sick, or something happens? A contingency plan is a must. And making one up on the spot for you is not quite the best way to go about it. Having a team of people is not only great for timing of the day, but you will know a contingency plan before the day hits, should anything happen."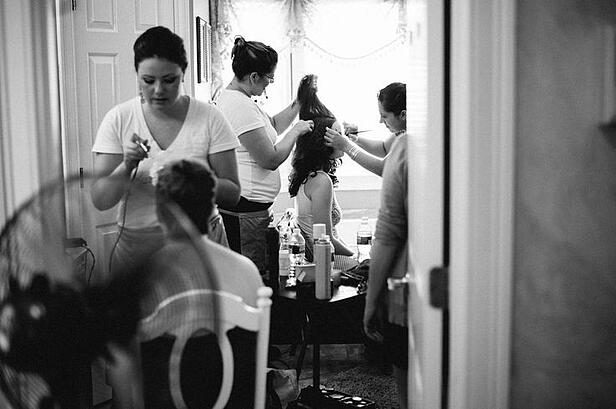 Photo courtesy of Alexandra Roberts
7. DO hire a makeup and hair artistry company that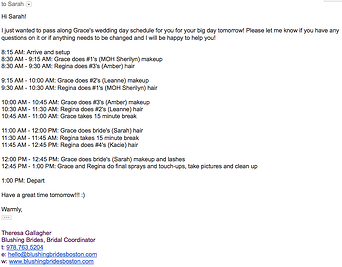 will write out your makeup and hair schedule FOR YOU for the wedding day.
"You have enough to worry about during the planning, let us take some things off your hands. We know the system of what works best and we will go over the system of how it is going to work for your day. We give our clients a detailed schedule, with names and services, so they can follow it. We know how to schedule hair and makeup becuase this is what we do. It isn't the job of a bride, whom more than likely has never had to make a hair and makeup schedule, to learn how to properly create a hair and makeup schedule."
************************
Grace and her team are an incredible group of ladies to work with. Not to toot their horns, but TOOT TOOT! These ladies are getting awards left and right, and are being featured on some pretty incredible places. Check out their awards and appearances below.