We all remember the PhotoBooth at each and every wedding we have attended. How can you forget those silly props and ridiculous pictures you took

with all your closest friends and family? The PhotoBooth has become a staple at every American wedding; after all, some of your guests need a break from the open bar and dancing to YMCA! This photo tradition adds an element of fun to your wedding that your guests have come to enjoy, and even expect. In addition, technology is revolutionizing the way we capture the silliest moments of the day.
What is TapSnap?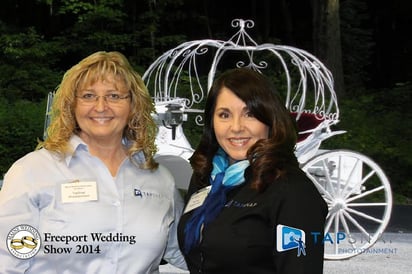 I had the pleasure of sitting down with Pamela, owner and operator of TapSnap in Maine. TapSnap is a mobile, open concept photo entertainment system. With no walls and no ceiling, it is not really a booth at all! TapSnap comes equipped with a 42inch touch screen that instantly snaps your photos. Partygoers have the ability to choose their favorite backgrounds and draw their props right to the screen. What does this mean for the wedding couple? You can customize any background you would like your guests to be featured in. All images can be pre-selected and formatted prior to your big day! It's really that simple.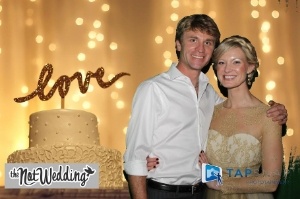 The branding doesn't stop there. Couples can coordinate the TapSnap kiosk to match their wedding theme. Long gone are the days of a bulky PhotoBooth that seems out of place at your venue. Couples often choose to use the TapSnap graphic team to completely brand their kiosk. They can then create several different themed green screens so each picture represents the wedding, theme, and the couple.
Going Viral
In a traditional PhotoBooth, you receive a hard copy of your images to take home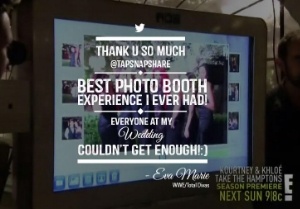 with you. Great! Now what? How do you share these on all your social media networks? "Ain't nobody got time for that!" TapSnap has an integrated marketing application that automates the entire process. From the moment the picture is taken, it can instantly upload to Facebook, Twitter, or Instagram, using pre-selected hashtags. The sharing doesn't stop there. SnapCast allows real-time photos to be shared via a private and unique URL set-up prior to the event. Guests are given access and can upload, tweet, Facebook, or Instagram their TapSnap photos instantly. The images can be streamed on SmartTv's at the venue, in homes for distant family members, and virtually anywhere you can open a web browser. People that couldn't be at your big event can now get live, moment to moment pictures.
You can select to receive a USB drive of all the photos; many couples use these drives as party favors for guests. If you still want the hard copy print in your hand, no problem, you can have all three.
The Wow Factor
TapSnap promises to deliver an added element of glitz and glamour to your Maine wedding Event. They have been featured on Dr. Phil, spotted on the E Channel, and hosted parties for Big Bang Theory and Hyundai. TapSnap has changed the way people view the wedding Photobooth industry and prides itself on delivering a fun alternative that will have guests talking and tweeting for months!
About Pamela Dube
Pamela has been in the service industry for over 25 years. It was her love of watching people laugh and create lasting memories that drove her to open TapSnap in Maine. She loves the happiness and laughter that TapSnap creates among people. Currently she services the entire state of Maine with a focus on weddings, proms, and corporate events. For more information or to book your next event contact:
Pamela Dube | Cindy Gorey
(p) 207-274-9984
We leave you with this epic find of Fauto Piffererr, Vice President of our Catering Company, the Blue Elephant and Pamela.