Lights, camera, action! We had the honor of being in the presence of a world-wide known celebrity. Not only does this celebrity serve as a part of Ohio's Geauga County Sheriff's Office but she also has a very busy acting gig. So, who is it?!

It's Midge! The Guinness World Record Holder for being the world's smallest certified working police dog. This 8 pound gal is just so sweet. She has been featured on news channels, Guinness Records (of course), magazines; one magazine in particular where Midge was spotted (quite the surprise to us!) was Playboy. Yep, Playboy. She appeared bottomless, according to an article released by the Discovery- Animal Planet network. With the official rank of Deputy, Midge is a vibrant 8 year old Chihuahua and Rat Terrier cross breed that has been a certified service dog since the day after her first birthday! She began her training at the young age of 3 1/2 months old and excelled very quickly. She has a very keeA huge bonus for the sheriff's department and local police departments that use her services, is the cost of repair to vehicles is much lower with a smaller canine. German shepards are wonderful police dogs, very efficient in their drug sniffing and bad guy take-down duties, but they can cause a great deal more damage than the little paws of Midge. Don't be fooled; Midge packs a punch. She is sweet as a button but when she puts on her working shirt vest, it's time for work and she knows it.
That's right. She even has her own collectable trading card shared with Sheriff Dan McClelland.
Here is a list on some of the television shows you may be familiar with that Midge has been on:
- Rachel Ray Show
- Fox and Friends
- CNN
- MSNBC
- Geraldo at Large
- Inside Edition
- Many more!!!
Watch a video here about Midge and her life as a police canine!
Midge enjoying a quiet morning in front of the 15 ft. granite fireplace at Granite Ridge Estate & Barn.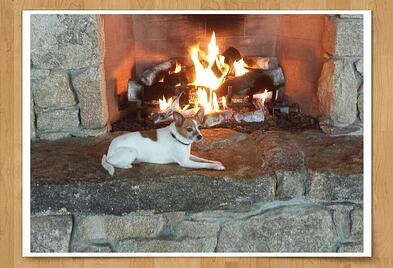 We now are wondering, could Midge be the next great wedding dog? We think YES!