Abby & Dave are a fun loving couple from New Jersey, with ties to Central Maine. Early in the conversation, their strong bond to each other was apparent, as well as the ease in how they made each other laugh. What a great couple to kick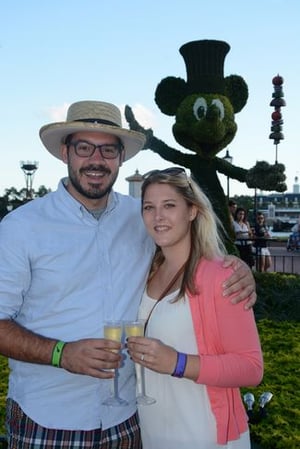 off the 2018 Granite Ridge Wedding Season. Here's their story:
Tell me a little bit about yourselves
Our bride Abby hails from Hamilton, NJ where she is a Social Worker focusing on Children's Therapy. Our groom Dave is from Bordentown, NJ where they both now reside, and is a recruiter for Google in NYC. Both are close with their families, which ties into their current residence. Dave's grandfather build his house back in the 1960's, and Dave spent much of his childhood making memories in that house as he grew up around the corner. His grandparents had a running joke that they would retire to Maine one day, and if that were to happen Dave would buy their house. Well, as the universe would have it, after their engagement in October, his grandparents moved to Maine, and Abby & Dave bought the house. They are planning on making it their own while leaving intact much of the original craftsmanship.
How did you guys first meet?
There is some fun spirited disagreement as to the "official" first meeting. Technically speaking it was St.Patrick's Day 2012 at a bar called Dublin Square. Abby & her friend Lindsey were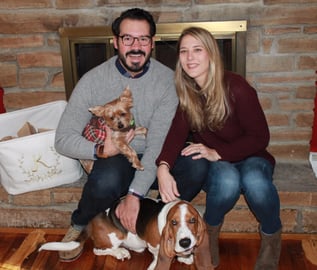 calling Dave by the name "Jeremiah" all night as an inside joke; something Dave tried to block out of his mind. Soon after, Abby saw Dave bartending at a nearby TGI Friday's and almost walked right out the door over the "Jeremiah Incident." Instead she stayed and came back 6 times in the next week, to which Dave eventually sparked a wise conversation with her, saying "hey, you know there are better places you can go?" Soon after that was their first date at the Triumph Brewery. Dave learned right away that he wanted a second date. And that Abby didn't like fried pickles, which he was willing to overlook.
How did you get engaged?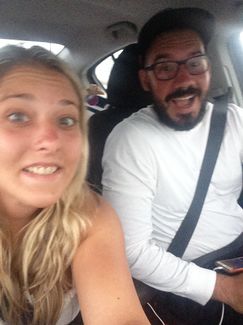 Two of the many things Abby & Dave love sharing together are taking summer trips to see new baseball stadiums, and visiting Disneyland every year. Abby's favorite part is the Magic Kingdom, where Dave's is Epcot, but they can agree that the California Grill is their favorite restaurant. The first year this couple went to Disney via New Jersey it was in the car, a 16hr drive each way, and during their first year dating. Dave recalled, "If I can last 32hrs in a car with someone, I can last a lifetime." He also knew early on that Disneyland would be the location of his proposal. During their 2014 visit, Dave took notice of the incredible views of Disneyland outside the windows of the California Grill in the Contemporary Hotel. During the next year Dave bought the ring and asked Abby's parents for her hand in matrimony. Abby's mom cried, while her father remarked 'bout time." With the table closest to the windows at the California Grill on their 2015 trip, Dave got down on one knee and proposed after dinner, right as the fireworks went off over the Disneyland Castle.
How did you choose Granite Ridge as your Wedding Venue?
Abby and Dave knew that they wanted to have a Destination Wedding with a "relaxed get-together feel." One of their first exploratory trips was up to Maine on Dave's birthday. They had 5 venues in mind to visit and brought their uncle with them who had been living in nearby Lewiston/Auburn for the last 20 years. Granite Ridge was the first location they went to visit. After taking in the beauty of the barn and the views of the NH White Mountains, they were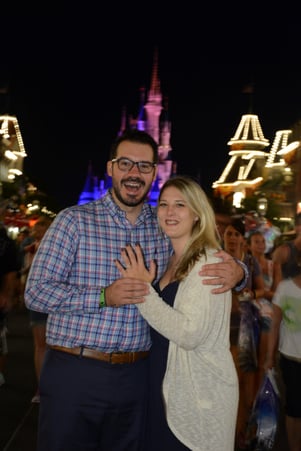 taken aback by the overall atmosphere and feel. On the scenic walk down to the fire pit, Abby exclaimed "I'm not visiting anywhere else, this is the place. I'm more sure about this than my wedding dress." Dave, although thrilled with the venue, was a little more calculated in his decision making, so turned towards his uncle for support to continue their plan of visiting the other 4 venues. To which he replied, "Dave, you won't find anything more beautiful, this is the one." Granite Ridge was the choice.
What is your vision for the Wedding and what Vendors are you most looking forward to working with?
As Abby put it, "we're about the experience, simple elegance vs. frills and distractions." They are looking forward to their ceremony in the wooded wedding site near the barn, with their friend Chelsea as the Officiant, and Brian Callahan in the background on acoustic guitar. For food, Heather from the Good Food Store will be providing a family-style dinner, and the meal will culminate with a Dessert Bar & Ice Cream Buffet by Nothing Bakes Like a Parrott.
Check out Abby & Dave's Wedding Website at https://www.theknot.com/us/abby-foma-and-david-kowalski-may-2018