Recently, I had the pleasure of talking to Caitlin, a Granite Ridge bride we first met back in 2014. She is marrying Brendan, her boyfriend of 8 years. After their engagement a few years ago, they took their time before jumping into wedding planning - but that only means their big day will only be that much more exciting and beautiful!
How did you two meet?
Caitlin and Brendan met 10 years ago while working at a summer camp in Hingham, MA - the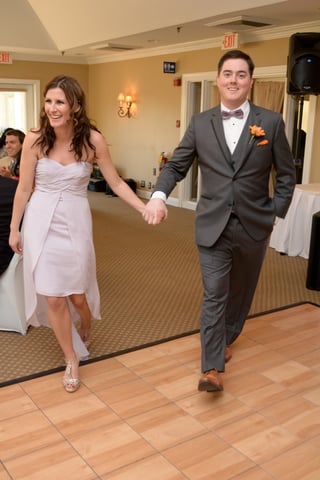 town where Brendan grew up. Caitlin worked as the Director of the Pre-School program while he was the Director for the 6-12 program. This caused them to work together all day, every day - a job they both kept for 7 more years. Caitlin laughed as she explained that her mother was the person who applied to the job for her, making her the only reason Brendan and Caitlin met. They got engaged November of 2014.
How did you get engaged?
This was definitely my favorite part of this story - which in hindsight was tough to choose because there is nothing better than stories where "friends become more than friends." Brendan proposed to Caitlin before a Patriots game. Caitlin comes from a family of die-hard Patriots fans - they've been season ticket-holders for over 30 years, so when Brendan proposed right before going into a game-day tailgate, it was the perfect timing. When telling me this - Caitlin segued into an incredibly relatable anecdote about both her being the oldest grandchild in her family, leading to some high expectations on when she would get married. Brendan, despite being the baby, was still plagued with the same expectations - mainly because they had been together for so long. Here comes my favorite part -The day of the proposal Caitlin was in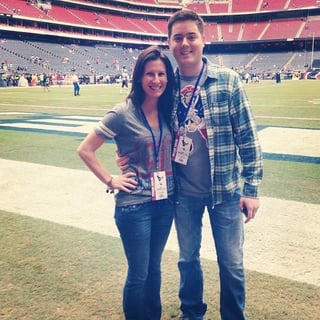 a bit of a hurry. She explained that Brendan had been acting weird, going so far as to burning breakfast 3 times. Caitlin was getting very frustrated because, like the champion she is, she wanted to get to the tailgate already and they were behind. Needless to say, when he finally did propose that morning she was completely shocked. After she said yes, the newly engaged couple then got to spend the day celebrating at the tailgate then the game, where the Patriots won in a landslide victory against the Detroit Lions. Basically her engagement is every New England girl's dream.
What is the theme of your wedding?
Caitlin and Brendan knew they wanted to have a classically beautiful rustic wedding, capitalizing upon the aesthetic of the GR barn and the beauty of the views. Brendan's family has a home in a nearby town with a similar feel of Granite Ridge, so the pair fell in love early on with that rustic, natural environment. Really all Caitlin and Brendan wanted was a night that was going to be an amazing celebration for their friends and family so they focused on finding good food, good booze and good music.
What vendors are you excited to work with
Caitlin and Brendan have had an amazing experience working with their vendors. They also have the luxury of having one of the best DJ's in Boston in the family - aka, Caitlin's uncle! His name is Dave Solimine and his company is called Good Times Unlimited. The vendor the pair is most excited to work with is Fausto from the Blue Elephant, who they explain has been "amazing." They are thrilled and comforted that he is going to be the one who will be there on the day of the wedding. For their photos, they have entrusted Bebe Photography, who has come to the couple with a ton of awesome ideas for the big day. They are planning to have their flowers provided by Broadturn Farms and their drinks provided by the Maine Bar Association.
Why Granite Ridge?
Both Caitlin and Brendan were looking for a location that was both private and natural. When they visited Granite Ridge, they loved the views - particularly the one of Shawnee Peak, a view that they usually enjoy from Brendan's parents lake house (a place that is very precious to them.) One thing that did stand out for the couple was the Fratianne family themselves. Caitlin explained that everyone has been incredibly welcoming and accommodating and they have worked closely with them throughout the entire planning process.