I knew I liked Christine and Josh the second I found out that 1) Christine is a UNH alumni,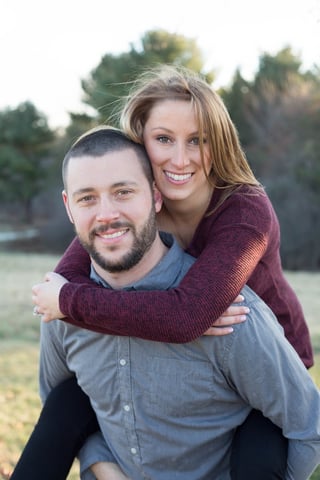 like myself - and 2) They have a pet named Gus, like me! Okay sorry, back to them. Christine and Josh are an amazing, outdoorsy and fun-loving couple that we are BEYOND excited to have here to close out 2016 here at Granite Ridge.
Tell me a little about you and your fiancé
Josh is loud, outgoing, loving, and funny. He has always been so fun to be around and that's why I love spending time with him. Josh is the type of person who will go out of his way to help out his family or friends. He's someone that can ALWAYS be relied on if you find yourself in a tough situation! That's a trait I know will benefit our family in the future. He has already displayed such compassion and love for our lives together by caring for our three dogs Maverick, Ahab, and Gus. These boys can be so much work for the two of us, but we wouldn't change it for the world! Other things we love to do together are camping and four-wheeling with his RzR up on the trails in Northern NH and ME, sampling new restaurants (especially if they have a good beer menu), and traveling. Josh had never been on a tropical vacation before we started dating, but since that time he has developed a love for the adventure and relaxation found on these trips together! We are so excited to start this journey together as husband and wife in a couple short weeks!
How did you two meet?
Josh and I met through mutual friends. At the time, he was working at the same company as Josh Spaulding and Jeremy Seiferth, friends of mine from college at UNH. When they all first started hanging out, I was away for the summer after college working as a nurse at a summer camp so we didn't meet until later on. I think the first time we officially met was when a group of us met up for dinner at Margarita's. From that day on, we found more excuses to get together in group settings whether it was to go out to the bar, make rum buckets and play catch phrase, or even start a dance party in the basement! The rest of the story is pretty obvious considering that we will be getting married in a couple weeks!
How did you two get engaged?
We got engaged on a chilly October day in Rangeley, Maine almost exactly one year ago. Josh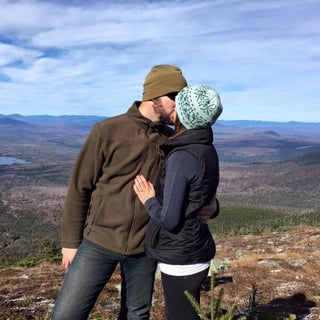 had organized a trip to Rangeley when his best friend Tyler, who is a marine, was returning home on leave from Virginia for the week. Josh, his brother Justin, Tyler, and I drove up to Rangeley for the weekend and planned to hike Saddleback Mountain during the day Saturday to see the end of the beautiful fall foliage. As we neared the top, the temperature dropped rapidly and we even started to see snow and ice on the trees! Determined to make it to the summit, we pushed through the freezing cold temperatures and wind, finally making it to the top! I didn't think anything of it at the time, but Josh kept complaining about how his phone wasn't working right because of the cold and it was randomly dying during the second half of the hike. I just ignored them and kept pushing forward because I was cold and I wasn't going back down without reaching the top! When we finally reached the top of Saddleback, Josh got down on one knee and proposed. In my eyes, this was the most perfect proposal he could have ever planned….and I said YES! Despite the major technology fail throughout the trip, we were able to warm the phones up and capture pictures of that special day with absolutely gorgeous views in the background. The surprises didn't stop there! After returning to the bottom of the mountain we went back into town for lunch at one of Josh's favorite spots in Rangeley, 45th Parallel. The inn we were staying at is connected to this restaurant, so I got very confused when Josh started packing up all my stuff and moving it into the car! Little did I know, he had booked us a room and a romantic dinner at an adorable bed and breakfast on Rangeley Lake called The Loon Lodge. When we arrived, there were roses and champagne waiting for us in the room. We spent the rest of the evening eating a delicious dinner and calling our friends and family to tell them the exciting news!
What vision do you have for your wedding?
For our wedding, we want to have fun with all our favorite people! There is so much work involved in planning a wedding and we don't want to "sweat the small stuff" during that day. We have many people traveling from far distances to be there to celebrate this special day with us, and we want to show them a night full of good food and drinks, great company, and plenty of dancing!
What vendors are you excited about working with?
I know I'm slightly biased, but we chose the most amazing group of vendors! During the planning process, I was adamant about hiring professionals who are seasoned wedding vendors who will ensure a smooth wedding day. By having all of these wonderful people contributing to our special day, we can focus on spending the day getting ready with those closest to us instead of worrying about certain tasks being completed. Our vendors include Harvest Moon Pizza, Downeast Bartending, TAB Photographics, In Bloom Weddings & Events, DJ Pat Tecce, Three Sisters Cake Shop, and One Stop Event Rental.
Why did you choose Granite Ridge?
When we starting looking for a wedding venue, our goal was to find a barn setting that would capture the rustic feel while still being surrounded by a beautiful, natural landscape. Weddings book up extremely fast and we felt pressure to find somewhere right away to ensure a wedding in 2016. I was finding that many places had limited availability and I was getting very frustrated. Once again, Josh saved the day! He sent me a link for Granite Ridge that was listed as one of the top barn wedding venues in the country! We absolutely fell in love with the photos online and booked a visit that night. When we arrived onto the property we knew instantly that it was were we would be married. The views from both inside and outside the barn are absolutely stunning and capture the feeling we wanted for our wedding. I have no doubt that the staff at Granite Ridge will help us have a fantastic wedding day!