The moment I started speaking to this couple, I knew they were going to be a blast to get to know. Both Mandy and Deanna warmly welcomed me into their love story and I was struck by their fun personalities, their energy and their obvious love for one another.
How did you two meet?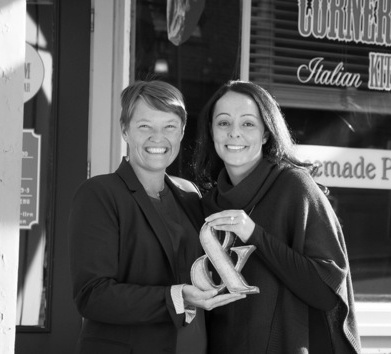 Mandy and Deanna met while Deanna was attending her internship at Maine Medical Center. After Deanna's internship was complete, the pair didn't reconnected until a year later, after Deanna landed a position at Maine Medical Center. The two had worked in the same department and after a few months they felt a connection. They went out for drinks one evening and soon realized they were on a date. It was that night, as Mandy explains, that they both experienced "love at first sight, and both have been inseparable ever since.
How did you two get engaged?
For this story, Mandy immediately passed the torch to Deanna, because according to Mandy, "I was TOTALLY surprised." The couple went on vacation in Montana, as they are nature enthusiasts. They traveled down into Yellowstone national park and stayed stayed at Yellowstone Under Canvas a "glamorous" camping compound, within a canvas tent with beds and modern furnishings. Privately, Deanna approached an employee of the compound and asked where the most beautiful location was on the property. Once she got the location, Deanna suggested to Mandy that they should take a little walk by the river. The sun was setting and the lighting was "perfect." Mandy jumped in at this point, explaining that she was walking steadily ahead while Deanna lagged behind (which apparently is normal, as Mandy is a speedy hiker.) Obviously, she had no idea what Deanna was planning, or that she was nervously seeking the perfect moment. Despite Mandy's haste up the trail, (which I over imagined to be sprinting,) Deanna asked her to stop and come back so she could ask her a question. Mandy somewhat sheepishly described her impatience, attributing it to their day that was already spent walking over 14 miles, ""I kept yelling back being like, "What do you need?!"" Anyway – when Mandy lovingly, but somewhat exasperatedly turned around, Deanna was down on one knee. Both describe the moment as "perfect" with the backdrop of the beautiful nature and unbelievable sunset. When I asked them to describe their relationship, they both laughed immediately as Deanna started to describe Mandy as "very loud." She continued to describe her lady as "wild, spontaneous, outgoing and outspoken," while Mandy described Deanna as "laid back, more the quiet observer and planner." Both agreed that they balance each other out and just by listening to them talk as they answered my questions, I can tell you first hand how much of a true pair these two are. Honestly, they struck me as being not only very much in love, but also simply best friends.
What vision do you have for your wedding?
They were READY for this question. The moment I asked, eagerly, they respond with, "oh YEA we do, we wrote this one down!" I was thrilled by their enthusiasm, but also with their answer, which was; "Pizza, Pie, Beer and Dancing," all of which are their favorite things. They both agreed that they are simply hoping for a night that is fun and relaxed where they can have a good time with friends and family. When they told me the aforementioned theme, I explained to them it was critical that I attend their wedding also, strictly for research purposes.
What vendors are you excited to work with?
When I asked this question, naturally the pair stuck to their trend of being remarkably fun and nice and said "Oh we love 'em all." (THANKS FOR THE HELP LADIES.) Anyway! For their unreal pizza and appetizers, they are working with Harvest Moon from Waldoboro, ME. They specialize in wood fired pizza using organic, farm to table ingredients. They even bring a wood fire oven on-site to cook their fresh pizza pies and appetizers. To capture their beautiful day, they've entrusted Bebe Photography. For their floral decorations, they have entrusted Samantha Emery from Harmon & Barton's Flowers in Portland, ME. Ollo Hair Salon in Portland, ME will be doing all the hair and for music, Mandy and Deanna have chosen DJ Rosetti from Double Platinum Celebrations. For their delicious pie dessert spread, the ladies have selected Deanna's mother – who apparently makes a pie that "is the greatest pie you'll every eat in the whole world." For equipment rentals, they have chosen One Stop Event Rentals. Clearly these ladies have EXCELLENT taste.
Why are you excited about getting married at Granite Ridge?
I loved their answer to this question because when I asked, Mandy goes, "Well why wouldn't we be? It's so beautiful!" The pair further explained that Granite Ridge was perfect for them because they love being in the outdoors and in the rustic, natural mountains (review the proposal story.) They love Granite Ridge because it's a space that's big enough to allow all of their friends and family to come together and be involved with the wedding for an entire weekend.