I seriously think Granite Ridge gets only the BEST couples ever. Jolie and Casey, whose wedding is getting closer and closer, took some time to tell me all about their beautiful love story. We could not be more excited for their big day!
Tell me a little about you and your fiancé
"We're a really active couple," Jolie says in what ended up being a wild understatement. "We are always on the move - we love the outdoors, camping, skiing, snowboarding,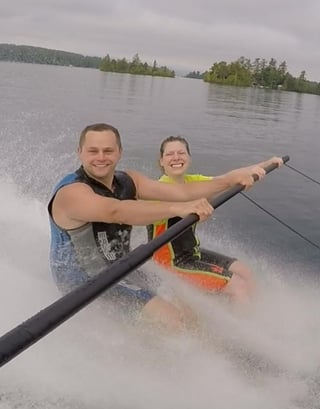 wakeboarding/surfing, water skiing, hiking - you know we have activities for every season." Jolie sort of laughed as she said, "We just haven't stopped since we started dating - we've just had so many adventures and had so much fun - it never slows down." It's easy to tell right away how much love clearly is between this couple. I had barely finished asking Jolie about Casey when she immediately goes "Um, he's just amazing." She got a little more detailed, explaining how passionate he is about his job and how involved he is with their local animal shelter. She described his intelligence, his adventurous nature. Now Jolie - whose kind nature came across immediately - is equally as amazing. Casey would suggest that they are cut from the same cloth, sharing the same values, and says Jolie is outgoing, just as adventurous and probably twice as kind - even if she's started to become a bit of an overachiever during their wedding planning.
How did you two meet?
"Oh you know - the most romantic place on earth - the internet." (Personally I think online dating is such an awesome way to mingle.) Anyway! Although the reason they used the site was because of their busy schedules, Jolie and Casey actually met because timing is everything. While Jolie had gone on a few unsuccessful dates during her time on the site, Casey had been active on the site for just four hours before Jolie stumbled across his profile. "I just had a good, strong gut feeling when I looked at his page and read his profile - I knew he was different." She said she wasn't normally the one to take initiative, but she listened to her instincts and said, "What the heck, you know?" Casey immediately took interest in Jolie because her profile picture was of her wakeboarding. (Why are they so active…) He could tell Jolie was the kind of person who liked to be active and do things just like he did. Casey was, of course, excited to meet her so it only took a couple messaging back and forth for him to ask her out on a date. "From the very first date, both of us felt a connection and a sense of comfort and relief at being together. It just felt right."
How did you two get engaged?
(Naturally, I asked if they had gotten engaged skydiving or doing some other extreme sport.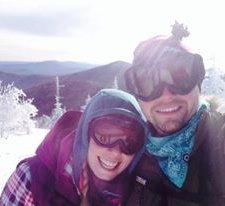 This got a couple laughs.) Jolie and Casey have a tradition of going to the "Boston Ski and Snowboard Expo" every year since they met. That year, the expo fell upon the anniversary of their first date. "I had some suspicion," she said. "He was so worried about what he was wearing! Then I saw him put a bottle of wine in his backpack, so that was definitely strange." After the expo, the pair went around Boston harbor (despite it being frigidly cold,) and sat on a bench, watching the planes. "Casey began to say some beautiful things, dropped to one knee and proposed."
What vision do you have for your wedding?
Both Casey and Jolie love the idea of a "woodland wedding," because they are so outdoorsy. "We just want it to be whimsical and romantic." Casey is also from Georgia, so with the detail of the barn, it gives it the perfect Southern touch while still being in New England, and "truly represents the both of us."
What vendors are you excited about working with?
The couple has loved every vendor they've worked with, starting with Paula and Courtney from A Family Affair Maine - their wedding planners! "They've been so amazing at answering my thousand questions and making our vision come to life!" Caper's Catering, their "delicious" catering company out of Boston will ensure that, "no one is going to leave hungry, for sure!" Their DJ is Sky Music Entertainment. Their photographer is the lovely Hailey Tash and their videographer is Ryan Jennings Creative. They definitely have an amazing team of vendors for their big day!
Why Granite Ridge?
"We found that Granite Ridge was just a great way to bring both of our families together, for more than just one night." They loved that Norway was also sort of a "local destination," allowing relatives to really experience New England.