Back in March of this year, we had our Sneak Peak Event which featured some really great vendors. We were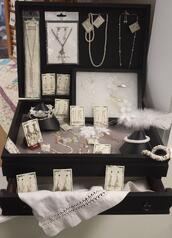 introduced to the wedding world in Maine. One of the best apects of teh events was alloweing the Granite Ridge Team to meet many fellow professionals and business owners that all have their niche within the Maine wedding market. One of our guests at the event was Cathy Murphy, owner of Lively Accents, a hand-crafted, made in Maine jewelry and accessories store. Read our interview with Cathy and find out more about her talents!
Cathy, how long have you been making jewelry?
" I have been creating jewelry pieces for over 20 years. I started fashioning earrings for myself, my mother and my sister. Immediately, I was hooked. I began collecting more and more beads-different colors, shapes and sizes. I continuously experiment with designs, color combinations and now my jewelry includes the use of Swarovski crystals, fresh water pearls and semi-precious gemstones. My creations have evolved from simple designs to intricate wire sculptures."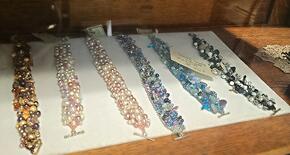 Cathy, you and I have a unique and fun commonality: we both LOVE sea glass! When did your love of sea glass begin?
"While growing up on Peaks Island, I've always been intrigued with sea glass- where did it come from? What was it originally? How long was it in the ocean before it washed up on shore and I found it? In the last couple of years, I've discovered the art of making fashionable jewelry from the sea glass, combining my talent for wire wrapping with the selection of colors to make a one-of-a-kind pendants, earrings and bracelets." We chatted about some of our favorite types of rare sea glass colors and glass that has worn away words from what the bottle was used for or the company that produced it. It's quite the peaceful experience to search for your own sea glass. And, how great to be able to make jewelry out of your treasure hunt! Bring in what you have, and Cathy will help you design your piece and create it."

How can couples add their own unique component to their wedding day?
" To some couples, it is very important to have unique and possibly one-of-a-kind components to their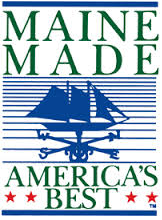 wedding day. One accent on your wedding day that you can be truly unique with is your jewelry selection and not just just for you, the bride or groom, but for your whole bridal party. One of the best parts about living in a small town is having access to some wonderfully talented people, minus the big price tag as some of the larger cities. On Main Street in Norway, Maine, resides a wonderful cluster of small businesses, of varying crafts and industries. And they are growing! New businesses are popping up in the historical storefronts and people in the community are taking notice and supporting these businesses."
Here are some other great ideas and facts.
One precious stone you use is called Maine Watermelon Tourmaline, (Tourmaline is Maine's state stone), which looks like, you guessed it, watermelon! In doing more research about this unique and rare stone, I found a wonderfully comprehensive History of Maine Tourmaline which says, "In the decade following the mining at Plumbago Mountain, Maine gained world fame as the source for the finest quality gem tourmaline in the world. The clarity, richness of color and brilliance far exceed those stones from California, Brazil, Africa and Afghanistan... Maine has long been famous for its unique watermelon tourmaline. This rare combination of two varieties of tourmaline in a single crystal is found elsewhere, like in Brazil, but the finest specimens are found in Maine's Oxford County." Click here to find out how and where you can mine for tourmaline in western Maine and find your own stones! And, as before, if you find a gemstone and would like it turned into a beautiful, one-of-a-kind piece of Jewelry, bring it in to Cathy and she will create a memoriable piece to last a lifetime.

Photos courtesy of KJR and the Lively Accents Gallery
If you are not in the Norway/ Oxford County region, check out these other locations to purchase Lively Accents jewelry. Always support the local artists! Especially for your Maine barn wedding. You can also find more information on the store and what Cathy creates on their Lively Accents Facebook page, as well as on the Maine Made directory.
Retail locations carrying Lively Accents products:
- Center for Maine Crafts, Gardiner, ME
- Land's End Gift Shop-Bailey Island, ME
- Maine Made & More, Augusta, Waterville,Belgrade Lakes
- Nestling Duck Gift Shop-Scarborough, ME
- Remember the Maine gift shop, Wells, Me
- Seaside Creations Bailey Island, Me
- Secret Garden, Oxford, ME
- Stone Soup Artisans,Saco, ME
- The Purple Baboon, Belfast, ME
- West Quoddy Gifts, Lubec, ME
- Museum at Portland Headlight, Cape Elizabeth, ME
As always, Keep Calm and Plan On!