Enhancing Rustic with Luxury
Here are some tips to infuse richness and elegance into your rustic wedding:
Attention to Detail: Elevate your rustic wedding by focusing on the finer details that truly make a difference in creating an elegant affair.
Invitations that Impress: Set the tone from the start with invitations featuring elegant script and a clear dress code. Consider hiring a calligrapher to craft them on specialized paper.
Culinary Excellence: Select a caterer experienced in catering to formal events. The quality of service and presentation will leave a lasting impression on your guests.
Elegant Seating: Choose stylish and comfortable chairs that not only provide seating but also set the tone for your event. They will feature prominently in your photos.
Luxurious Color Palette: Incorporate gold accents, complemented by black and white, along with soft, subtle colors to add a touch of opulence.
Hanging Florals: Create stunning visual effects with hanging floral arrangements, adding a luxurious touch to your rustic setting.
Formal Attire: Dress your bridal party and immediate family in elegant formalwear, aligning perfectly with the overall theme.
Linen Over Polyester: Opt for linen tablecloths and napkins to elevate your table settings, ensuring a more refined look than polyester alternatives.
Bar as a Lounge: Transform your bar area into a lounge space with seating, fostering a comfortable and elegant atmosphere for your guests.
Chandeliers and Candlelight: Add the finishing touches with chandeliers and candles, casting a warm, romantic glow over your celebration.
Expert Guidance: Enlist the help of an experienced wedding planner who specializes in glamorous and luxury affairs. Their expertise will ensure every detail is meticulously executed.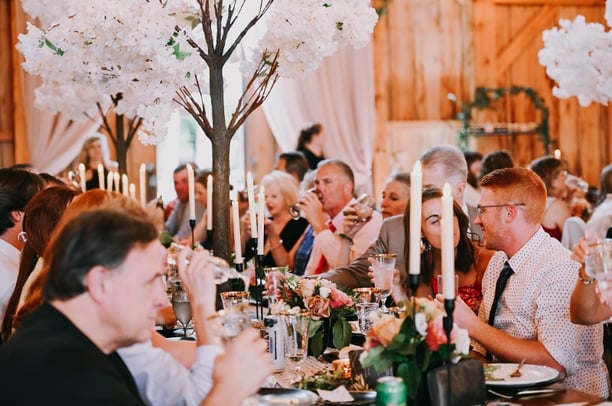 All photos from the beautiful Liberty wedding featured in this blog post are by Kim Chapman Photography. Blue Elephant Catering and Laurie Andrews Design.
Dream Barn Wedding Venue in Maine
Whether you envision a small and intimate gathering or a full-blown black-tie extravaganza, Granite Ridge Estate & Barn in the mountains of Norway, Maine, can accommodate your desires. Let the natural beauty of this blank canvas venue harmonize with your dreams, creating an unforgettable wedding that seamlessly marries rustic charm with opulent luxury. Your search for the perfect barn wedding venue in Maine ends here, where your vision comes to life amidst the beauty of nature and the splendor of elegance.
Have questions for us? Contact us by clicking on the purple button below :)