This fun outdoorsy couple started out as a budding relationship at University of Maine, and are turning that college romance into a marriage in the mountains of Granite Ridge. Here is their story:
Tell me a little bit about yourselves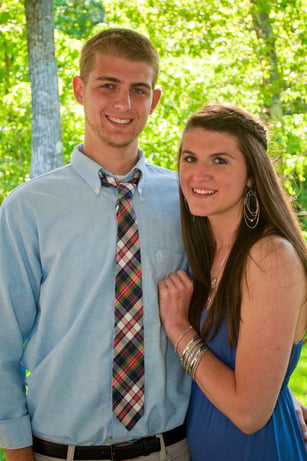 Joe hails from Yarmouth, Maine; he studied Geology at UMaine and now works as an electrician by trade. He loves being outside and is an avid golfer. In fact, they will be having a Golf Scramble at the Norway Country Club the Friday before their wedding. Bethany is from Exeter, NH; she studied Business at UMaine and is now a recruiter for BerryDunn, the largest CPA and consulting firm in Northern New England. Their two Siberian Huskies, Naya & Loki, keep them busy in the outdoors and at their family Lake Houses in Milton NH & Winthrop Maine.
How did you guys meet?
Bethany and Joe met at University of Maine when Joe was a Junior and Bethany a Freshman. The universe was speaking as the only two people Bethany knew at UMaine when she arrived Freshman year both coincidentally knew Joe, one being his roommate! Although this couple can't pinpoint an "official" first date, the SeaDog Brewery in Orono is where they most often enjoyed each others company. They kept the relationship light at first without expectations, although the Newlywed game was played more than once.
Tell me about your engagement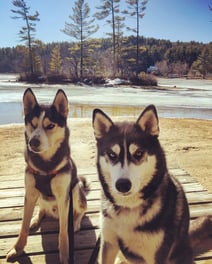 The engagement ring has special significance to their story as it belonged to Bethany's grandmother. Joe wanted to ask Bethany's parents' permission, who were in Florida, before he proposed so in October of 2016 he called them on a Monday asking for permission...with Bethany going down on a trip to Florida with friends to see them just 2 days later! Joe was granted permission, but it was a true test of willpower for Bethany's parents to hide the amazing news! Less than a month later, November 1st 2016, with the ring burning in his pocket, Joe proposed spur of the moment in Portland, Maine. Bethany was blindsided and said YES.
How did you choose Granite Ridge as your wedding venue?
Both Bethany and Joe wanted a long engagement so when they were engaged at the end of 2016 they knew the wedding would not be until 2018. Bethany took the reigns early on the planning, seeking out venues near water given their upbringing on lakes. But, as Bethany said with a smirk, "Fun Fact! The groom had an opinion!" Joe's hope was for mountain views and "when that's what you want, it's tough to look past Granite Ridge." Bethany agreed that "once you walk in, there's no turning back. The view, the set-up, the estate on site, and casual feel from Micki were all contributing factors." Our couple loves the natural ambiance of Granite Ridge, and want to keep the vision for their wedding in-line with that, "simple elegance." There won't be any strong colors as the focus will be on greens, grays, and whites. As a Granite Ridge first, Bethany and Joe will have their ceremony in a space next to the Barn so all can enjoy the views of the NH White Mountains as they say their "I do's."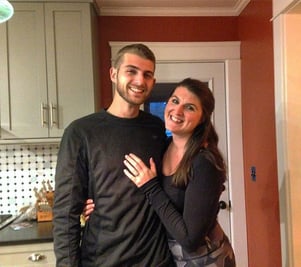 Which vendors are you most excited to be working with?
Fire & Company will be both the caterer and bartending service, which Bethany and Joe are very excited about. They didn't want a "traditional formal meal, but rather a 'fun' food experience." The Wood-Fired Pizzas, salads, and appetizer selections of Lobster Rolls, Tacos, and Skewers are all being met with eager anticipation. Joe mentioned how accommodating they have been to his gluten-free diet. They are also thrilled to work with DJ Kevin Ouellette from Maine. As Joe said, "Kevin's the greatest thing that's happened to our wedding. He jumped right in and took away all our stress." 'Nuff said.
Check out Bethany & Joe's Wedding Website Here