Tell me a little about yourselves:
Christine is originally from Medford, Mass and is currently a Nurse at Mass General Hospital.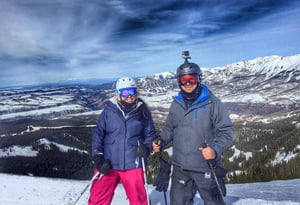 Mike hails from Lynnfield, Mass and is a Police Officer in North Reading. Our couple currently resides in Lynnfield with their Siberian Husky, Storm. Christine and Mike enjoy spending time together in their second home in Northern NH, especially during the winter where they ski at Wildcat & Attitash.
How did you first meet?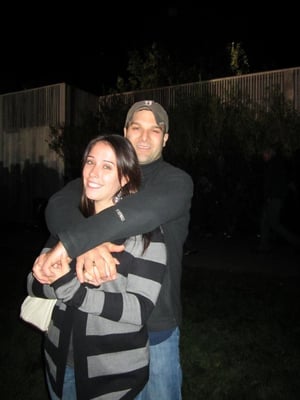 "It depends on who's version," said our bride with a laugh as she started to explain. They were both working at Mass General, Christine as a Medical Assistant, and Mike as the Supervisor of Parking. Mike was always conveniently in the lobby every day when Christine would pass by on her lunch break, and first initiated conversation by asking her name. However, it was Christine who first asked Mike out to go see a New England Revolutions game. Although he could not attend due to a family obligation, he asked her out for coffee soon after. Their first "official" date was the next weekend, which began at the Grafton Street Pub, and unexpectedly ended at Foxwoods Casino. The rest is history.
Tell me about the engagement.
"It's a good story," started Christine. It was October of 2017, and our couple had just returned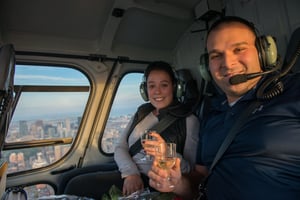 from a 2 week vacation, which included weddings in both California and Florida. Mike was unmercifully harassed by friends and family the entire time, including his mom, about when he would propose. Meanwhile, to no one else's knowledge, he was having the engagement ring made back home. For background purposes, earlier in the year, they had gone on a helicopter tour for Mike's birthday. He picked up Christine from work a few days after returning from vacation, and unexpectedly drove her to Logan airport, citing an exciting 2 for 1 off-season deal for another helicopter tour. For dramatic purposes, Mike had the pilot announce technical difficulties, and Christine was handed a checklist of instructions to read.
Step 7 began "initiate ring engagement process." And over a thousand feet up in the sky, Christine said yes.
How did you choose Granite Ridge as your venue?
Our couple knew they didn't want a "hotel look" for their wedding, and liked a Barn style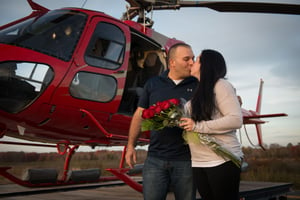 wedding as an option. After they knew they wanted Fire & Co as their caterer, they found Granite Ridge on their website. Upon viewing the photos, they immediately scheduled a tour for Winter 2017. A recent experience at a friend's wedding made them realize how much they wanted to have an entire weekend with close friends and family for their own. Upon seeing the views at Granite Ridge and learning that it included 4 days and 3 nights on a private 200 acre mountain, they booked their wedding 3 days later.
What vendors are you most excited to work with?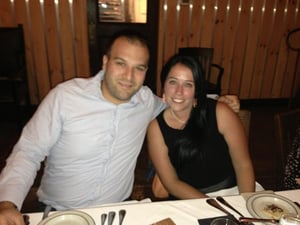 Before the question was fully asked, Fire & Co was the first answer. In fact, Mike mentioned that after seeing their website and talking with the team, they only wanted a venue that Fire & Co would be able to attend. Our couple loved the concept, visuals, and theme that a Fire & Co experience delivers. "We want them to be one of the centerpieces of our wedding," explained Mike. Christine expressed their excitement for their band, Mixology. Mike had wanted a band vs a DJ for their wedding. After hearing lead singer Susie Pepper perform at the Christmas concert at the North Shore Philharmonic, they approached her afterwards, and days later Mixology was booked. This wedding will have food and music for the ages!
You can view Christine and Mike's wonderful wedding website HERE