This fun spirited couple from Massachusetts with a family connection to Western Maine is taking their laughter and love to Granite Ridge. Here is their story:
Tell me a little bit about yourselves
Both Colleen and John hail from Quincy, MA but didn't know each other growing up.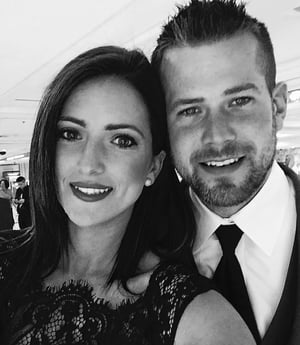 John took his talents in Masonry and Excavation and started Foulsham Corp in 2007, a company he still owns and operates. Colleen received her Bachelors in Finance from Suffolk University, and pursued a career in Real Estate. In addition to her own business, she is the Chief Assessor for the City of Quincy.
How did you first meet?
"That's easy. John stalked me breakfast, lunch, and dinner. It was borderline harassment," quipped Colleen. That takes a little explaining. During college, Colleen worked as a waitress at McKay's, a well known restaurant in Quincy. Although they knew of each other through mutual friends, the relationship only started through John's persistence at her place of work. John admits making the first move by eventually asking for Colleen's phone number, but adds "she gave it to me in 2 seconds; she was clearly waiting for me to ask." Both laughed, and Colleen couldn't deny it. Their first date was at Hingham Beer Works 5 years ago, and the rest is history.
What do you guys love doing together?
Colleen and John adopted 2 bulldogs together, Daisy & Dozer, which occupy a fair amount of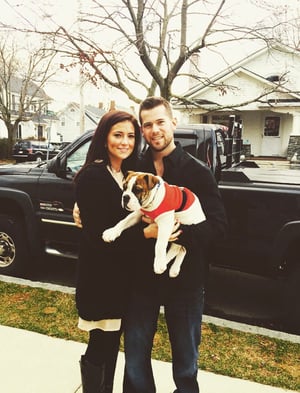 their time. This couple is incredibly handy, and they love doing all types of projects together. In 2015 they bought their first house, a tear-down in Quincy, and are rebuilding it together.
How did you two get engaged?
We were able to decipher the fun flavor of these two from this question. They had just returned from St. Lucia, where according to Colleen "there were so many amazing places and beaches to propose." And the next day John proposed...on Wollaston Beach in Quincy...one year after he had purchased the ring. When asked for the story, John simply replied, "I couldn't find the right time to ask her dad for permission." 45 minutes after receiving the approval from Colleen's dad, on a Wednesday night, John was ready. "Colleen was actually mad at me, so I drove her to get some ice cream, and then drove over to the beach. I couldn't get her out of the truck, so I proposed right inside." Her mood changed dramatically!
How did you choose Granite Ridge?
John's family has had a vacation home in Bethel, Maine for 15 years. During the winter they would be up every weekend skiing at Sunday River, with mountain biking being the primary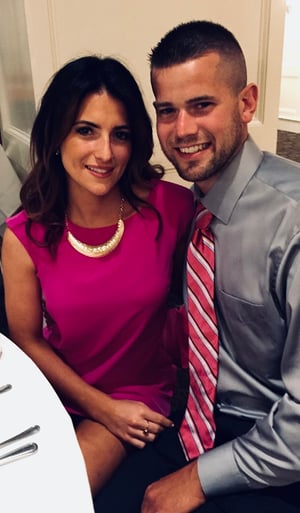 summer weekend activity. Colleen saw early on how special this place was, so Maine was the only state they looked in for wedding venues. In addition to seeing pictures online, Granite Ridge was recommended by a friend who lived in Bethel. Upon arriving, Colleen stated, "within 5 minutes, we knew we wanted to have our wedding here, it was just so beautiful." Our couple also enjoyed that Granite Ridge is a small family operation, and loved the tour and smiling assistance from Micki.
What vision do you have for your wedding?
There will be a unique and special "antique" theme to this wedding. One of Colleen's passions is to antique, a hobby that has taken her and John on pleasure trips all across New England. In fact, her wedding shower was even done in an antique fashion. Colleen & John will be coming up to Granite Ridge a day early just to be able to bring up, and begin decorating the grounds (inside the barn and outdoor), with different special antiques. Of special interest is an 18th Century Saloon Bar that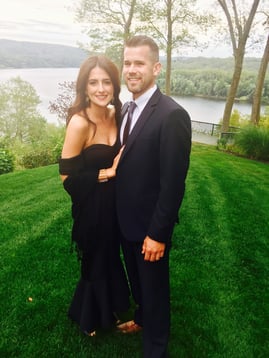 will serve as their wedding day watering hole. Their nuptials will be taking place at Our Lady of the Snows Church in Bethel, and an antique Bentley from the 1950's will be escorting them from the Church to Granite Ridge for the celebration.
What vendors are you most looking forward to working with?
Although they are excited for all of their vendor partners, Blue Elephant stood out. Aside from how good the food was at the tasting, John summarized, "Fausto has essentially been our General Contractor for the wedding. He is a one stop shop who gives real advice, and works his butt off." We couldn't agree more.
Check out Colleen and John's Wedding Website Here