A friendship that began in Rhode Island, and developed into an engagement in California, is now leading to a marriage in Maine. Here is their story:
Tell me a little bit about yourselves
This couple just exudes excitement and a zest for life. Cristina grew up in both Colombia and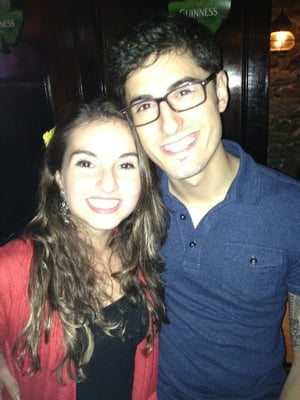 northern Rhode Island. Her passions include travel, restaurants, hot yoga, hiking, painting, and the great outdoors. Stephen hails from Peabody, MA and loves sports and music. He is a musician that specializes in song writing but is proficient in guitar, piano, base, drums, and vocals. When asked what they like to do together, Stephen answered, "Everything, we don't do anything apart." In addition to a mutual enjoyment of concerts, movies, and the outdoors, Cristina & Stephen share a quirky love of the game Battleship. They're currently re-learning their lives together on the East Coast having recently moved back home from California.
How did you first meet?
Cristina and Stephen both went to Johnson & Wales in Providence, RI. Although they didn't have a relationship during their undergrad program, Stephen knew who Cristina was. It was during their MBA program at Johnson and Wales where the relationship sprouted; a friendship began while they both worked at the Radisson Hotel in Warwick, RI. Stephen moved to California on his own to pursue music, while working in the Hotel Industry after his MBA concluded. A year later, Cristina headed to California for beaches and palm trees. Their relationship remained one of friendship for another year, until one night after dinner and a motorcycle ride, they know now in retrospect that it was their first date. Stephen was ready to propose within a month.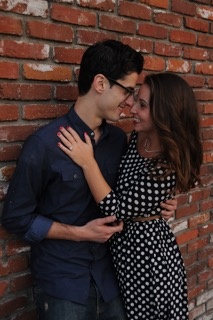 How did you get engaged?
In November 2015, Cristina's parents came from Colombia to visit them in California. Stephen took the opportunity to ask them for their daughter's hand in marriage. For the better part of the next 8 months, Stephen received text messages from his future father-in-law asking when he was actually going to pop the question! In August of 2016, the night before traveling to see Cristina's parents in Colombia, Stephen was ready. He had their apartment prepared with 60 Sunflowers and 150 pictures in a chronological timeline of their relationship on the walls. Cristina walked through this beautiful surprise to see friends, their dog Harrison, and Stephen waiting on one knee ready to propose.
How did you choose Granite Ridge?
As Stephen put it, "We have no connection to Maine, and it was the furthest away venue we looked at, by far." So naturally GR was a fit! They found Granite Ridge on a blog post in December of 2016, and the views and barn windows were enough to schedule a visit. After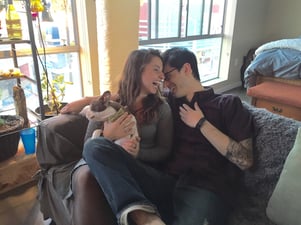 almost booking a venue in NH earlier that morning, they traveled to Norway, Maine. When they saw the property, even in the dead of winter, "we knew we were done looking, instantly" when the barn doors opened. Of special significance was the ability for Cristina's family from Colombia to all stay together at the Estate during the wedding weekend.
What is the vision for your wedding? Honeymoon plans?
More telling about their vision is what they didn't want, a stuffy corporate hotel wedding. Cristina and Stephen are looking for a combination of "Rustic Bohemian" and "Farmhouse Chic." And GR's "Glam Chandelier" certainly helped seal the vision! This adventurous couple will be heading to Thailand for their Honeymoon.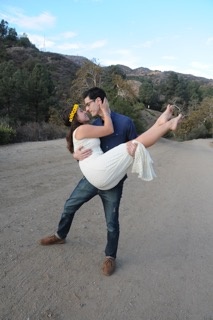 What vendors are you most excited about working with?
The first name mentioned was Jill Drew of the Winey Baker. They loved being welcomed into her home which gave a warm comfortable feel. Our couple mentioned, "the tasting was everything and more, and she was so flexible in customizing product, without compromising its integrity." Brandon "DJ Brando" Morin of FYM Entertainment was also held in very high regard, and as someone who "loves his job more than anyone else we've talked to." He's even proactively listening to Colombian music to be prepared to entertain Cristina's family!
Check out Cristina and Stephen's wedding website here