This Boston couple searched New England & New York to find Maine and Granite Ridge as the perfect location to say their Wedding Vows. Here is their Love Story:
Tell me a little bit about yourselves
Elizabeth is originally from Upstate New York, where she went to college at the Rensselaer Polytechnic Institution. She left for Boston to pursue her Masters and is currently a PA in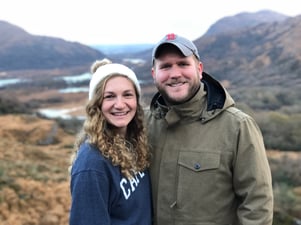 Gastroenterology. Justin hails from Brownfield, Maine and left for Boston to spend his college years at Bentley University. He is currently an Accountant in Boston. Our couple lives in Somerville, MA where currently their "biggest hobby is going to weddings!" When not attending weddings, Liz & Justin love going to concerts, Red Sox games, and visiting Cape Cod, including an annual trek to Wellfleet for their Oyster Festival.
How did you two meet?
August 1st, 2015. Justin lived next to Liz's good friend Dan for 2 years, but it wasn't until the last 2 weeks of living in that location that Liz & Justin met at Dan's annual Burgerpalooza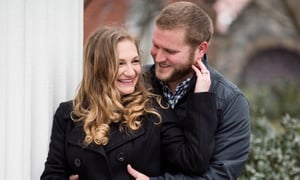 BBQ. Their first encounter was on the cornhole boards where they immediately disagreed about who stood on which side of the board. With both of them having a competitive side, they ended up playing multiple games to determine the real winner (** A winner has still not been named to this day). A few days later, Justin took Liz to the Boston Calling block party in Dewey Square where they learned they liked the same music, could quote the same TV shows, and both researched each other on Facebook before the date. With signs like that, there was no arguing, it was love.
How did you get engaged?
December 28th, 2017. After spending Christmas with Liz's family, Justin told her that he had the rest of the week off from work and was going to Portland on Thursday to visit his mom and sister. As Justin predicted, Liz then decided to visit her brother's family in Sudbury, MA where her parents were also visiting. Liz did not inform anyone that she was leaving earlier than planned, and with Justin attempting to arrive before her, he actually spotted her car ahead of his Uber on Rt. 2. It was a balmy 5 degrees outside, but Justin had to wait down the street until receiving word that the coast was clear. Upon arriving, Liz was "encouraged" to go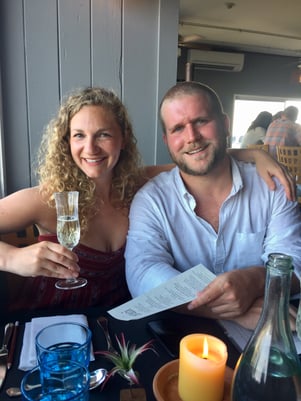 upstairs to play with her niece. After just getting comfortable, she was then asked by her sister-in law to grab a few things from downstairs. On her attempt to get downstairs, her brand new Smartwool socks betrayed her, sending her flying all the way to the bottom! Justin sat around the corner frozen, hoping she wasn't hurt but not wanting to ruin the surprise. With minimal injuries (just a few nice bruises), she continued into the living room, where Justin sat in front of the fireplace with Jack Johnson playing. Liz turned the corner to see him, feeling both happy and confused. Reading her expression, Justin said, "I didn't go to Portland, I actually needed to ask you something." The conversation ended with Liz saying YES!
How did you decide on Granite Ridge?
Liz & Justin were looking throughout New England and New York for a venue. Some of the items on their list were a rustic feel, a barn, great foliage, and mountains. "We didn't think we'd get everything on our list until we saw Granite Ridge," said Liz. Justin remarked, "The windows of the barn are incredible. Even if you were forced inside the entire time, it's still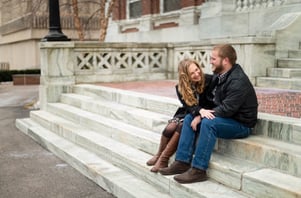 such an amazing view." The weekend experience with friends and family at the Estate is what sealed the deal. They knew they wanted a Fall wedding, ("Justin runs warm," joked Liz), so with one wedding weekend still available on the Granite Ridge calendar, they booked it the next day. Liz's bridesmaids will have burgundy as their color to match the rustic feel of the venue, with wildflowers and sunflowers added as accents. Before our conversation ended, Justin said, "We have to come clean on something. We had our tour, and booked Granite Ridge before we were engaged. We used a friend's engagement story when Micki asked us ours." We loved hearing this, what a fun compliment!
What vendors are you most looking forward to working with?
Liz and Justin chose 111 Maine as their caterer and bar service. Our couple liked that they are small and family owned. The incredible pictures, great reviews, and conversation with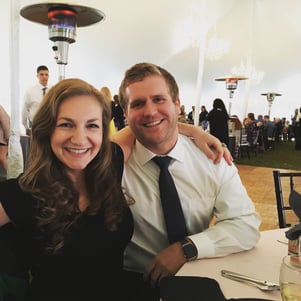 Jennifer all contributed to their selection. They can't wait for their upcoming food (and wine) tasting at Jennifer's house. Liz & Justin are also very excited to work with their photographer, Bella Wang. Her incredible reviews online, great website, and being located near our couple helped them choose her as their photographer. Liz remarked, "Bella is such a sweetheart. We love her style, she has such interesting and creative photos. We already had our engagement photos with her, and they came out great." We can't wait to see how Bella captures this wedding later in the Fall!
Check out Liz & Justin's great wedding website HERE