This enchanted story began in Maine as childhood friends, traveled the eastern seaboard as it developed into a relationship, and then returned home to Maine for the engagement, and upcoming marriage. Here is their love story:
Tell me a little bit about yourselves
Both Ellie and Derek are from neighboring towns in Maine, Ellie from Hebron and Derek from Waterford. Their friendship began at the same middle school, then same high school at Oxford Hills, and later the same college at University of Maine Orono. Their stories then diverged for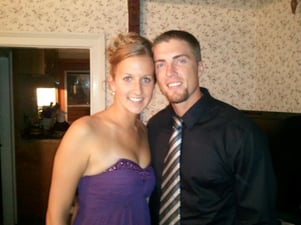 some time. Ellie stayed at UMaine for Grad School specializing in Speech Pathology, and then left for the ocean and warmer winters in North Carolina. Derek was offered a job soon out of college at PC Construction, a company specializing in water treatment and construction across the East Coast, that took him to Virginia for 6 years.
What turned this friendship into a relationship?
"Ellie liked the way I looked at the gym," was the immediate response from Derek. To which Ellie laughed, but couldn't deny it! In fact, about 7 years ago, they were both at home in Maine, not having seen each other since college, and were working out at the same gym. They went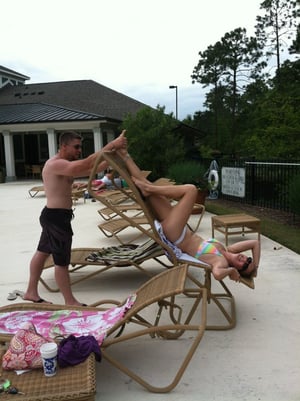 out that evening to celebrate New Years Eve, and shortly after midnight was the first kiss. Their first official date was over ice cream the following day, and that immediately led to a long distance relationship between North Carolina and Virginia for 8 months. Ellie eventually moved to Virginia to be with Derek, where they bought their first home together. Ellie opened Tiny Toes Therapy for speech pathology, specializing in children with Autism. About a year and a half ago, they heeded their call to move back to Maine, and moved into the house that Ellie grew up in Hebron.
How did you get engaged?
Ellie's family has a Camp on Prince Edward Island. It's tradition for about 40 family members to go up every year to celebrate over a lobster bake. Knowing how special this place is to Ellie, Derek knew he wanted to propose to her there...but he needed some help. Ellie's mom, known for not being able to keep secrets, was relied upon to secretly receive the engagement ring that was being designed and shipping from California. To increase Derek's anxiety, the ring was
delayed and only arrived to Ellie's mom the day before they left for Camp. Once arriving at Prince Edward Island and securing it in his pocket, Derek took Ellie for her favorite walk along the ocean. She was nonchalantly picking up sea glass, when she turned around and saw Derek on one knee. Ellie began balling in joy, and neither of them remember what was said.
What do you two love doing together?
We are so glad we asked this question! Derek and Ellie love hiking. In fact so much so that they are trekking the 100 mile Maine Wilderness Hike 3 weeks before their wedding. And
then, after braving Knife's Edge, they will be saying their vows at the top of Mt. Katahdin! Ellie's cousin Dave, who is notarized, will be marrying this adventuresome couple, while each of their brothers will be there as witnesses. The rest of the guests will have to wait until July 7th.
How did you choose Granite Ridge?
Ellie, the picture of organization, had a spreadsheet prepared for all venues they planned to visit, with Granite Ridge included on the list. Ellie's cousin Scott has a neighboring house to GR and urged them to take a look while there was still availability. As soon as they arrived Ellie says "we both immediately fell in love with it." They included the lodge, views, barn, atmosphere, and ambiance on the "amazing" list. Also of importance was that Granite Ridge did not require exclusive vendors, and included bathrooms in the barn to avoid the need to order porta potties.
What vendors are you most looking forward to working with?
Ellie and Derek are excited to work with their photographer, Sarah Gagnon. They referenced her gorgeous photos, and reasonable pricing. Of particular interest to them is her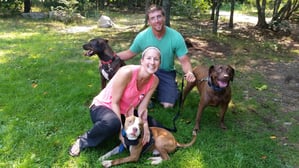 photographic creativity, especially in sparkler photography. For the meal, our couple can't wait for everyone to experience Smokin Dave's BBQ. Ellie & Derek's love of barbecue took shape in Virginia, and they firmly believe Smokin Dave's is the best Maine has to offer and can compete with any southern BBQ! We can't wait to sneak a taste!
Check out Ellie and Derek's Wedding Website Here:
https://www.zola.com/wedding/eleanorandderek