This creative couple is bringing their happiness, quirky passions, and "nerdy conversations" to Granite Ridge for what will be one of the most unique and fun weddings we've ever had. Here is their love story:
Tell me a little bit about yourselves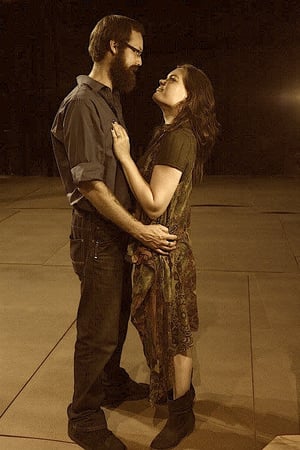 Emily is originally from the Topsham/Brunswick Maine area. She followed her passion for Dance to Virginia where she attended Randolph College, and later switched her focus to Theater. After a brief stint in Philadelphia, Emily moved to Vero Beach, Florida for a career opportunity. She is now the Assistant Technical Director for the Riverside Theater. Jeremy grew up local to Vero Beach, and spent 4 years each in the Air Force and Marine Corps. His career and travels took him across the USA and various foreign countries, but eventually he felt the pull to move back to Florida.
How did you two meet?
The first time Emily and Jeremy met was at one of their mutual Vero Beach hang outs, The Stamp. Neither had a plan of meeting anyone at this local's bar prior to arriving. Emily had just gotten out of a 12+ hour day of work, and was covered in saw dust and grubby clothes. They sat next to each other and after half an hour of awkward glances and silence, Emily started the conversation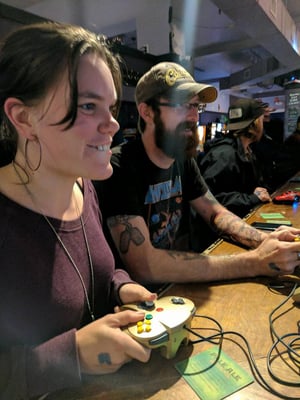 with, "so do you come here often?" Jeremy loved the cheesy line and they hit it off. They stayed in contact after that night, but it wasn't until a month later when work calmed down that they were finally able to meet up again. Jeremy earned the title "The Boy Who Waited" (Doctor Who joke) and they have been together ever since. In their spare time, our couple can be found relaxing at home with the kitties, watching Doctor Who, Supernatural, and Criminal Minds.
How did you guys get engaged?
This question was met with laughter from both of them, and then Jeremy took the lead on the story. Nearly two years into dating, Jeremy had already purchased the ring and called Emily's mom and brother for permission. On December 23rd 2016, Jeremy had it all planned out in their apartment. He had their song, Green Eyes by Cold Play, playing in the background and was ready to deliver the speech he had spent countless hours preparing. Approximately 10 words in, Jeremy blurted out "will you marry me?" Emily responded by breaking out into laughter and asked "are you serious?" Knowing Jeremy's unique sense of humor, she literally though he was playing a joke on her. Once it sunk in that this was real, she wrapped her arms around him and wouldn't let go for an hour. It made Emily's first Christmas in Florida two days later that much more special.
How did you choose Granite Ridge?
Emily knew the wedding would be in Maine because "that's where my heart is." She also knew she desired a Barn setting. They looked at 9 different venues, and fell in love with all of the Granite Ridge mountain pictures online, but "when we pulled in...oh my gosh...it was love at first site." Jeremy added, "Emily just started beaming, giggling, and jumping up and down.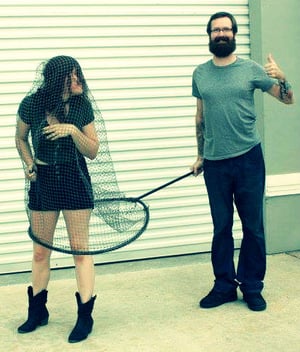 Her eyes were so big you could have seen them from the moon! The pictures just didn't do it justice." Granite Ridge having a newly built barn (2014) versus a converted older one was a positive factor. Our couple also loved that they had a 200 acre mountain to themselves for 3 days and nights, instead of being right in the middle of town.
What is the vision for your wedding?
Now this is exciting. Emily & Jeremy will be bringing an Alice in Wonderland and Doctor Who themed wedding to Granite Ridge. Emily always loved Alice in Wonderland as a childhood story, and had played the role of Alice in theater on a few occasions (she credits her formerly long blond hair). She's read all of the side-stories, like "Through the Looking-Glass," loves the wood block print look, and even has some Alice tattoos. Jeremy has an equaled passion for the British Sci-Fi show Doctor Who. Jeremy feels the show has amazing values, and at an early age taught him a great perspective on life. When Emily got right into the show during their courtship, it immediately brought the relationship closer. Their house has a Dr. Who theme and our couple quotes the show on a regular basis in their everyday language with each other. Jeremy has some Dr. Who quotes tattooed on his body, including a special one about him and Emily.
What vendors are you most looking forward to working with?
Affordable Events was raved about based on their Rustic Package with Farm Tables, as well as the amount they were willing to customize and work with them on their theme as well as color scheme (Emily being green, Jeremy blue). Of noted importance to Emily was a special black watch plaid fabric print, that although wasn't an item in stock, was still tracked down and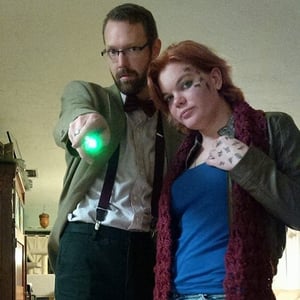 secured by owner Scott Mondor. Jennifer Banis from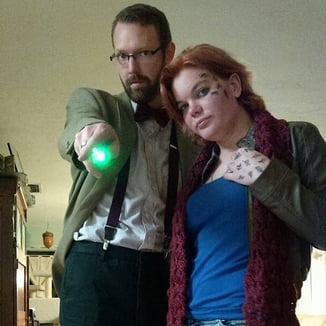 their Caterer 111 Maine was a great help in answering not only specific food and bar related questions, but also helping with the overall wedding. Emily mentioned, "they have been so professional, but I could also just talk to them for hours because it felt so casual and comfortable." Jeremy is excited for their tasting in May as he thought they had the best food menu available. Emily is especially excited for the flowers being arranged by her sister-in-law Mary Ellen LaFreniere of Steel Cut Flower company. The Granite Ridge team will certainly be studying up on Alice in Wonderland and Doctor Who to be prepared for this special wedding!
Check out Emily & Jeremy's Wedding Website Here:
https://withjoy.com/doctorpluswonderland/tidbits