These light-hearted high school sweethearts are taking there shared joy of the outdoors to a wedding in the western Maine mountains of Granite Ridge. Here is their love story:
Tell me a little bit about yourselves
Both Emma & Luke are originally from Maine and shared their college experience at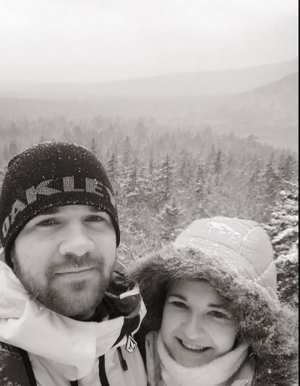 University of Maine in Orono. Emma hails from Southwest Harbor, a beautiful seaside town near Bar Harbor. She had a horse growing up, and being a member of the Dressage Team was part of her draw to UMaine. She studied Anthropology and Spanish, and has worked for Wayfair since September. Luke grew up in Milo, and chose UMaine to pursue a career in Kinesiology and Physical Education. His career has brought him back to him hometown high school, Penquis Valley, where he teaches Physical Education, Health, and Outdoor Education.
How did you two first meet?
Our couple met junior year in high school 8 years ago, but they went to different schools. The connection took place when Luke's older brother began dating a girl who was friends with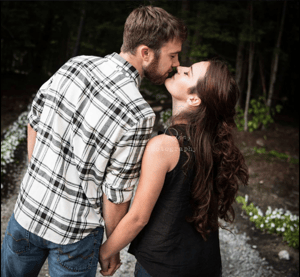 Emma's older sister. What started as a social media friendship soon turned into a first date at the Bangor, Maine Cinema. A mistake in movie times turned what would have been the viewing from Sherlock Holmes to The Lovely Bones, not exactly text book first date material! The date went well enough for Luke to ask subsequently her to the Winter Carnival, a dance at his high school. Soon after, these two were inseparable.
What do you love doing together?
The outdoors is Emma & Luke's shared passion. During the summer they love hiking, with Mt. Washington and Katahdin (including Knife's Edge!) being some of their many feats. During the winter they stay in the mountains, but with Emma on skis and Luke on his snowboard.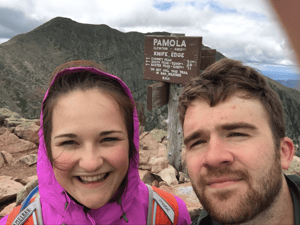 They consider Sugarloaf their home ski mountain, and actually just returned home from Reggae Fest, the big end of season party. Luke is currently working on getting Emma to add mountain biking to their outdoor activity repertoire. Although they have their honeymoon dates blocked off, the location has yet to be determined, but neither are concerned as they will be happy going anywhere warm for some new hiking and snorkeling adventures.
How did you two get engaged?
This question was immediately answered by laughter from Emma. These two knew fairly early on in their relationship that they wanted to be together forever, and had been discussing an engagement for about a year. They actually emailed each other a picture of practically the
identical ring within the same day! Luke's plan was to propose on their 7th anniversary. With Emma not being a fan of secrets, she insisted on knowing the upcoming gift, to which Luke responded that it would be a new pair of Ugg Boots. With ring in pocket, Luke had a plan in place, but would have to make an unexpected pivot. He went to pick Emma up at the Chili's in Bangor where she was waitressing as her college job. It was a busy night, so by the time they arrived at their planned dinner at Timber, the kitchen had closed. Emma, tired and hungry, insisted on a late night meal at nearby Seasons Restaurant. And over a cheeseburger, Luke popped the question.
How did you choose Granite Ridge?
Emma & Luke's mutual love of the mountains necessitated a venue with an outstanding mountain view. Emma spent significant time in the research phase of venue hunting, but upon arriving at Granite Ridge, "we walked in, and there wasn't an alternative option anymore. We could see Mt. Washington. The view is so breathtaking it's impossible to have a bad photo." Convenience was also a factor in this couples' decision. They have a tight social network, and loved that they could all be together for the weekend on the private mountain, and also have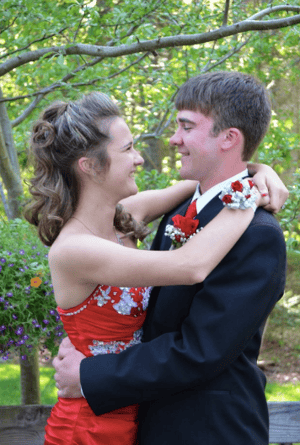 their rehearsal dinner at the Estate. The Wooded Wedding Site option for nuptials near the Barn provided a Pine Cathedral space that was perfect for them as they wanted an "outdoor woodsy vibe." Emma describes wanting a magical feel where classic elegance meets an enchanted forest. There will be soft tones of moss green with silver accents.
What vendors are you most looking forward to working with?
Without hesitation, the name that jumped out was their photographer, Dory Diaz. They located her on The Knot when they searched for photographers in Western Maine. They loved her photos, and Emma went to the length of checking her references, which were all outstanding. They already had Dory take their engagement photos at Granite Ridge last July. We can't wait to see the photos for the wedding!
Check out Emma & Luke's Wedding Website HERE