These college sweethearts from Rhode Island fell in love with Maine during their engagement in Kennebunkport, and have decided to follow their hearts to come back up north for their wedding at Granite Ridge. Here is their love story:
Tell me a little bit about yourselves
Reid is from Exeter, Rhode Island where both he and Erica went to Exeter-West Greenwhich High School together. Erica is originally from North Kingstown RI, but moved to Exeter in the 6th grade. Our couple met in junior high where they had mutual friends, and had a casual relationship through their high school years. During college is when they moved apart geographically, but where they grew closer as a couple that freshman year. Reid went to the University of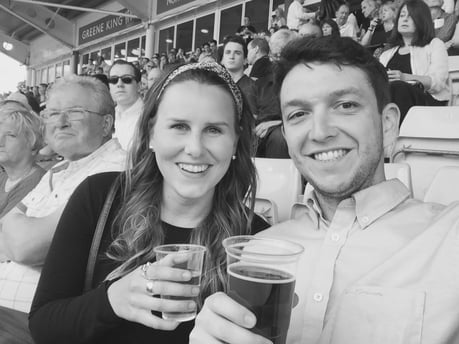 Rhode Island where he studied Accounting. Erica followed the warmer weather south to Coastal Carolina University, where she studied Communications. Ever since their long distance college romance, they have been living in Rhode Island together where Erica works in Marketing, and Reid works at an Accounting Firm. They both have an affinity for craft beer, and enjoy RI's burgeoning craft beer scene, especially the Tilted Barn. They also are music lovers, and travel the country to enjoy different music festivals and concerts together.
How did you two get engaged?
"In a hotel room," was Erica's immediate response with a laugh. It's a little more in depth than that! 8 years after the start of their relationship, Reid was ready to propose to Erica in Maine, a state that they had been to before....never! The "restaurants, breweries, and overall nature and beauty" is what led Reid to plan a long weekend trip in Kennebunkport. He chose the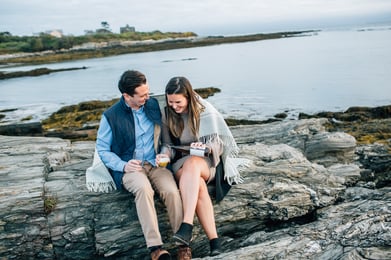 month of October to capture the beauty of leaf peeping season, and lodging at the Boathouse Waterfront Hotel for the views of the Ocean. Reid made sure to secure a room with a deck, and had some wine already poured outside on this brisk Friday of their vacation. "He was positioning the tables on the deck and I wondered, what the heck is he doing?" laughed Erica. "I needed knee space," was Reid's quick response. And he did, with Erica in complete surprise as she said YES with Reid down on one knee. They celebrated their engagement by having dinner at Earth at Hidden Pond in Kennebunkport, and explored Portland the next day.
How did you choose Granite Ridge?
Our couple loves to plan and research, so there was some exhaustive online activity. They looked at venues all across New England, but Maine and Granite Ridge stood out. Aside from the pictures online, they were most excited about the opportunity to have an entire weekend with their close friends and family at the Estate with their own private 200 acre mountain.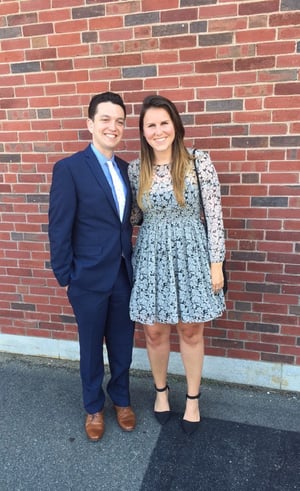 Erica explained, "Normally, weddings are over in the blink of an eye; we wanted more time with our friends and family." Their first trip to visit Granite Ridge was met with a ferocious Maine snow storm in February of 2017 that forced them to turn around home. They considered not making a trip back, but fortunately stuck to their initial plan and made it up for a tour a few weeks later. Quite succinctly, what sealed the deal for our couple was, "the View, the Barn, and Micki!" Erica concluded, "We are so looking forward to having a great party for everyone to enjoy. And everyone is very excited about the Oxford Casino across from their hotel!"
What vendors are you most excited to work with?
The first vendor mentioned was their caterer, Blue Elephant. Reid explained, "Reuben has been so great and helpful. Their tasting blew us away, their food is just so delicious." We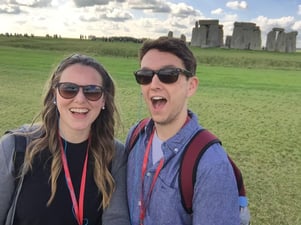 second that opinion! Erica was referred by a friend to Siobhan Bogle of Maine Tinker Photography, and mentioned, "she is so easy and wonderful to work with, there is lots of laughter." Our couple already loved the results from their Engagement shoot with Siobhan in Cape Elizabeth, Maine! Erica & Reid found their DJ New Years Eve with 2016 turning into 2017. "We were at Bubba's in Portland and had the best time with DJ Jon. We are music lovers, and he played everything and anything. We knew we had to have him at our wedding." And we can't wait to hear the tunes that will be played at this wedding!
Check out Erica and Reid's great Wedding Website HERE