Today's feature couple: Anna and Ken. This fabulous couple will be tying the knot at Granite Ridge Estate &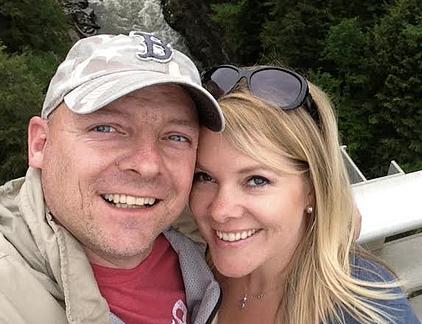 Barn on August 16th, 2014. When this dynamic duo came to visit us, we were in the middle of an ice storm. They climbed up and down the driveway in snow shoes like troopers, we enjoyed some wine, sat by the fire, and started planning the wedding. Needless to say, it was an evening we will all never forget! We interviewed Anna to learn about their story.
How did you meet?
We met through eHarmony.com, and it was love at first sight. Even though the evening of our first date, I was extremely sick and not feeling well, something told me I should still go. That night and the next few dates following validated the idea that this was the one. Ken proposed this past December.
Have you thought of a wedding theme?
We are calling it "Rustic Elegance." Granite Ridge Barn will be perfect for it's country/rustic qualities but also for it's style, as it is a newly constructed barn. The property will allow us to enjoy a romantic, elegant wedding. We will be including elements like re purposed wine bottles and wine corks in the decor, favors, and overall ambiance.
We also want to give our guests a true Maine experience, so we will be providing an amazing lobster and clam bake from Sonja Voutour at Maine Shore Lobster Bake. Affordable Events LLC will be doing our tables/linens and chairs. We want our guests enjoy themselves, laugh, sing, have fun and celebrate!
Are you doing any DIY elements?
Pinterest has provided much of our inspiration for every component of the wedding. For example, the bouquets are being made by the groom. We are also making our own beer and wine.
Who is your wedding photographer?
We are going to be working with Tricia Jamiol Photography and couldn't be more excited.
Do you have any advice for our other brides?
When you start to feel overwhelmed with the wedding details, look at the positive things you have accomplished. A To-Do List never looks finished until the very last box is checked off. But that doesn't mean things aren't getting done. Stay organized and remind yourself of the things you have accomplished in the process thus far. Also important, breathing. Deep breaths, very important.
Stay tuned for this couples wedding photo's after August 16th, 2014! Hopefully we will get a sneak peek at their engagement photos as well in May.