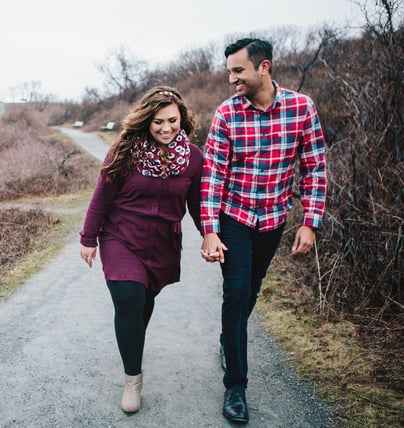 My position at Granite Ridge has allowed me to get to know some amazing individuals - each with beautiful stories to tell. Well, just got the chance to speak to Danielle - a 5th grade teacher and special needs aid from Florida. In the kindest, most humble and unassuming voice, Danielle gifted me her love story with Raj, who she considers "the yin to her yang." The overwhelming sweetness of the way she describes their relationship and left me in tears after the interview was over and once you read it, you'll understand why.
How did you two meet and get to where you are today?
The pair met at a college basketball game when Danielle was 16 and Raj was 19. Their mutual friends played basketball for his college team, so the Raju, Danielle, and her friend attended this game as a group. After the basketball game, the four of them decided to go see a movie - placing Danielle with Raj alone while their other friends took a separate car. Danielle laughed as she told me how unusual it was for her to be alone with a boy her mother hadn't met - explaining she was always a "goody-goody" in high school. Despite their unexpected, slightly awkward situation, and Danielle's intimidation over Raj being in college, the two got to talking. The conversation was easy and friendly and they talked about his experience at school and her goal of being a teacher. Danielle begins to laugh again as she said, "As we were talking, I was sweating so profusely the windows were fogging up!" As it turns out, Raj had turned his seat warmers on (a mythical thing in Florida,) causing Danielle to overheat. It's obvious after that experience that the pair was going places. What's interesting, though, is that after that night, the pair didn't really reach out to each other and didn't meet again until an unexpected run-in at Best Buy a month later, where they both agreed to call each other. Apparently, Raj was very shy when they first met - so Danielle took it upon herself to make the first call - that lasted until 6 am. She said they have been together ever since, and in 12 years they have attended the same college, bought a house and a dog together, traveled all over and stayed happily in love throughout it all. Raj makes her feel balanced, calm and more thoughtful while she makes him confident enough to be silly and "let loose" - she said they truly bring out the best in each other. Danielle went on to say, "He is so loyal, he won't give up, ever, so even when times got tough we communicated and we made it - we made it!"
How did you two get engaged?
PSA - Grab a tissue - seriously. Raj, under the pretense that there were airfare points that were about to expire, planned a trip for himself and Danielle to go to Portugal. Once there, as they were walking along the beach, they came across a small cave. Danielle explained that Raj was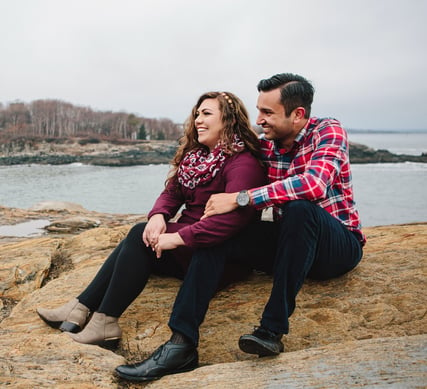 tense and acting very strangely, which frustrated her. Of course, she didn't know he was deciding if this was the right moment to propose! Raj then shakily handed her his phone with a video cued up and a tangled pair of headphones. Turns out - Raj had secretly made a video for the proposal, compiling home videos of the two of them growing up until they met, even adding in snippets of some of their most cherished family members. Raj spent endless hours on this video, working throughout the night while Danielle slept in order to keep it a surprise. When he proposed, as if the beautiful video was not enough, he revealed the ring was a compilation of all of his mother and grandmother's jewelry, as well as her mother and grandmother's. One very special thing about Danielle is that she is a leukemia survivor; she was diagnosed at 6 years old, went into remission at 8 and was considered a cure by 15. As she described some of the many trials her and her family experienced, I was rendered speechless by the grace and humility she displayed - honoring more of her family's work and sacrifices rather than her own struggle. It was moving. With her history in mind, Raj explained to Danielle that he loved making the video because it gave him the chance to get to know her in a new way and see her grow to be the amazing woman she is today - in spite of all her challenges, saying "It made me fall in love with you all over again."
Do you have a vision for your wedding?
Danielle explained that their vision for their wedding is "elegant, simple and rustic." They mostly just want to make the most of the beauty that is readily available at Granite Ridge because that alone will make their wedding day stunning and unique.
Are there any vendors you are looking forward to working with?
While she and Raj are not New England natives, they are really excited about some of the local vendors they are going to be working with. For their rehearsal dinner, the couple negotiated with the Norway Brewing Company, which officially opens in June, to host their rehearsal dinner! They are working with The Bread & Butter Company to provide guests with hor- d'oeuvres and a cocktail hour after the ceremony in addition to dinner. Danielle also was excited about the addition of a snow cone machine and a post-reception snack that they will be providing. For their cake, the couple decided to have cupcakes and they are lucky enough to be close friends with a baker in Florida who will be making the cupcakes for them on-site at Granite Ridge! Her name is Sandra Sampayo-Shorter and her bakery is called The Naked Cupcake in Orlando, Florida. They found their DJ through The Music Man DJ Service. The flowers are going to be provided by Littlefield's Flowers & Gifts. They working with Affordable Events for their rentals and they personally recommended Scott, thanks to his awesome guidance. For makeup and hair, Danielle has selected Grace Mahoney from Blushing Brides Boston. Their photographer is Cindy from Cuppa Photography. They will be having a brunch the morning after the wedding at the Bethel Inn. Needless to say, their wedding is going to be STUNNING.
Why did you pick Granite Ridge?
When picking a venue, the happy couple wondered, "Where is the coolest place we can get married in the summer?" After debating between Maine and Vermont - the eventually chose Maine and Granite Ridgebecause according to Danielle, "I just couldn't get past the view." Choosing Granite Ridge led to her meeting the Fratianne family. As Danielle lives in Florida, she wasn't very familiar with a lot of the local vendors and she didn't have a ton of time to plan - so Micki and the Fratianne family became a critical part of their planning process. Overall, they felt that Granite Ridge had a beauty that was impossible to match and when selecting their venue, they knew it was the perfect place to honor their 12 years of love together.