I am SO excited to share the story of Jessica and Sean, a "country, rustic, outdoorsy" and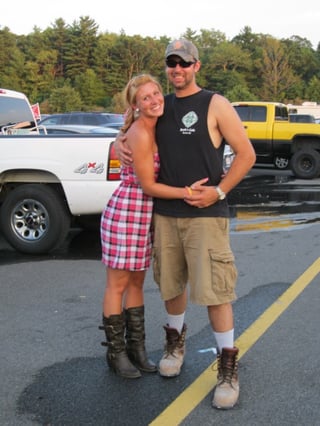 ridiculously awesome couple that chose us to host their beautiful wedding day.
How did you two meet?
Sean and Jessica met thanks to the sheer power of Kenny Chesney. (I will explain.) They actually went to the same high school - but never really knew each other because they were a grade apart. However – years later through mutual friends going to Country Fest at Gillette Stadium (after college,) the pair reconnected. Sean and Jessica spent the afternoon and night talking and enjoying the great music causing Sean to flat out ask her to be his girlfriend on the spot. (I'm LOVING this guy.) The pair parted ways without getting each other's contact information. Jessica thought it was a great night, but had doubts she would hear from him. Sean managed to hunt her down on social media. Days later he asked her out again, this time on a real first date. Fast forward 7 years and they have been celebrating their anniversary at Country Fest ever since! P.S. I think this anecdote is worth sharing: Jessica and Sean, to put it simply are huge country music fans! While attending a Valentine's Day charity concert headlined by Montgomery Gentry with friends somehow they got separated. During a frantic search for Jessica, Sean was shocked to find her ON STAGE, SINGING AN ENTIRE SONG, WITH MONTGOMERY GENTRY. Long story short she enjoyed YouTube fame for a while. I thought that was pretty freakin' cool, don't you?
How did you two get engaged?
Jessica explained that even though they had been dating for 6 years and she had been fantasizing about getting married, she never saw Sean's proposal coming. "I didn't have the time to think about it! The day it happened, I was rushing from my first job to get ready for my second later that night, so I definitely didn't see it coming." Despite her need to get to her next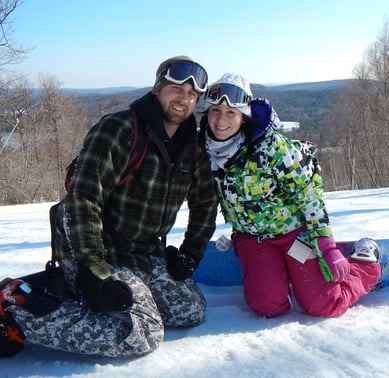 job, when she came home she found Sean waiting with flowers and a card. She was a woman on a mission, so Sean had to coax her to sit down and read the card. In the card was a beautiful, loving note that ended with "making it official." Jessica was immediately confused - until she looked up and saw Sean down on one knee. The tears started flowing! To the point that Sean told her later at dinner their puppy had proceeded to knock the ring box from his hands (thinking it was one of his toys) when he went to one knee. After a quick scramble to recover the ring box it was back to the proposal… And she had no idea! To make this even more perfect, it was on the exact day of the Kenny Chesney concert 6 years prior, (aka the day they met!)
What vision do you have for your wedding?
"I see our wedding being so...us. Everything we have done is so personalized and true to who we are." Jessica is one of those very unique, DIY brides. She's the sort of person that we wish we could be when we look at pinterest - someone who is creative and talented enough to somehow make everything by hand (with the assistance of her loving fiancé ) and have it look beautiful. So they have gone above and beyond to make sure that her rustic but elegant fantasy wedding is exactly how she always imagined. She is most excited for her "First Look," with Sean - something they chose so they could cherish that intimate and special moment in private.
What vendors are you excited about working with?
Remember – Jessica and Sean have been making most of the things for their wedding - so they ultimately are the biggest vendor! It also means her and Sean really took great care picking their vendors. To fill the positions of both photographer and DJ is Kevin Ouellette from The Amazing DJ - a GR favorite. The wedding will be catered by The Good Food Store. Hair and makeup will be done by Amanda's Trademark Salon and Spa. The couple has rented the other necessary items from Savvy Event Rentals.
Why Granite Ridge?
"I always knew I wanted a fall wedding - so I called Granite Ridge a long time ago - pretending to be engaged. While I was on the phone with Micki I could just see Sean shaking his head at me like I was crazy." (Look when a girl knows what she wants, she's going to go after it.) Jessica had fallen in love with the location, calling it her "dream venue," but it fell a bit beyond their budget. When Sean actually did propose, Jessica dove back into finding the perfect rustic barn for their wedding, more in their price range. None of what they looked at suited her vision, so they turned back to Granite Ridge, determined to make it work. They even went to tour GR on a Tuesday night, driving the four and a half hours from Massachusetts just to see it. Once they interacted with Micki and Jill and saw the place in person, Jessica decided no matter what she was going to make sure they had their wedding there. So - she committed hours upon hours of her time making all of her own decorations and baked goods so they could have the wedding of their dreams. I mean this girl is obviously a force of nature. We cannot wait to see how special and beautiful Jessica and Sean's wedding is sure to be.