Today's feature couple: Mallory and Jared. We are especially excited for this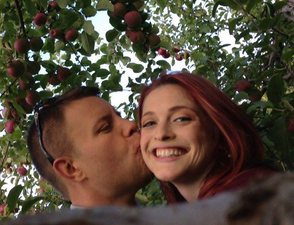 wedding because it will be celebrating our favorite Norway, Maine couple. #HomeTownNorwayProud. They have deceided to "go local" as much as possible and are using a number of our Norway and Oxfordhills professionals to help out with their big day. Here is their story.
1. How did you meet?
It was a matchmaking process. While Mallory was volunteering in October 2013 at the Maine Center for Cancer Medication (now New England Cancer Specialists), Jared's father, Don, who was receiving chemotherapy treatment, called her over to start the matchmaking process. Don told Mallory all about Jared and how he's had a crush on her since she arrived to Maine in 2011. Mallory left the door open for Jared to reach out to her, and though it took a few weeks of poking and prodding from Jared's parents, we met for soup at Kamasouptra on December 19, 2013.
2. What is your engagement story?

After an impromptu trip to Springer's Jeweler's in Portland, Jared began the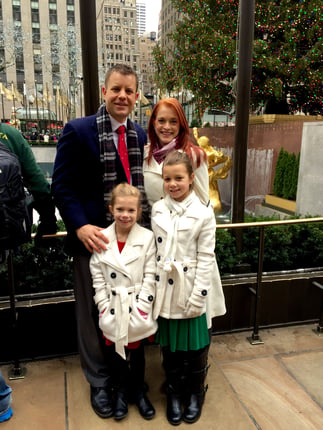 proposal thought process with his two daughters, Carlee-Mae & Alyson, and Jared's mom, Jan. We had planned a pre-Christmas trip down to New Jersey and New York City with girls for them to meet Mallory's family and see New York. The trip overlapped our soup anniversary date, December 19th, which became the day he chose to propose. Jared, the girls, and Jan came up with a proposal in Central Park during the pre-Christmas activities, in the midst a horse drawn carriage ride. With a plan in place for about 2 months, it unraveled perfectly on a sunny winter day in New York City.

3. Are there any special elements you are incorporating into you wedding theme?

We are trying to make all things Maine, and specifically local to the Oxford Hills if
we can. We are using a local baker for our wedding cake (Rising Sun), a local jeweler for our wedding bands (Creaser's), and even started a wine registry through Fiber & Vine on Main Street, Norway. All our vendors are from Maine, and our favors will be local Maine honey from an apiary in Durham.
4. What is your wedding theme? What are you colors?
It's a New Jersey wedding meeting our hometown Maine – simple elegance has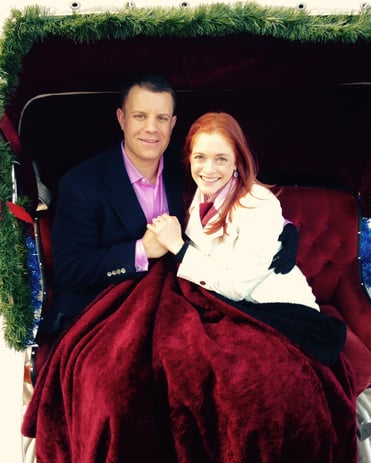 been our way of describing the entire day. We want every piece of the day to have a sentimental value and for everyone to feel the love in the air. We'll be using fall foliage tones throughout the affair, from deep red tablecloths, to sunflowers and gerbera daisies in flowers, and persimmon bridesmaid dresses.
5. What did you like most about having your wedding at Granite Ridge Estate and Barn?
It's in our backyard! Jared was born and raised in Norway and it's where we happily live now. There are also many sentimental reasons we fell in love with Granite Ridge. From the estate, we can see Shawnee Peak, which is where we had our first ski date. Mount Washington is in the backdrop of our barn view, which is the first place we vacationed together. Perhaps the most sentimental – Jared's father, who is responsible for our matchmaking, is buried next to the hillside of Holt Hill, which Granite Ridge is built upon. It's a central point to our relationship and couldn't think of a better place for us to get married.

6. Have you already chosen your special vendors for the day? Which ones are you most excited about and why?
We have chosen all vendors but a florist for our big day. It's hard to choose which one we are most excited about – it may have to be the food! Working with Fausto and Reuben at Blue Elephant has been the most fun and easy process. The food is delicious and their imaginations run wild with décor. Nothing's ever too complicated for them and we know they'll make everything run perfect. We're also pretty excited for the Bob Charest Band – we can't wait to hear how amazing they'll sound in the barn.