Introducing Michelle and Ryan, otherwise known as the coolest two people to ever get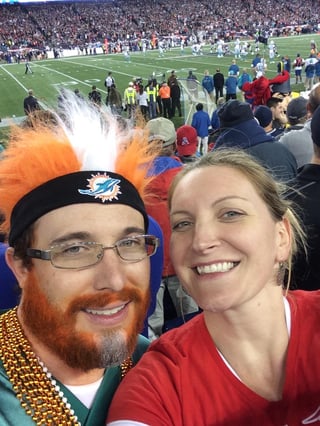 together, ever. (Please note - our Granite Ridge couples continue to get more and more amazing and it's overly intimidating.) I had far too much fun getting to know this pair and we literally cannot wait to host them at Granite Ridge
Tell me a little about yourselves
Hearing their banter back and forth right away made it clear that this couple of two and half years, are a blast. "Oh you want me to go first? Of course he defaults to me." "Oh yea you definitely go first." Michelle described them as "easygoing, laid back and good humored." They are both hardworking but they balance each other out. "Ryan has definitely helped to keep me calm and less serious." Considering Ryan, the comedic peanut gallery, had been cracking jokes the entire interview, it was clear he definitely is a wild one. Michelle is a high-powered government contractor in Washington D.C. while Ryan is a business owner and software programmer. (Alright guys – relax with the perfection.)
How did you two meet?
Although Ryan's business is based on the West Coast, he decided to move back to Maryland to be close to family. A couple months after he moved back, he went out to a Greek festival with some friends– not knowing that Michelle, had been invited out by them as well. They hit it off immediately. They also found out that they were basically neighbors. After that they kept in touch, until Ryan lost his phone. "I had to set up a first date with her by looking her up on the computer." Very smooth. Michelle cut in – "See when we found out we were neighbors and both had dogs, I figured we would just hangout for our dogs and go to the dog park or something." Thankfully – they went for far more than a doggy date! If you're wondering when they were completely sure about each other, it was about 3 months into their relationship, they decided (in a fairly aggressive move) to drive cross country together from California to DC to get the rest of Ryan's stuff home. "It's a LOT of time together with someone you just started dating, but we figured if we could handle such intense time together in a car, and still want to be around each other, it was definitely something that could last till the end of our days."
How did you guys get engaged?
Both Michelle and Ryan are huge football fans, particularly of the Dolphins and the Patriots.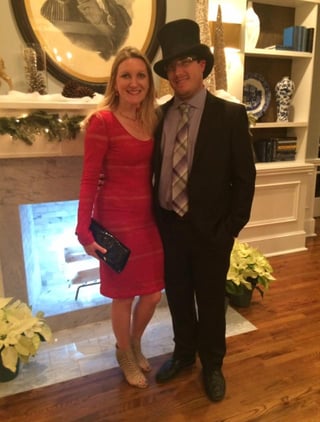 They decided to road trip south to Florida to see the Dolphins, stopping in Savannah, Georgia along the way for New Year's Eve, to also see the Patriots play. Ryan already had the ring, he was just looking for the right time to ask. "We were walking through Forsyth Park at night, I was wearing a top hat and everything – because, you know, it was New Years – and I just got down on one knee and asked." Apparently Ryan is a big dress-up person. "He likes to match whatever holiday or event – he sets the bar pretty high." Ryan cuts in saying, "For the wedding, we have an electric violinist coming from NYC and she's going to play the Game of Thrones theme song, so I wanted to wear a suit of armor, but Michelle said it was too much – it's bullshit." Naturally, I was LOSING IT during this conversation. The pair were laughing, bickering back and forth about whether a suit of armor was appropriate, so clearly these two are MADE for each other. I can't wait to see what else these two come up with for the big day, armor or not.
Do you have a vision for your wedding?
This laid back couple wants to have a wedding that is "very elegant but very simple – we just want to really showcase and use the natural, rustic beauty of the location". "We just really want to spend the day with our friends and family and have a great party."
What vendors are you excited about working with?
Of course, they're thrilled about all their vendors. For catering, they have selected the Good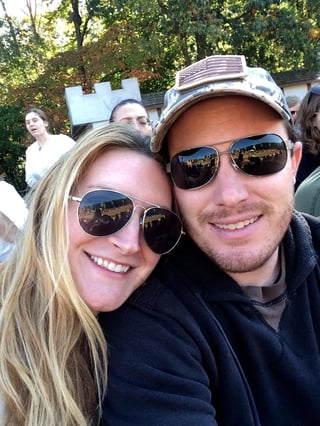 Food Store. Their photographer is Craig Angevine at Yeah Bud Photography. Lee Arnott from Sweet Thunder Productionswill be the videographer of the day. Their wonderful violinist is Sarah Charness and their DJ is Chris Bouchard. Granite Ridge will be decorated with flowers from Harmon's & Barton's Floral Group/DLK Floral and rentals from One Stop Event Rentals. Sounds like they have a pretty great crew coming!
Why Granite Ridge?
Both Ryan and Michelle are super active and outdoorsy people, so they loved the idea of a barn wedding. Michelle even grew up on a farm about 45 minutes from Granite Ridge, so the rustic feel of the location suited her. Ryan's only demand was that the wedding be somewhere in the mountains. Ryan also managed to add, "Best part is we don't really have a curfew because we want to keep the party going!" Right on, Ryan. More than anything, however, the couple loved the view and the scenery because it was perfectly suited to both their visions.