Okay - so I keep trying to explain how cool our couples are, but I'm not sure if people are truly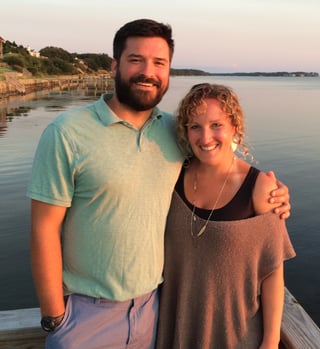 getting it. Well, I'd like to introduce Sarah and Andrew - our resident nature and animal experts. We are beyond excited to host their upcoming nuptials and I am only SORT OF hoping they'll bring all their dogs.
Tell me a little bit about yourselves
Andrew is a marine ecologist and works in Portland, ME. Sarah is a veterinarian in Topsham, Maine. They both enjoy spending time outdoors and hanging out with their two dogs, both of whom will be a part of their wedding day. The pair also enjoys wine and all things flannel. (Hoping now for the dogs to be in matching flannel outfits carrying wine.)
How did you two meet?
"We met at a wedding, where one of my best friends was marrying one of his best friends." Apparently their respective friends had already predicted this would happen and as friends tend to (SOMEHOW ALWAYS) be - they were right. I mean - how cool is that? Love creating love.
How did you two get engaged?
(WARNING - awesomeness ahead.) Andrew proposed to Sarah in their back yard with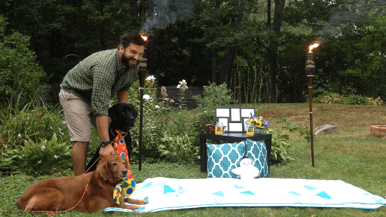 their dogs dressed in clown-sized bow ties. "Andrew told me he had a surprise for me and to go into the back yard when I came home. I thought the surprise was a new cooler for our trip to the Outer Banks." (I thought this was hilarious by the way - left me wondering if she got the cooler.) (Note - Apparently Andrew didn't understand what was wrong with the Coleman cooler he had already bought.) Anyway, how do you refuse the love of your life with dogs in bowties?
Do you have a vision for your wedding?
"We just want our wedding to be a fun party with the people we love. And I'm going to try to not spill red wine on my dress." GOOD LUCK SARAH.
What vendors are you most excited to work with?
We're super excited to work with Eric Laurits, our photographer. He's the brother of one of my best friends (the one whose wedding we met at) and does amazing work- especially with candid photos. We're both quite awkward for posed photos… We're also excited to be working with Blue Elephant and Granite Ridge- they know how to put on a great event.
Why Granite Ridge?
Being a straightforward person, I can totally get behind Sarah and Andrew's point blank response. "We chose Granite Ridge for 3 reasons: 1- The view. 2- The barn and lodge. 3- Micki." Well - all of those are pretty great reasons. We can't wait to have you guys!