This adventurous couple from Chicago is coming back to Maine, the home of their engagement, for their wedding at Granite Ridge. Here is their story:
Tell me a little bit about yourselves
Jackie originally hails from New Jersey, where her parents and two sisters still reside. She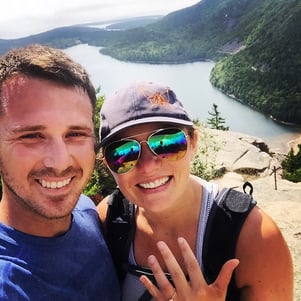 moved to Boston to attend college at Northeastern, and ended up staying for 9 years. A job opportunity in the business side of Health Care transplanted her to Chicago. Scott is a Chicago native where he went to University of Illinois. His degree in Mechanical Engineering led him to an R&D position with Culligan water treatment products. Jackie and Scott love doing everything traveling and outdoors together, including visiting National Parks, Skiing, and Mountain Biking. The annual hiking/backpacking adventure trip they do every year has led them all over the country including Glacier National Park, Acadia, Zion, Bryce, and the Big Sur.
How did you guys meet?
Jackie was celebrating her friend Zoran's birthday with the Crossfit Sono crew at Sully's bar in Chicago. Scott was at a beer tasting event with his friend and roomate Troy, also a member of Crossfit Sono. Their paths crossed when Troy showed up at Sully's with Scott and took over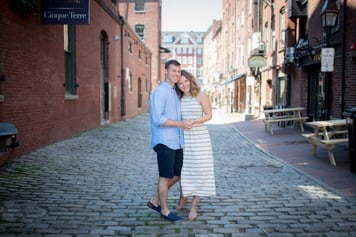 the dance floor. Jackie was immediately drawn to Scott's dance moves and gave him her number. Their first date was at a bar called the Map Room later that week, which remains one of their favorites. They say they owe it all to Troy and Zoran!
How did you get engaged?
Scott decided the perfect time to propose would be on an adventure trip to Maine & Vermont. With Jackie accidentally almost finding the ring on a couple occasions, they finally made it to Acadia. Crowds of people and fog thwarted Scott's original plan to propose. Two days later, as they made their way to Jordan Pond and their final hike to South and North Bubble, the fog lifted and the sun came out. They climbed North Bubble and when they reached the top they were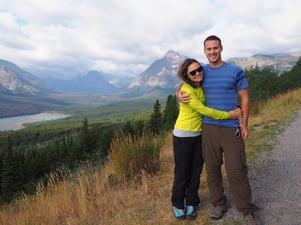 completely alone! Scott quickly got out the ring and snuck up behind Jackie as she was enjoying the view. It was the perfect moment. They celebrated by drinking champagne and eating popovers on the grass of Jordan Pond. They couldn't have imagined a better day.
How did you choose Granite Ridge?
Jackie and Scott knew they wanted a Destination Wedding, and were deciding between Colorado and Maine, with Maine having a special place in their heart as the location of their engagement. On a long weekend in Maine, Granite Ridge became a location to visit based on the pictures they saw online. Once they paid a visit, "it was a pretty easy decision, the view was stunning, the barn was gorgeous, and Micki was amazing."
What vision do you have for your wedding?
Jackie describes the theme they desire as "rustic elegance." To highlight their love of the outdoors and to commemorate their adventures, the table name tags will be similar to National Park signs. In addition, Scott has a passion for craft beer, and that will be woven into their special day. He is currently building a bar with 3 taps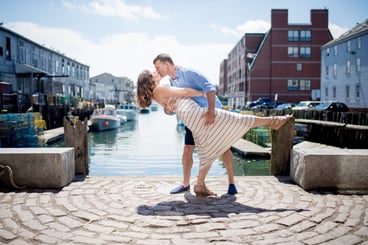 that his brother-in-law will be driving to Maine. The beer line-up isn't official but all 3 taps will be local Maine craft beers. Our couple will also have 3 unique and rare beer releases of New England specialty bottled brews throughout the night. The tasting glasses will be the favors and have a special design on them.
What vendors do you most look forward to working with? Honeymoon plans after?
"We're most excited about DJ Kevin, he's been the guide to all our vendors." Jackie & Scott also referenced The Good Food Store for catering, Pooh Corner for flowers, and Phil from Pro-Bar as vendors they're looking forward to working with. As far as post-wedding plans, they plan on a mini-moon on Amelia Island on the North Atlantic Florida coast, and are gearing up for a honeymoon this winter in Patagonia, South America. Cheers to more adventures!
Check out Jackie & Scott's Wedding Website at:
https://www.jacquelynandscott.com/