A childhood home in Western Maine helped draw this active couple to choose Granite Ridge as the Barn venue of their dreams. Here is their love story:
Tell me a little bit about yourselves:
Jessica is originally from Brewster NY, a town about 90 minutes north of New York City. Her softball skills landed her a scholarship at Ithaca College, where she majored in Physical Therapy. After working in Ithaca after graduating, she applied for a job at Mass General, where she secured a job as a Physical Therapist and moved to Boston. John hails from Atkinson, NH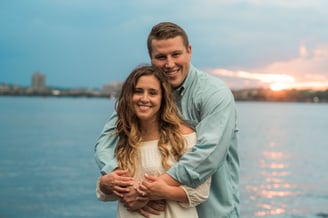 where he also excelled at sports, and was on his high school golf team. He received his undergrad and MBA at the University of New Hampshire. After a stint in CT, John moved to Boston where he now works for Price Intelligently, helping companies improve their pricing and packaging strategies. Our couple currently lives in Dorchester, MA.
How did you two meet?
Jess & John's close friends in Boston, Lauren and Pat, are woven into their story. Lauren & Jess were friendly in high school and that familiarity was one of the reasons Jess felt comfortable with her move to Boston. That casual acquaintance turned into the best of friends. Through another social circle, John also already knew Lauren. When the "Human Rumbas" softball team was formed, Jess and John found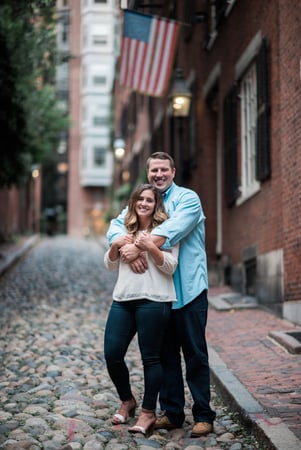 themselves across the diamond from each other, with Jess on the hot corner at 3rd, and John manning 1st base. It took nearly a year of both on and off-field chemistry before the first kiss happened during a party at Pat's. Many of their friends had actually already assumed they were dating based on how inseparable these two were. In hindsight, they both laugh about how close they had already become with each others' families even before the first date!
What do you guys love doing together?
Jess and John have played sports since childhood, and that has continued in their relationship, with Golf and Tennis being the most frequent sports the two enjoy. John's family has two vacation homes, one on Tripp Lake in Maine and the other on New Smyrna Beach in FL, and they love visiting both locations often. John jokes, "Jess dated me for our family vacation homes." Jess also mentioned lightheartedly that one of John's hobbies is calming her down when she gets stressed. In fact, John simply refers to their upcoming wedding as "The Barbecue" to make it seem less overwhelming on Jess!
How did you two get engaged?
"Well this is kind of funny," starts Jess. The proposal was on the Tuesday morning after Labor Day 2016...naturally. John had asked his future father-in-law for permission earlier that May, and was having the diamond, an heirloom from Jess' grandmother, reset. The original plan was to propose on a trip to New Smyrna Beach, but the stress of having the ring on the plane led John to call an audible. Throughout their relationship, John had been saving souvenirs, such as movie and concert stubs. He put together a scrapbook using these memoirs to show
the journey of how they met, the fun timeline of their relationship in events and moments, which led to him proposing on one knee at the end of the story. Hours later, after calling their family and close friends, they boarded the flight to Florida to celebrate. When asked if the engagement scrapbook will make an appearance at the wedding, Jess smiled and said "I don't know, maybe, it looks like a 2yr old did it." Well, we sure hope to see the artwork!
How did you choose Granite Ridge?
Growing up, John's family would go up almost every weekend to their vacation home on Tripp Lake in Maine. It is such a special place that Jess and John have gone up 4-5 times a year every year since they started dating. After briefly flirting with the idea of a wedding in Italy, they decided they wanted to be able instead to celebrate with all their friends and family. It was important to John for the venue to be close to the family home, and Jess wanted to be married in a Barn. The views from the top of the Estate and at the Barn of Granite Ridge took their breath away. Jess explained how "it's just so unique versus all the other Barn venues. It's like a retreat and you get to be in your own little world. We can't wait to see the views waking up at the Estate!" Granite Ridge being able to accommodate 233 people in the Barn was also of importance given the size of the wedding. And Jess made sure to mention that meeting Micki during the tour sealed the deal; "she's just a wonderful lady that my mom would love!" We couldn't agree more!
What vision do you have for your wedding?
One of the many things that drew Jess & John to Granite Ridge is that not much decoration is needed due to the beauty of the Barn. As Jess put it, "The more simple, the better. The high ceilings and chandeliers are enough." The look will be elegant and rustic, with lots of green. There close friends Lauren and Pat will be key members of the wedding, with Lauren serving as Jess' maid of honor, and Pat taking on the role of their officiant.
What vendor are you most looking forward to working with?
Without hesitation, Fire & Company was practically shouted out of both their mouths. They were sold early on just from watching some of their videos online. Jess & John loved how much fun they had at the tasting, let alone how good the food was. The wood-fired grill, ability for guests to be able to watch them cook, and the unique gourmet food truck experience were all something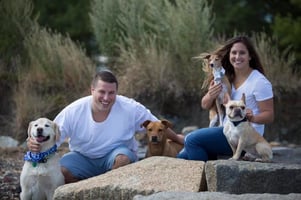 that many will have never experienced before. Jess has also enjoyed working with her wedding planner, Christina Padavano of Pinch Me Planning. They found Christina on The Knot, and immediately loved her casual feel and how compatible she was early with Jess' vision. "She's been great with the vendors, and amazing at keeping me on track," gushed Jess. Shortly after the wedding this great couple will take the trip to Italy they had entertained earlier, but this time for their Honeymoon!
Check out Jess & John's Wedding Website HERE