These college sweethearts are heading north from Massachusetts to have the wedding of their dreams in Maine at Granite Ridge. Here is their love story.
Tell me a little bit about yourselves
Jillian is originally from Alabama, and moved to Massachusetts at the age of 10. She attended Northeastern University and now works in Marketing & Events in Cambridge. Mike hails from Whitinsville, MA and also went to Northeastern University, with a focus on electrical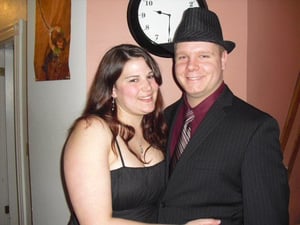 engineering. He currently works as a Audio Systems Engineer and travels the country specializing in tuning systems into private jets. Jillian & Mike love to travel together. They have a map on their wall and scratch off countries they have been to, with the count currently at 16! Our couple also loves dancing and music. They were members of the ballroom dancing club at Northeastern, and danced anything from rumbas to salsas to swing! They still take lessons and enjoy dancing together to this day. On the musical side, Jillian sings and plays the fiddle. Mike sings and controls the mixer, although Jillian remarked, "he's got the rhythm to be a drummer." Making music with their family & friends is one of their favorite things to do!
How did you first meet?
Jillian & Mike met in college at Northeastern. They credit their good friend Alex, who will be serving as the officiant at their wedding, for throwing the house warming party that led to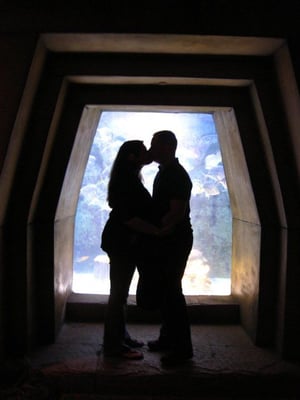 their first meeting. Our couple ended up being partners in the game Cranium, although Jillian admits she strategically sat next to Mike to ensure this happened. Although they "got crushed and lost the game badly," Mike walked Jillian back to her dorm and they talked until the sun came up. The first date soon followed - sushi and a movie - and the rest is history.
How did you two get engaged?
It was November of 2013, and our couple had been together for just over 5 years. While Jillian took the lead on planning their upcoming trip to Costa Rica, Mike was planning a surprise engagement and having a custom ring designed through an artist, Ilah of Precious Metals. As the trip approached, Mike thought, "I couldn't decide whether to propose before or during the trip, so I split the difference." Jillian was expecting Mike's dad to drive them to the airport to head to Costa Rica, but a limo arrived instead. On the drive over, in the limo, Mike got down on one knee. It was their limo driver's first day and he had a bottle of champagne in the back, which was popped shortly after! Mike and Jillian then celebrated their engagement for 13 wonderful days in Costa Rica.
How did you choose Granite Ridge?
Jillian & Mike knew they loved the idea of a barn, and did some extensive research on the internet to pick their favorite venues to visit. This concluded in a tour of Maine, NH, and VT, seeing 8 different venues along the way. Mike summarized it by explaining, "Granite Ridge stood out far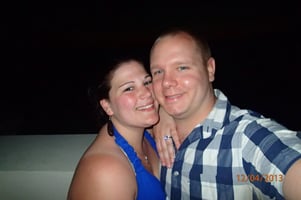 and above the rest. The barn was the best, we loved that it was not some old refurbished barn, and that it was well lit and had bathrooms. The weekend experience at the lodge with family and friends was really important to us. We didn't want to rush through our wedding, we wanted the whole weekend." They also enjoyed that they had their own 200 acre mountain and didn't need to be told when their wedding would end!
What vendors are you most looking forward to working with?
At the exact same time, both Jill & Mike enthusiastically exclaimed "Bread & Butter Catering!" The incredible reviews immediately caught our couples' attention. B&B's unique style stood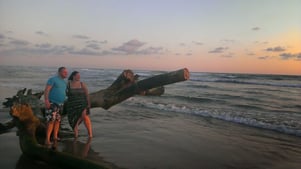 out to them, especially the food being served on authentic wooden boards. Jillian explained, "we loved their rustic laid-back feel. It matched us and our vision for the wedding. We really liked the creative serving stations where our guests can casually serve themselves." Our couple is also excited to work with their DJ, Dennis Boyd of Sidecar Sound. Mike explained, "he's just a super fun guy. And when it comes to audio stuff I'm pretty particular and he's willing to work with me. We're in great hands!" Jillian and Mike have an eclectic taste in music ranging from Simon & Garfunkel to current pop, and Dennis fits them perfectly. We're certainly looking forward to the food and music at Jillian & Mike's wedding!
Check out Jillian and Mike's great Wedding Website HERE