These high school sweethearts from Boston decided to leave the hustle and bustle of the big city to spend a relaxed weekend in the mountains of Maine to say their vows at Granite Ridge with family and close friends. Here is their love story:
Tell me a little bit about yourselves
Kelsey grew up in Arlington, MA while Nick grew up in neighboring Somerville, where our couple currently resides. Their romance blossomed during college where both had athletic scholarships, Kelsey for basketball and Nick for football. But these athletes originally met in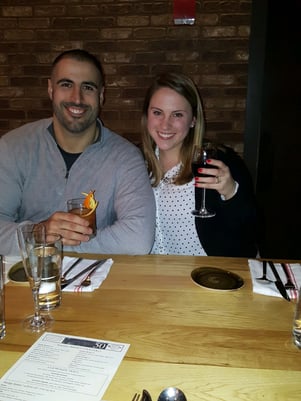 high-school through mutual friends. Nick mused, "I don't think she was that interested in me at first, but I grew on her." Kelsey added, "well, he was persistent." After being invited to the New England Patriots Rookie Mini-camp in 2013 and 4 years in technology sales, Nick now runs his family's moving & storage company. Kelsey is currently a public accountant in Charlestown, with basketball still being a part of her life. Nick & Kelsey love spending their time with friends and family, a well as their french bulldog, Elliott. They spend their free time watching sports, enjoying craft beer, and listening to country music. In fact, Nick's bachelor party will be in Portland, largely based on the vibrant craft beer scene, where Kelsey will be taking a group to Nashville for a country music themed bachelorette party!
How did you two get engaged?
"I'll give you my perspective," started Nick. He initially planned on proposing on New Years Eve, with 2016 turning into 2017. However, within a week of securing the ring and it burning a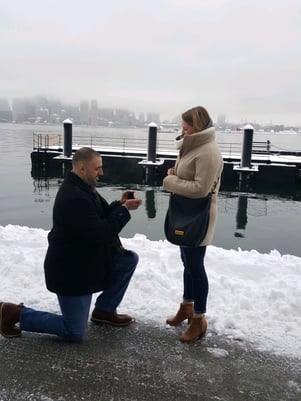 hole in his pocket, he moved his plan up to mid-December. He chose the Hyatt Regency based on its gorgeous views of Boston, and booked a brunch on a Saturday for Kelsey and his family. The plan was for his sister to capture the photos of the engagement while enjoying the view after brunch. They woke that morning to a huge snowstorm, but the weather didn't deter him. Kelsey remembered, "it was the worst snow storm of the season, I didn't understand why we couldn't just have brunch down the street. But he just told me to blow dry my hair." Nick added, "me not finishing my breakfast should have been a tell-tale sign that something was up." And after brunch, in the snow, Nick got down on one knee and asked Kelsey to be his wife. Kelsey was completely overjoyed and laughed as she remembered her thoughts; "His sister said she wanted to get a picture of us with the view but there was only snow and clouds, so I was thinking 'what is she talking about.' I was completely caught off guard."
How did you choose Granite Ridge?
Our couple knew off the bat that they wanted something outdoorsy and in a barn. They wanted something non-traditional that could be customized to their wants and needs. "Everything in Boston felt like prom, we needed to get out of dodge," explained Kelsey. Nick & Kelsey had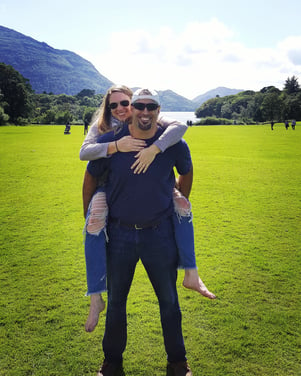 always loved Portland, and Kelsey's grandparents live in North Conway, NH so they began to gravitate towards that area in their wedding venue search. The pictures of Granite Ridge online had an immediate impact on them, so a tour was booked. Upon arriving, "we loved how it felt laid-back, with a relaxed rustic feel," said Nick. Kelsey added, "the view is just incredible. We are very close with family and a big group of friends so we're really looking forward to celebrating with them the whole weekend." Granite Ridge was the first, and only, venue that Kelsey and Nick visited; they booked their wedding the same day.
Which vendors are you most looking forward to working with?
Kelsey first mentioned their photographer, Anne Skidmore. She had friends who had gotten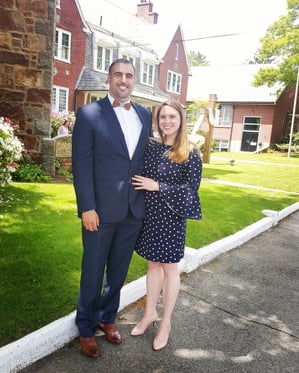 engaged in North Conway, NH six months prior, and upon seeing their engagement photos, Kelsey knew she wanted to hire Anne. Kelsey explained, "Anne does a great job of incorporating the surroundings. She captures the entirety of the day and the environment in addition to the people." Nick & Kelsey also gushed over their caterer, Bread and Butter. "They made a mock menu for us at their Portland restaurant. The food was out of this world, it blew us away." Of special mention was the Chicken Sandwich and Lobster Roll. We will certainly be asking for samples at their wedding!
Check out Kelsey and Nick's great Wedding Website HERE