This couple from Rhode Island has always enjoyed taking trips traveling north together. This time they'll be coming up north to Granite Ridge with their beautiful daughter, and to become man and wife. Here is their love story:
Tell me a little bit about yourselves
Kylie is originally from Cumberland, Rhode Island, where she and Dave currently reside. Kylie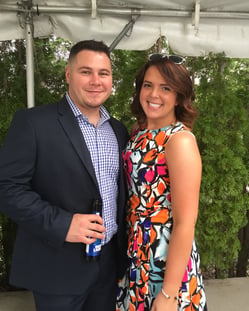 works as a Labor & Delivery nurse in Massachusetts. Dave is originally from New Smyrna Beach, Florida, but moved to Cumberland, Rhode Island when he was 9. He currently works as a Firefighter for the North Providence Fire Department. Most of their time now is occupied playing with their 10 month old daughter, Charlotte. When our couple has time to themselves, they love heading to Foxboro to cheer on the Patriots, catching as many Dave Matthews concerts as they can, and spending time on Rhode Island's beautiful beaches.
How did you two meet?
Kylie & Dave knew each other practically their entire lives. They went to the same elementary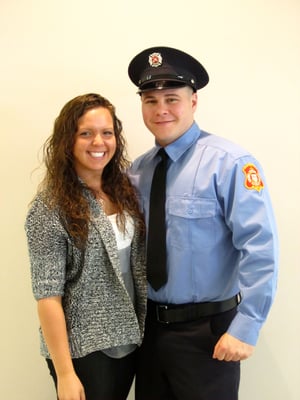 school, became friends in middle school, and continued that friendship through high school. Even though they both attended the University of Rhode Island, it wasn't until they came home one summer when this friendship turned into a relationship. Mutual friends had a summer beach house in Narragansett, and after a visit that they both attended, the ensuing summer romance is turning into a marriage 10 years later.
How did you get engaged?
Christmas 2016, which was the first Christmas that Kylie and Dave were celebrating in their house together. Dave was home early taking care of one last ornament on the tree that had not been put up the prior night. Inside a custom made piece of tree wood was an engagement ring, with the words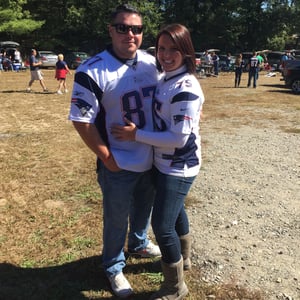 "will you marry me" wood-burned into the piece. Dave tried to put the new ornament at eye level, but it went left unseen by Kylie when she returned later that night "tired and delirious from work." Dave helped deliver the message by getting down on one knee, and was answered with an emphatic YES.
How did you choose Granite Ridge?
Kylie & Dave have always loved heading north for weekend trips, with Maine being one of their favorite destinations. On a little get-away to Portland, they found Granite Ridge online and fell in love with the pictures. Surrounded by snow in January of 2017, our couple trekked up to Granite Ridge and were taken aback by the natural beauty, but also the views from inside. Kylie
explained, "not only was the view from the windows in the Barn breathtaking, but I could sit in front of those windows at the Estate and have dinner every single night!" Kylie and Dave describe themselves as laid-back, and want their wedding to be simple and rustic. The colors will be predominantly burgundy and gold, with wood characteristics to complement the elegant natural environment at Granite Ridge.
Which vendors are you most looking forward to working with?
The first vendor mentioned was their caterer, 111 Maine. Kylie gushed, "the tasting was phenomenal. The owners were so helpful and easy to work with, they gave great advice for the wedding overall. We're so excited to see how they pull it together." Dave made special mention of how delicious their Apple Cider Donuts were, which will now be making an appearance at their wedding. Our couple is also looking forward to working with their photographer, Bella Wang. They loved Bella's energy, but also enjoyed how she was able to match their relaxed approach to the wedding. Their fantastic engagement shoot has them even more excited for the wedding photos. Last but not least is their hometown videographer, Mike Picard. Many of their closest friends have worked with Mike for their wedding videos, and all raved about the results!
Check out Kylie & Dave's great wedding website HERE