This Maine local couple is taking their college romance and love of the mountains to Western Maine and Granite Ridge for a wedding to match their incredible engagement. Here is their love story:
Tell me a little bit about yourselves
Rachel grew up in North Yarmouth, Maine and studied Elementary Education at the University of Maine in Orono. She is currently a 1st grade teacher in the Portland area. Kurt hails from Casco, Maine and studied Political Science at the University of Maine in Orono. He is currently in his last semester of law school at Maine Law in Portland. Rachel & Kurt live in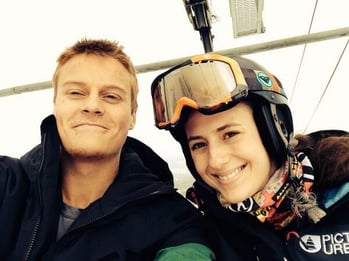 Casco, and love all things outdoors. During the winter, our couple can be found snowboarding at Sunday River & Sugarloaf. During the summer, hiking is their passion, and they are nearly half-way done completing the White Mountain 4,000 Footer Club. Mt. Washington & Mt. Jefferson are their favorites and they've hiked them on numerous occasions. This adventurous couple is currently considering a cross-country road trip to visit a variety of National Parks for their honeymoon!
How did you two meet?
In a word...Chickenfest. Rachel & Kurt met in April of 2012 through mutual friends while both were attending University of Maine. "Chickenfest" has been a staple at U.Maine since the 1970's, and is a big outdoor party with bands and bonfires. It was at the final year of this event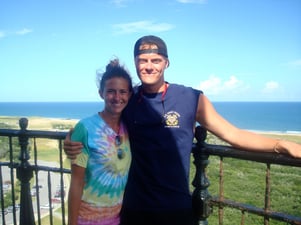 where our couple met for the first time. They kept in touch for a month and soon realized their homes were only about 30 minutes from each other. Their first date was at Flatbread in Portland, one of Rachel's favorite spots. She was soon set on teaching Kurt everything there was to know about Portland's Old Port, especially the food scene. "I was just a country boy before Rachel," jokes Kurt.
How did you get engaged?
June 10th, 2017 on Mt. Washington. That takes some explaining! Every summer since meeting, Rachel and Kurt would hike up Mt. Washington, with their favorite route being up Lion's Head, and down Tuckerman's. During this hike, it became a tradition to take a photo by the same rock that hangs over Tuckerman's Ravine on the top of Lion's Head. Kurt only had the engagement ring a few weeks before proposing, but he had known for a couple years how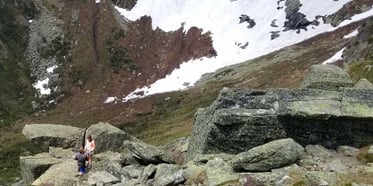 he was going to do it. Thinking ahead about safety, Kurt was getting ready to take the picture of Rachel, but this time in front of the rock, so that she wouldn't be teetering over the edge of the ravine. Rachel initially met this idea with resistance, but then Kurt got down on one knee. She was shocked with joy, and at a loss for words! As a side note, the video that was being taken by a friend shows Rachel take a few steps back after the proposal, so good thing Kurt took safety precautions! They drove back to Kurt's house after the hike, where he had both his and Rachel's parents waiting as a surprise for the celebration.
How did you two decide on Granite Ridge?
Our couple actually selected Granite Ridge on their engagement night! From a recommendation of Kurt's sister, Rachel looked up Granite Ridge online. After watching one of the videos, "we fell in love instantly, it's just us." They had first met at a party in the woods, loved spending their time together outdoors, and just got engaged on top of the Northeast's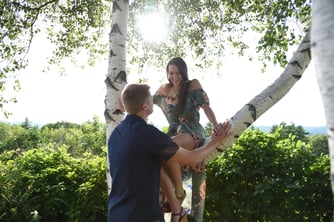 tallest mountain, so they felt it only fitting to be married outdoors and in the mountains. Along with mosses, lilac purple will serve as the predominant color of their wedding day. They love GR's wooden benches, and will be complementing it with their own birch wood. Rachel jokes, "we've literally been foraging in our back yard for birch trees that have fallen, so we can use them for place cards and tree cookies at the wedding." In addition to the outdoor environment that Granite Ridge provided, our couple loves being able to be lodged up at the Estate for the long weekend.
What vendor are you most looking forward to working with?
Without question, the most excitement came when talking about the European Bakery, located in Falmouth Maine. This was Rachel's first place of employment where she worked from ages 16-21. Her fondest memory is of serving all the brides during the cake tastings for their weddings, and she knew one day her wedding cake would be baked there. "We don't have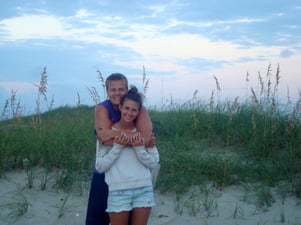 a DJ or a band, so we went all out on the wedding cake," jokes Kurt. Some flavors making an appearance are chocolate raspberry, lemon blueberry, chocolate mocha, vanilla with raspberry chambord..."All out" may be an understatement! With Rachel having the summer off, and Kurt taking his Bar Exam a week before the wedding, we can't wait to celebrate with them!
Check out Rachel & Kurt's Wedding Website HERE