This wonderful couple from Boston is turning their young romance and fondness of Maine into a marriage at Granite Ridge. Here is their love story.
Tell me a little bit about yourselves
Brian is originally from Western Mass. He started college as a Mechanical Engineer, graduated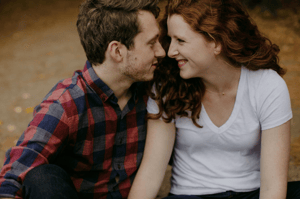 with an Economics degree, but after some post-grad "Web Development Bootcamp," he has been a Software Developer in Boston ever since. Taylor hails from Hilton Head, South Carolina, and studied Art History, Visual Arts, & Philosophy during her college years in Atlanta. After studying at the SMFA in Boston, Taylor has worked as an Interior Designer in Boston for the last 3 years. Brian & Taylor live together in Cambridge, where they enjoy tacos, walks, ice cream, and scoping out other peoples' dogs.
How did you two meet?
Taylor and Brian swiped right for romance, although Brian originally told his family they had met at a salad bar. Taylor recollects Brian's online profile as "this extensive 10 paragraph novel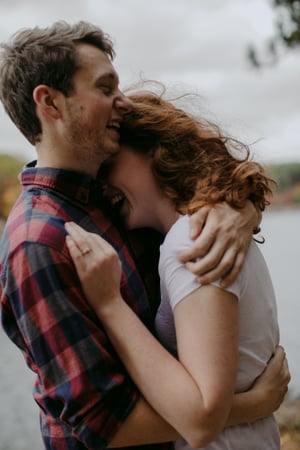 that said nothing about himself. There were 100 lines, and each one had an answer to a question he didn't ask. It was hilarious. And I loved his picture in overalls covered in fake blood." A first meeting soon took place at a coffee shop in Harvard Square in Cambridge. Taylor stepped out of a big black sedan (she claims it was an off-duty uber) wearing a fur coat. "So, I was intimidated from the start," joked Brian. Coffee was immediately followed by "the worst Mexican food in Massachusetts," where Brian spilled more food than he ate, including the enchiladas. Taylor remembers, "he couldn't stop smiling. We had some tea after dinner, and he spilled that on himself too." It was December 20th, but when it was time for Taylor to leave, Brian offered to walk her instead....for 4 miles. It paid off as the night concluded with a first kiss, and a second date the next night. Brian called his best friend and said, "I met the girl I'm going to marry." And they've been together ever since.
How did you get engaged?
Taylor and Brian's first trip together as a couple was to Portland, ME, and it was Brian's goal to recreate that special experience for his proposal. On a Friday night in June 2017, they went to see The Shins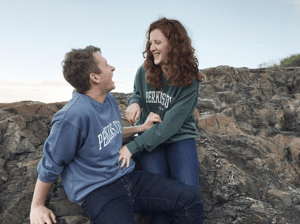 in the rain at Thompson Point, which ended up being the best concert of their lives. They stayed at an old Victorian just outside of Portland, and Taylor slept in until 11:30am that next morning. Brian was up early writing a letter, and woke Taylor up to cup of her favorite Cardamom coffee. After lunch at Duck Fat, they ventured to Peaks Island, rented bikes, and rode across the island. Taylor remembers, "he kept saying really nice beautiful things about me, it was so sentimental. Midway through his speech, he just stopped talking. When he started to get down on one knee, he fell sideways, and pulled out the ring out while wedged between 2 rocks!" Needless to say, Taylor said YES. Amazingly 30 seconds later, a professional photographer who was their to take their own wedding photos, was able to take some of our couple. Brian was able to finish his prepared speech afterwards.
How did you choose Granite Ridge?
Taylor explains, "we told our wedding planner, Nicole Mower, what we wanted, which was a Barn venue, to be married outside, and to make a weekend of it so we could be in one place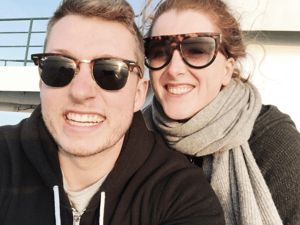 with our family and wedding party." After Nicole went over options, and Taylor & Brian saw photos, they narrowed it down to 2 venues, with Granite Ridge being the first to go visit. Taylor recalls the viewing, "I immediately thought 'OK I'm done, everything is perfect.' When you know, you know." Brian added, "we just looked at each other and nodded." Our couple is going for a "moody, romantic vibe, but not too bright." Brian explains, "we want everything to feel intentional. Like a Wes Anderson film, but in the 70's."
What vendors are you most looking forward to working with?
First mentioned was their wedding planner, Nicole, of Nicole Mower Weddings & Events. Taylor enthusiastically explained, "this woman is brilliant. I loved her website. There were lots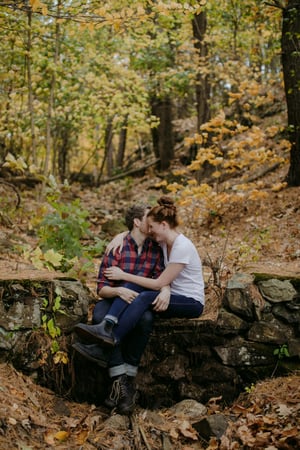 of different weddings, all well put together, but not cookie cutter. She wants every wedding to be what her couples' imagine." Both Brian & Taylor are equally excited about their caterer, Fire & Co. "Oh my God, the food. We have lots of food allergies, but with them we can eat everything and anything. It will be a fusion of Farm to Table and Mexican Tacos." Their florist, Campfire Floral, generated a lot of enthusiasm. Taylor explains, "Kristen is incredible. Her flower arrangements will be in her own handmade pottery, and the desserts will be served on her pottery." Taylor found their photographer, Henry & Mac, while researching for her best friends' wedding, and after seeing the photos, knew they would be asking them to photograph their own wedding. They originally weren't going to use a videographer, but after watching over 40 amazing wedding videos on their website, they knew that they would be hiring Birdhouse Videography to capture their wedding. After the honeymoon in Iceland & Copenhagen, our couple will be getting their first dog together, a chocolate golden doodle. We couldn't be more excited for this wedding!
Check out Taylor and Brian's great Wedding Website HERE