This wonderful couple from Boston knew they wanted the mountains and freedom of Northern New England to say their I Do's. Here is their love story.
Tell me a little about yourselves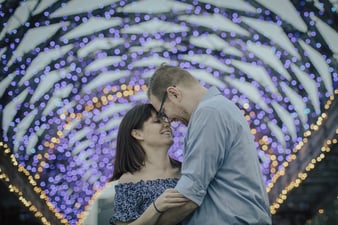 Amelia grew up in Central Massachusetts, and eventually moved to Boston to study at Mass Art & Design. She currently teaches Elementary and Middle School Art in Brookline. Jason hails from Roslindale, and studied Music Business at Northeast University. After a 5 year stint in Los Angeles, he moved back to Boston where he is an Account Manager in the Software industry.
Amelia & Jason currently live together in Roslindale, where they love spending their time going to concerts and watching Boston sports. When not caring for their fur baby, a Boxer-mix named Chance, they are working out together at Orange Theory, running, or practicing yoga.
How did you two meet?
Our couple met at the Starbucks in Chestnut Hill, MA. Jason was a Shift Supervisor, and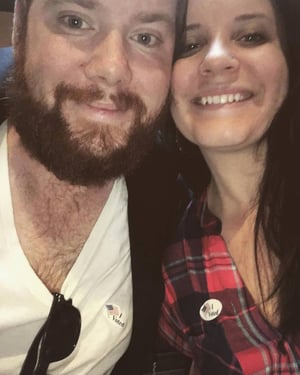 Amelia was hired soon after. They became carpool buddies, frequently opening up their Starbucks together at 4:45am. When Jason moved to Los Angeles in 2010, he explained "we hadn't even started dating yet." On the other hand, Amelia stated, "I fell in love with Jason, and then he moved to LA."
The relationship was not serious enough at that point to turn into long-distance dating. However, 5 years later when Jason reconnected with mutual friend Jenn upon returning to Boston, she had cupid's wisdom. Without telling Jason, she invited Amelia out one night to the bar Great Scott to secretly get them together. Neither remember that concert as Amelia & Jason were engrossed in conversation the entire night. That was October of 2015, and by October of 2016 they were living together and discussing the rest of their lives as a couple.
How did you two get engaged?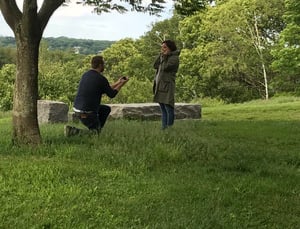 Although they had discussed marriage and Amelia had a sense there would be a proposal in the near future, Jason's #1 priority was to surprise her. It was the first weekend of June, 2017. Jason had mentioned they would be having dinner with his parents in Roslindale, which was not unusual, but decided to take the scenic route on the way there. He walked her up to Peter's Hill, which is part of the Arboretum. And with the Boston skyline in the background, Jason got down on one knee. Jason explained the reaction, "she freaked out, jumped up and down, and forgot to say Yes." After re-asking the question, it was official. Jason's sister had been hiding nearby and was able to photograph the engagement. Both sets of parents were waiting in the Arboretum, and a surprise party with friends took place at a nearby bar after dinner.
How did you pick Granite Ridge?
Amelia knew she did not want the city-feel of Boston. "We wanted something scenic and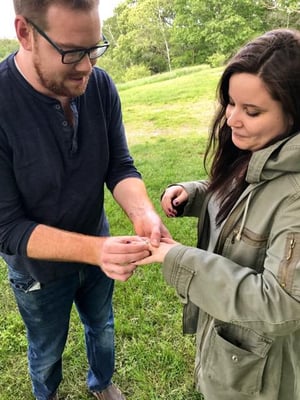 outdoors, with a mountain view." They narrowed their search to Northern New England, and after seeing the pictures on the website immediately booked a tour. Granite Ridge was the fourth, and last, venue they visited, and booked right after. Jason explained, "the 'Wow Factor' was walking in the barn. It was a space we could make our own. We loved the open feel, and natural beauty of the mountains." Amelia added, "we loved the idea of a weekend experience with 4 days and 3 nights, and everything on site. We felt really comfortable with the casual feel from the Granite Ridge family members."
Which vendors are you most looking forward to working with?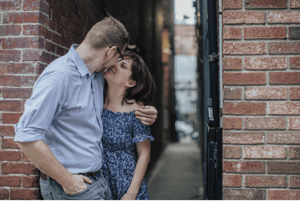 Jason began by mentioning their caterer, Fire & Co. He gravitated toward their Pizza Buffet option. "I loved their vibe, and the aesthetics of their operation. Their personalities fit us perfectly, it's just going to be a party." Amelia expressed her excitement to work with their florist, Broad Turn Farm. "I love their fresh flowers, and their overall philosophy. The pictures of their arrangements are just stunning." We can't wait to enjoy this party of a wedding with Amelia & Jason!
Check out Amelia & Jason's wonderful wedding website HERE