This wonderful couple from Boston loves to travel across the globe, but after visiting Granite Ridge, they knew the mountains of Maine would be where they said their I Do's. Here is their love story:
Tell me a little bit about yourselves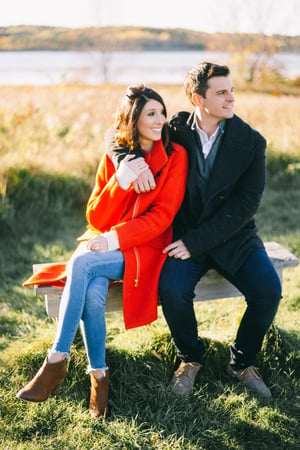 Our bride Amy grew up in Billerica, MA and spent her summers on Cape Cod. After working for Wayfair as an Art Director, she now helps run Ben's car detailing business. Our groom Ben originally hails from Rhode Island, but spent his teenage years growing up in Marshfield, MA. He was always into cars, and began his professional career working for BMW. After a stint in software sales, he started Quintessential Car Care in 2014, a thriving small business in Burlington, MA.
When our couple isn't working as entrepreneurs, they love spending time at Amy's family home on Cape Cod, and traveling the world. In addition to short fun trips around New England, they have ventured to Chicago, Hawaii, Mexico, Germany, and Switzerland in recent years. They currently reside in Woburn, MA.
How did you two meet?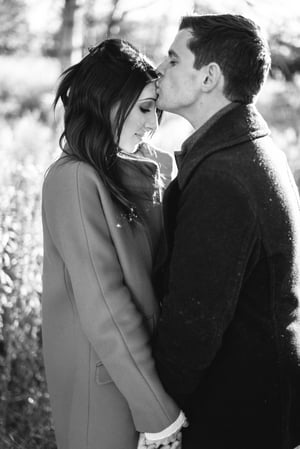 "I'll let Amy tell the story, I like her version better," began Ben. Amy had bought a new car two years ago and wanted to purchase protection film for her bumper. After asking for a recommendation on Facebook, her friend Jonathan tagged Ben to reach out to her. Two days passed of not receiving a message back (with Ben claiming not to have seen it), so Amy reached out to him. Prior to even meeting, after a little Facebook investigation, Ben texted his best friend, saying "I'm going to marry her."
Since it was a two-day job, Ben offered to drive Amy home from the shop versus paying for an Uber. Once she was inside her house, she already had a text from Ben on her phone asking if she would grab drinks with him. Two days later was their first date, a dinner at Island Creek Oyster in Burlington. Although Ben knew right away that she was the one, Amy "needed a little more time and convincing." Two weeks later, Amy was in Greece and received flowers with notes from Ben in every hotel room she stayed in. She was sold.
How did you guys get engaged?
Ben knew five months after meeting Amy, in October of 2017, that he was going to be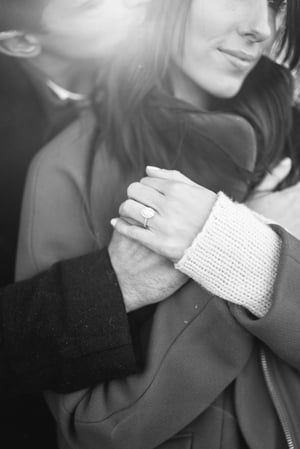 proposing to her. Soon after, they were in New York City together, and Ben picked out some diamonds and a ring when he had some time apart.
Ben's initial plan was a helicopter proposal in Arizona for an upcoming trip. However, with the ring burning a hole in his pocket, and some advice from his parents, he pivoted. During a dinner with both sets of parents at the Bancroft in Burlington, with flowers arriving on a tray, Ben got down on one knee and proposed. Amy was completely taken by surprise, and said YES!
How did you decide on Granite Ridge?
One week after the proposal, Amy and Ben were on a plane to Arizona for vacation. Amy had a list of about 30 venues, and Granite Ridge was the first one she had written down based on pictures she saw on Pinterest, and reviews she had read online. A tour was booked shortly after.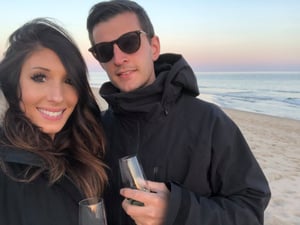 Amy remembers, "it was the day before Christmas Eve, we just drove through a three hour ice storm, and as soon as we walked in, we knew this was where we were getting married." Of special note was the views, feelings of comfort, and hospitality of Granite Ridge Mom, Micki. Ben explained that the views and the feel reminded them of the smoky mountain region in Tennessee, where they had written down their exact wedding date two years prior, early in their relationship.
Which vendors are you most excited to work with?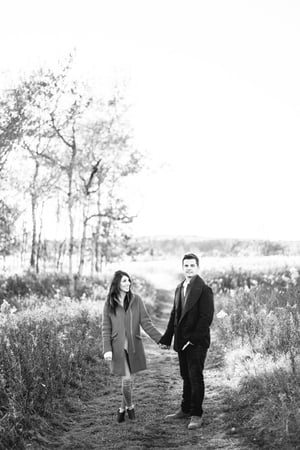 Amy began with their photographer and first vendor chosen, Jaimee Morse. She gushed, "we are obsessed with everything she does. Once we secured her for our wedding, we took a six month hiatus from booking vendors to relax." Our couple had been following Jaimee on Instagram for some time, and absolutely loved the engagement shoot that they recently had.
Of special mention was their wedding planner, Kelsey Dulac of Back Bay Bride. Kelsey and Amy have been friends for eight years, and both were bridesmaids at their friend Erica's wedding. Amy explained, "she lives only an hour from Granite Ridge and we have very similar tastes. We are focusing on neutrals, whites, and a natural ethereal look." We are so excited to celebrate Amy and Ben's beautiful wedding with them!
Check out Amy and Ben's wonderful wedding website HERE