This wonderful couple from Rhode Island fell in love with Maine on a vacation, and knew they wanted to celebrate their vows in our beautiful state. Here is their love story.
Tell me a little bit about yourselves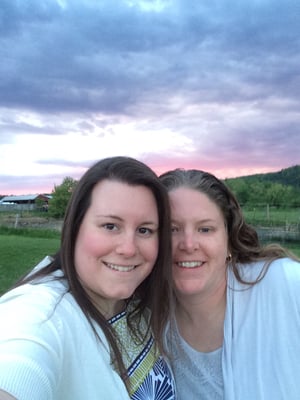 Stephanie is originally from Johnston, RI and works as a graphic design artist. In her free time, she is an avid hiker. Andrea hails from Rochester, NY and moved to RI to attain her Bachelor's degree at Johnson & Wales. She is currently an executive chef running a large restaurant group in Rhode Island. Andrea and Stephanie are foodies who love to explore new restaurants and take weekend trips all over New England. They currently live in Johnston, RI.
How did you two meet?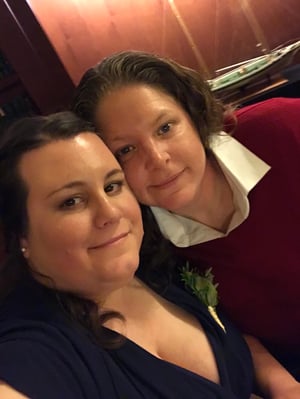 It was 2011, and Andrea was working at the restaurant Waterplace in Providence. Stephanie's good friend from high school, also named Andrea, was a bartender at Waterplace and decided to play matchmaker. What started as a friendship between Stephanie and Andrea soon became a relationship, and soon after they knew it was for keeps. Their good friend Andrea will now be coming full circle and serving as the officiant at the wedding.
Who's going to tell me the engagement story?
This question is met with playful laughter, and Andrea begins to explain. Our couple had been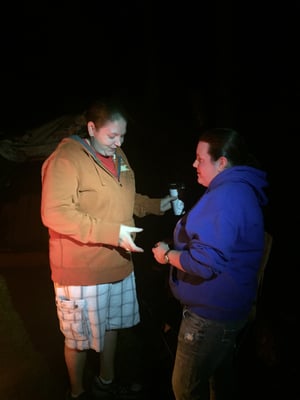 to a few weddings in Vermont four years ago, and found a B&B they particularly enjoyed, The Moose Meadow Lodge in Waterbury. Andrea knew soon after that this was the place she wanted to propose to Stephanie. One year later, in September of 2016, Andrea invited their families and close friends to the Moose Meadow for Stephanie's birthday weekend.
Unbeknownst to most attending, Andrea had a custom engagement ring made, as well as custom box with the words "will you" inscribed. That first night, by the fire pit, Andrea's brother pretended to find the box in a woodpile. Stephanie soon learned what was in this mystery box when Andrea began to propose, and both shocked and overjoyed said Yes! They celebrated the entire weekend.
How did you decide on Granite Ridge?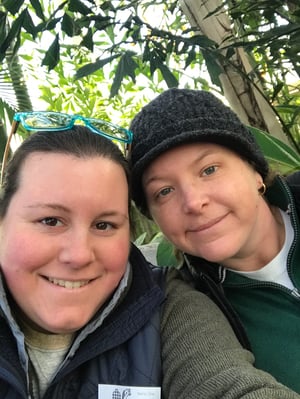 Our couple knew they wanted a rustic barn feel. They loved Portland from a previous weekend vacation, so decided to look around the area. Andrea found Granite Ridge online, and loved the pictures enough to schedule a tour. Upon arriving for the tour, Andrea explained, "The view alone was enough. We loved the huge windows of the barn and the mountain view. Being surrounded by so much natural beauty was amazing." Stephanie was in agreement and was "adamant that Granite Ridge was the first, and last venue" they visited. They made the decision that day.
What vendors are you most excited to work with?
Andrea immediately responded by mentioning their caterer, Fire & Company, which they decided upon based on numerous recommendations. She explained, "Food is a big part of our lives, so I needed to be excited about our caterer. We loved their food, and loved that we could have the meal family-style, because that's how we like to entertain at home with family and friends." Their wedding dinner will include spit fire chicken, prime rib, street tacos, oysters, and a charcuterie board.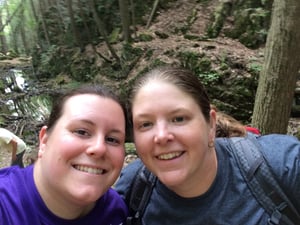 Our couple is also excited about their band, The Waiters, from Portland. They haven't seen them live yet but loved the lead singer's voice and online videos so much that they knew they wanted them for their special day. Although some specific songs have been selected, Andrea & Stephanie have given their band artistic autonomy to play what they feel would make their wedding amazing. We are also so excited for the food and music for this wonderful couple!
You can check out Andrea and Stephanie's great wedding website HERE