This couple from Boston was drawn to the beauty of Maine for their engagement, and now their wedding. Here is their love story:
Tell me a little bit about yourselves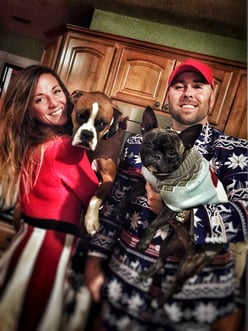 Our bride Casey grew up in South Boston, and has been in law enforcement for 8 years. Mark grew up on the South Shore, and after playing football at Holy Cross, entered the world of Finance selling employee benefits. Casey & Mark love spending their time together traveling, from the Northeast to California to Florida to Aruba. They are currently planning a honeymoon in Italy a month after their wedding at Granite Ridge. When home, they spend time taking care of their two fur babies, a French Bulldog named Fern, and a Boxer named Harley.
How did you first meet?
The setting was Tom English's Cottage, a cozy local Irish pub in South Boston. Although they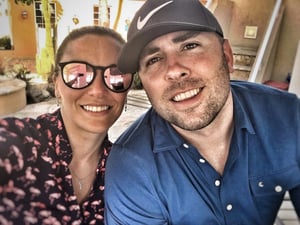 weren't set up, they had mutual friends that led them there that night. Mark bought Casey a drink, and shortly after was the first date at Loconti's in the North End. Soon after they were living together and the rest was history.
How did you get engaged?
June 9th, 2018 at a Tiny Home Glamping Ground in Epson, NH, almost a year to the date of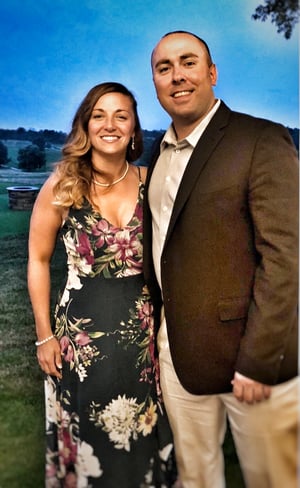 their first meeting. Unbeknownst to Casey, Mark had been working on getting a custom ring made the 2 months prior, and had already gotten permission from her father. While casually grilling and drinking some craft beers, Mark drifted over to the car to grab the ring. As he approached Casey, he shouted "I heard something in the woods, get up!" By the time Casey turned back around after jumping up in fear of wolves or Bigfoot, Mark was already down on one knee. It took her a couple minutes to say yes because she was so taken by surprise! They enjoyed the night together, and celebrated with family the next day in Boston.
How did you choose Granite Ridge?
Initially, our couple was considering a destination wedding, but when that became less desirable after investigating, they started looking locally in Boston. Still, nothing fit their vibe until Casey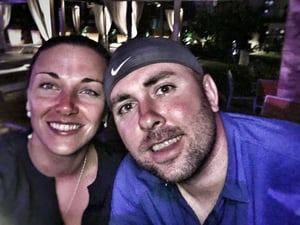 found Granite Ridge online on The Knot. "Just the pictures of the chandeliers and windows alone, wow" she exclaimed. Granite Ridge fit their goal of an outdoor extended weekend experience, where they could enjoy the aspects of a destination wedding without having to get on a plane. They booked their wedding immediately, site unseen.
What vendors are you most looking forward to working with?
Mark immediately said, "Kevin Ouellette from Good Maine. His reviews were amazing, and we
are able to get a DJ, photographer, and day of coordinator in one. He clearly takes full control of the wedding, and the dance floor." Casey agreed, and added her excitement for their caterer, The Good Food Store. "Our tasting with Heather was great, the food was absolutely amazing," exclaimed Casey. They had some preliminary thoughts about a BBQ themed meal, but after they tried their pulled pork, it was official. We will certainly be asking for a bite!
Check out Casey and Mark's great wedding website HERE!