This couple from the East Coast found each other in California, but wants to start their life as a married couple in Maine. Here is their love story:
Tell me a little about yourselves.
Blake is from Whitefield, NH, but moved to California a decade ago. His career is in the IT and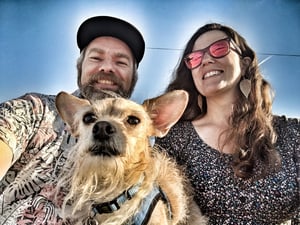 Technology Industry in Hollywood, and in his spare time plays guitar and builds amplifiers. Erin originally hails from Maryland, and works as an Accountant in the Entertainment Industry. She moved to California shortly prior to Blake, for a different culture, and "of course, the sex, drugs, and rock n' roll." When not working, Erin & Blake love to travel, and have their hands full with their fur baby, Fiddle. They share a passion for singing & playing music together, akin to the Von Trapp Family.
How did you first meet?
Our couple met through a common friend who Blake played music with. They hung out a few times during the summer of 2011 as the romance blossomed. Erin recalls their first official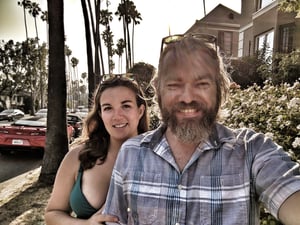 date being "in the parking lot of a Walgreens." Although Erin left for Maryland to get her MBA soon after they began dating, they kept a long distance relationship, meeting up across the country. Blake explains his attraction, "Erin is clever and smart, and has such witty jokes and well timed one-liners. She introduced me to California wines, and dogs!" Erin adds, "Blake comes across as quiet, but has great jokes and zingers. We realized early that we had the same interests and values."
How did you get engaged?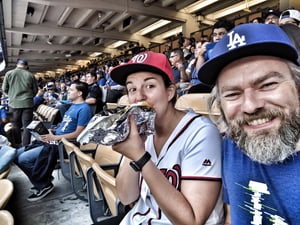 "I didn't really understand the engagement ring process," explains Blake. Erin explains the backstory. During their first year of dating, our couple often went to Malibu on weekends, where the El Pescador Bluffs and beach was their favorite spot. To commemorate these special memories, Blake proposed on the beach in Malibu two years ago on the morning of Erin's birthday...without a ring. Instead, he gave Erin a surf green Fender guitar. Erin said YES, and they celebrated their engagement dinner at Osteria Mozza. The ring was selected together soon after.
How did you choose Granite Ridge?
Sight unseen. They knew they wanted to be married in New England because of how much of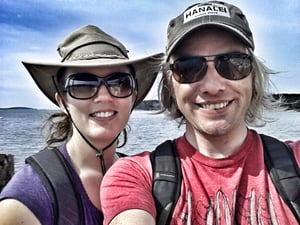 their family still lives on the East Coast. Blake explains, "We both knew we liked the barn idea. The pictures of Granite Ridge online captured our imagination, we loved the rafters with the lights. It just had the right mood, and a great tie into nature." Erin became equally in love with the idea of a Granite Ridge wedding. She cited how much they loved the ability to be married outdoors in our wooded ceremony site. In addition, the ability to have their own 200 acre mountain with their family and close friends for an entire weekend was a huge draw.
What vendors are you most looking forward to working with?
Their caterer Maine 111 was mentioned simultaneously by our couple. Blake was able to attend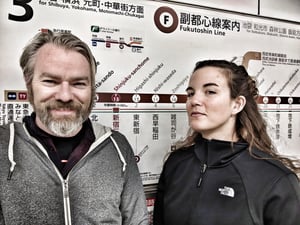 the tasting with other family members, citing how incredible the Lobster Rolls and Gyoza were, as well the ability to offer a Raw Bar to their guests. Erin added, "I've heard so much about those Lobster Rolls, my mom hasn't stopped talking about them." Maine 111 will be providing a family-style experience for the wedding, offering chicken, fish, & steak, as well as a wide assortment of vegetables. Our couple also mentioned their excitement to work with Jackie of Moonset Farm. Blake explained that in addition to be very relaxed and friendly, "they have a wild design that fits with our vision of nature and the outdoors. Their organic, rustic, and 'less cropped' feel is the perfect fit for our vibe." We are very excited to share a lobster roll with this wonderful couple after they say their I do's.
Check out Erin & Blake's great Wedding Website HERE