These college sweethearts from Massachusetts fell in love with the mountains of western Maine, and are traveling north to say their I Do's. Here is their love story:
Tell me a little bit about yourselves.
Our bride Katherine is from western Mass, and studied civil engineering at Northeastern University. She is currently a superintendent for a construction company that specializes in high rise construction. Our groom Robert hails from Somerville Mass and also attended Northeastern, studying civil engineering, business administration, and accounting. After working in residential renovation in the construction field, he is now in the Buildings and Grounds Department at his old high school. Katie and Robby currently live in their new house in Upton MA, where house projects and their cat take up the majority of their free time.
How did you guys meet?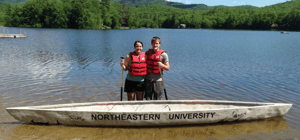 It was Freshman year at Northeastern University. They had gotten to know each other in their civil engineering club as teammates while building a concrete canoe, (which finished as an impressive 3rd place in the North American competition). Although Katie initially communicated that Robby "wasn't my type," that didn't deter him from his efforts to prove her wrong. There is some question as to the official first date. They spent one night in Boston walking for hours, getting lost in both direction and conversation, and realizing a stronger bond was forming. Then there was a hike along the Quabbin Reservoir in western Mass when they both knew they were more than friends.
Tell me about the engagement.
Well, there were actually two engagements. Katie and Robby had been dating for about five years when they decided to design the ring together at Boston Jewelry Company. Katie knew when the ring would be ready but Robby still wanted it to be a surprise. One week before the ring was ready, Robby asked for Katie's mom's blessing. He then took Katie on a walk along the path of their first date around the Quabbin Reservoir. Alongside a gorgeous rock wall, he proposed with a silicon safety ring, and Katie said Yes!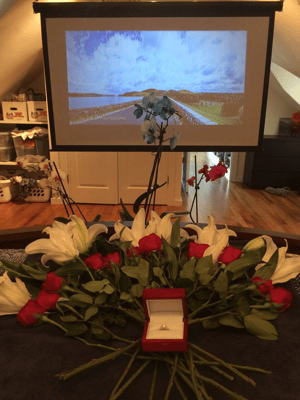 On the Friday that the real ring was supposed to be ready, Robby informed Katie of some bad news, and explained, "the ring wasn't ready on time, but I got you something else nice instead." Bummed out by the news, Katie headed upstairs with Robby, and entered a room with a powerpoint presentation, three displays of orchids on a table by the bed, and a dozen roses with a box on top. Robby opened the box, and proposed with THE ring!
How did you decide on Granite Ridge?
Our couple knew they wanted to be married in the mountains in Northern New England. Katie began the search and explained, "I'm very methodical but I just fell in love online. The videos were incredible. I had to make sure Granite Ridge was one of the last places we saw in order to force ourselves to see others." When the tour was booked, it included Robby's parents, and they knew right away this would be the location of their wedding. "We were just melting looking around. The Barn, the view, the fire pit and stairs, everything was stunning," said Katie. Two days later, they booked the venue of their dreams.
What vendors are you most excited to work with?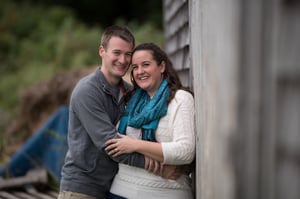 The first vendor our couple mentioned was their caterer, Heather at The Good Food Store. Katie explained, "she's so easy going and nice to work with. The food is fantastic, and the tasting was great!" Next mentioned was Kevin Ouellette from Good Maine. Robby explained the appeal of having three services in one (Photography, DJ, Day of Coordination) when working with Good Maine. "Everything is great about Kevin, especially his energy. He helped us think of things we never would have before and put us in touch with many other incredible vendors." Of special note was their florist, Carol of Pooh Corner, and Sam from Trey's Place Hair Salon. We can't wait to celebrate with this wonderful couple!