This wonderful couple from Boston is changing speeds from their high powered corporate careers to unwind on their own mountain for a Spring time wedding weekend. Here is their love story.
Tell me a little bit about yourselves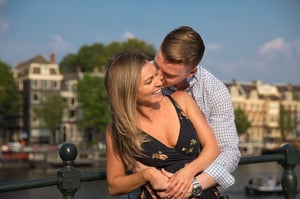 Our bride, Kayla, hails from North Attleboro Mass. After beginning her career in Texas and NYC as an investment banker and financial adviser, she followed her heart back to Boston to continue growing her trade. Our groom, Matt, grew up in Central New Jersey, and headed to Northeastern for college on a soccer scholarship. He fell in love with Boston, where he remained after college, and began his career as a corporate accountant.
How did you two meet?
Our couples' romance was sparked on Bumble, where Kayla "played the first hand." Matt's photo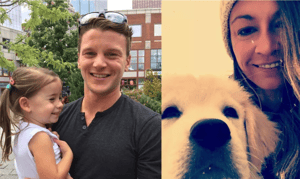 with his niece and Kayla's with her puppy were the respective others' favorite. Great conversations led to their first date at the hidden gem Moonshine 152 in South Boston January of 2017. Their first encounter and impression was minutes prior outside an Uber in the rain. Kayla recalled, "I was concerned about his perfect quaffed haircut and preppy turtleneck sweater." Matt countered with, "there wasn't time for a first impression, she just rushed into the car without saying anything." However, soon after, they got comfortable with each other once Kayla "could tell he wasn't a murderer." They hit it off from there, and 6 months later moved in together.
What do you guys like doing together?
Our couple loves hiking with their fur baby, an English Golden Retriever named Milo. Kayla & Matt enjoy traveling together, from annual trips to the Cape to California, Cabo, and Amsterdam. They also love visiting new breweries, especially those that are pet friendly. Trillium, Dorcester Brewing, Cape Cod Beer, and Hog Island Beer were mentioned as favorites. Kayla added, "our relationship works so well because I'm OCD, and Matt just goes with the flow."
How did you get engaged?
Matt immediately began by saying, "I'm taking over this story because Kayla's going to distort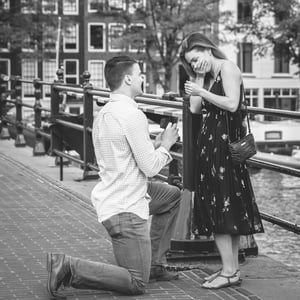 it." Our couple had been planning an extended Memorial Day weekend trip. Matt thought they would spend the long weekend away somewhere in the U.S., but then Kayla mentioned Amsterdam. Matt wanted to capture the moment so he found a photographer in Amsterdam to surprise Kayla even more. And before dinner, on top of Amsterdam's oldest bridge, appropriately deemed "The Love Bridge," Matt got down on one knee. The photos were captured, and it turned into a wonderful engagement shoot.
How did you decide on Granite Ridge?
"Because Caitlyn's a genius," Kayla quickly responded, referring to their wedding planner,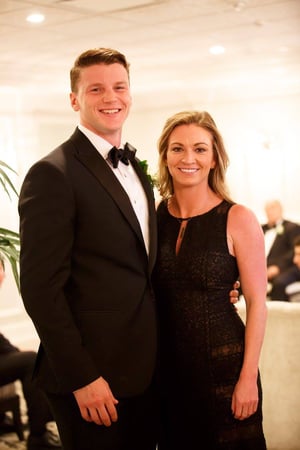 Caitlyn Ward. "We told Caitlyn we wanted a rustic barn theme within an hour of Boston." Caitlyn had never worked with Granite Ridge, but recently had a friend get married here and received rave reviews from her, as well as the rest of the wedding industry. Kayla recalls Caitlyn saying, "I know this is outside your travel range but you have to see it." Once she went online, our couple couldn't stop thinking about Granite Ridge. They immediately booked a tour, and once they entered the barn, Kayla remembers saying, "there's no way we can't get married here. We all got chills." They booked that day.
What vendors are you most looking forward to working with?
First and foremost, both Kayla and Matt gushed about their wedding planner, Caitlyn Ward of CW Events & Design. Kayla explained, "She completely listened, heard, and understood what we were saying, she saw our vision. Caitlyn's super organized, has such great experience, and gave great advice and direction." Matt mentioned his excitement for their caterer, Fire & Co. "I do all the cooking at home, so I was in charge of the food. I immediately loved their style, set-up, and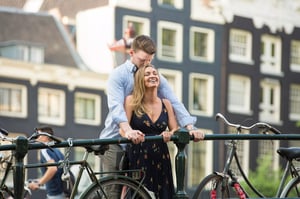 imagery from previous Granite Ridge weddings. They fit right into our 'rustic elegance' theme. Their 'bar truck' was the icing on the cake." They will be doing a combo of Steak & Spitfire Chicken, buttered Lobster Rolls, and Chicken & Waffles. Fire & Co will also be catering their rehearsal dinner the night before with tacos, appetizers, and s'mores. Kayla also mentioned their shared excitement for DJ Josh Wiseman of First Class Weddings. "He is going to be the personality of the wedding, it will be great!" We are super excited for this wedding and will be asking for a bite to eat!
Check out Kayla & Matt's great Wedding Website HERE