This wonderful couple grew up close to Granite Ridge, and will be able to view the site of their engagement from their upcoming wedding. Here is their love story:
Tell me a little bit about yourselves.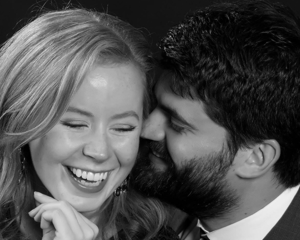 Our groom, Aric grew up in Fryeburg Maine and then moved to Portland for the next seven years. After working at Hood Dairy early on, an opportunity moved him to Massachusetts where he began a career in project management in the food manufacturing industry. Our bride, Samantha grew up in Salem, NH and had a vacation home in the NH white mountains, bordering Fryeburg. Although attending school for Fashion Design, she started her own company specializing in commercial dry wall and demolition.
Sam and Aric currently live in Windham, NH. When not spending time with their Lab/Sheppard mix, Bowie, they are indulging in their shared passion of traveling. Some of Sam & Aric's road trips have included Scotland and Italy, with their upcoming honeymoon taking them throughout New Zealand in a camper van.
How did you two meet?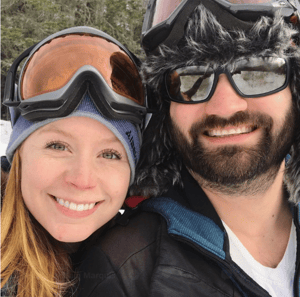 This romance began online. After her 26th birthday, Sam decided to give internet dating a chance. She had resisted for awhile given the interesting stories from online dating, and clarified "Aric's still a weirdo, but he's my kind of weirdo." She explained further that she loved Aric's sense of humor, love of travel, and proximity of where they grew up. He was the first, and last, person Samantha messaged for a date. Aric added, "I loved how honest and real Sam was. I also loved her dog." A few casual dates over beers led to picnics, and then weekend travel trips, until they soon realized this was for keeps.
Tell me about the Engagement.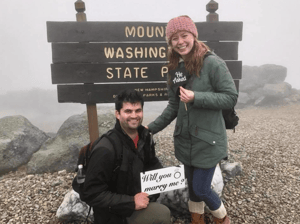 "It's a good one," began Sam. Being that two close friends had gotten engaged on that Friday, Sam was confident that there would not be a proposal that same weekend, so her guard was down. Aric decided to take her for a scenic trip up Mt. Washington on the Cog Railway. When they got to the top, the weather had turned to wind and rain. Unphased and against Sam's concern about potential damage, Aric set up a tripod with his camera to take some "casual pictures" of their adventure. Instead, a video was being taken as Aric took the "Will you marry me" sign out of his back pack. Sam said yes before Aric was able to officially ask! They celebrated with champagne at the Mt. Washington Hotel later that night.
How did you decide on Granite Ridge?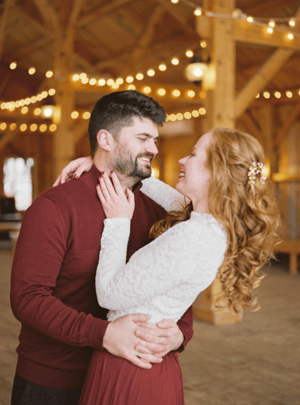 Aric explained, "we had a venue checklist that included a rustic barn with updated amenities, a firepit, no curfew, and a place that we felt was our very own space. Granite Ridge hit all of them." Samantha added, "at the start of our tour, just on the drive up the mountain, we knew this would be our venue. Being able to see Mt. Washington, where we got engaged, from the Barn was the icing on the cake." They booked their wedding at Granite Ridge that weekend.
Which vendors are you most excited to work with?
Before the question was fully asked, Aric responded enthusiastically, "Our caterer, Fire & Co. I loved them stylistically, and liked that they are based in Portland, where I lived for seven years. I've had their BBQ, and Sam has had the pizza, both were outstanding. We'll be having the pizza for our rehearsal dinner and the wood fired grill for our wedding."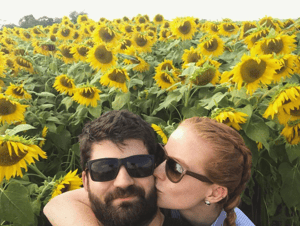 Sam spoke about how wonderful their wedding planner is, Melanie from Blissful Beginnings. Melanie was the planner for Sam's sister's wedding, which is where they were connected. Sam summarized, "she has military level organization, and is a sweetheart. She's made our wedding planning a stress-free experience." Sam also raved about their florist, Judy from Flaura Fauna. "We gave Judy our pinterest board and she nailed it. We loved the over-sized bouquets with an organic, non-manicured look." We are so excited to be hosting this wonderful wedding during peak fall foliage!
Photo credit by Amanda Berube Photography
Check out Sam and Aric's wonderful wedding website HERE