This well traveled couple, with a love of sports and the outdoors, is heading from Long Island NY to Maine to say their vows at Granite Ridge. Here is their love story.
Tell me a little bit about yourselves.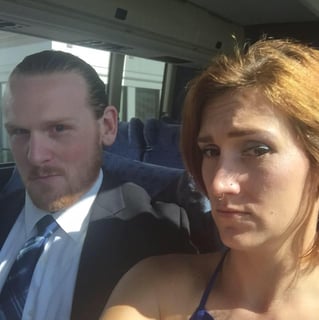 Trevor grew up in the greater Boston area, and after working in the night club industry, currently works in Federal Law Enforcement. Sami hails from Northern California, but grew up in Connecticut and Maryland before "adulting" in Massachusetts. She works for the Boston Beer Company and currently lives on Long Island with Trevor, where they are in the process of buying their first home. Our couple loves playing beach volleyball together, as well as taking fun adventures, like visiting the vineyards on the North Fork. As Trevor put it, "We love just being together. Everything is better when the other is around."
How did you guys meet?
Trevor immediately chuckled as Sami began to explain. They both had second jobs as referees, and were coincidentally reffing the same flag football charity event at Gillette Stadium. Sami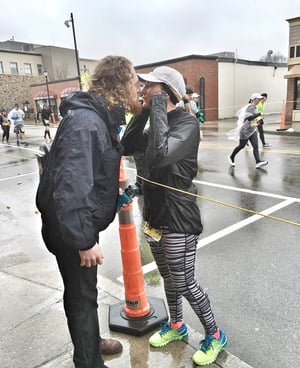 had recently injured her leg and was taping it up with KT tape in prep for running a half marathon the next day. Trevor approached and began his courtship by saying, "You know that stuff doesn't work." Sami responded with "What do you know about running you meatstick?" A social event that evening did not move their relationship forward as Sami was less than impressed with Trevor's lack of interest in drinking beer.
4 months later, our couple ended up on the same Dodgeball team in Arlington, MA. Trevor stepped up his game as a "real gentlemen," and a friendship ensued. Two months later in Quincy was their first official date. Trevor knew he had the right girl when Sami thoroughly impressed him with the speed and quantity of sushi that she could consume. Sami spent her time making fun of Trevor's "Baby Gap" clothes over beers.
Tell me about the Engagement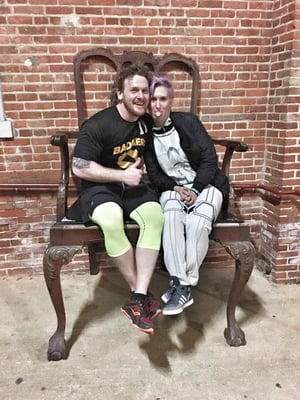 Trevor popped the question in July of 2017, but was planning for some time, and had asked Sami's father for permission the previous December. Sami & Trevor were babysitting for Sami's sister, and were playing catch with her 3 year old nephew Nate. Trevor threw the ball in the corner of the yard, and huddled with Nate, giving him the special box and saying, "Now please show this to Aunti Sami." As a fellow rookie in proposals, Nate was a little confused and after showing Sami the box, kept pulling it back. Eventually, Sami turned to Trevor and asked, "Are you proposing?" Trevor was on one knee and both answered Yes!
How did you decide on Granite Ridge?
"Well, we needed a place we could bring lobsters and beer," began Sami. She also referenced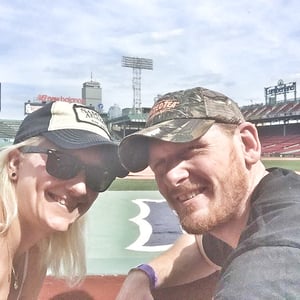 getting a great recommendation from her friend and coworker Jill. With Trevor not wanting to get married in NY, and Sami nixing the idea of a Boston wedding, they both agreed that Maine would be the spot. Upon visiting, the mountain views took their breath away. With there being only 1 wedding per week at Granite Ridge, and the ability to have the 200 private acre mountain for 4 days and 3 nights with family and friends was especially important to our couple. The family feel of the Granite Ridge Team sealed the deal.
Which vendors are you most excited to work with?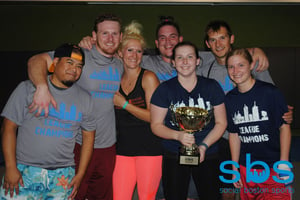 Trevor immediately responded with their caterer, The Good Food Store in Bethel. He gushed, "Everything about what Heather did for us was amazing. It was a great casual, but welcoming experience, like walking into someone's house and having a meal. And the food was phenomenal." In addition to the lobsters, there will be a great variety of appetizers like bruschetta, beef carpaccio, chorizo dates wrapped in bacon, risotto cakes, as well as a variety of vegan options.
Sami is very excited about their music, which is the band DH & The Gentlemen. Sami had played soccer with their guitarist and singer, Carl, when she first moved to Boston and they immediately became friends. She was able to see them play at her own sister's wedding as well as a friend's wedding. The vibe of the music will be classic rock. We can't wait to share an evening of Lobsters & Rock n' Roll with Sami and Trevor!
Check out Sami and Trevor's wonderful Wedding Website HERE