We are thrilled to announce that we have been featured in Brides Magazine's
February/March Issue Featuring the Top 50 Venues! Granite Ridge Estate & Barn was ranked in the Top 10 Buzziest and Hottest New Wedding Spots for 2016. The amazing venues also featured are from all across the country, ranging from barns, ranches and even an art museum. Since these other venues mentioned are SO unique and wonderful, we would be remiss if we didn't mention them as well! Our description reads:
" Granite Ridge Estate and Barn NORWAY, MAINE Take over this 128-acre private mountain for the weekend and get married al fresco in the forest or in a wooden barn over looking the country side below." www.graniteridgeestate.com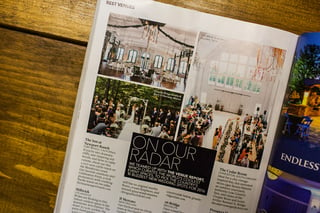 We LOVE California with the ocean the beautiful redwood trees and The Inn at Newport Ranch is located right on the Mendocino coast. Another amazing place is 26 Bridge, a former steel factory. Now it's a remastered venue that is industrial and artsy - ideal for any steampunk lovers! Keeping with the historic theme is The Cedar Room. It's an old cigar factory from the 1800's thats been repurposed into a venue that is chic and vintage.
These are just a few of the coolest up and coming wedding locations listed in the article, so you'll have to get the magazine to read more, but we are grateful to be apart of it. It is an unbelievable honor to be recognized by such a revered name in the wedding world, especially in amongst such esteemable company.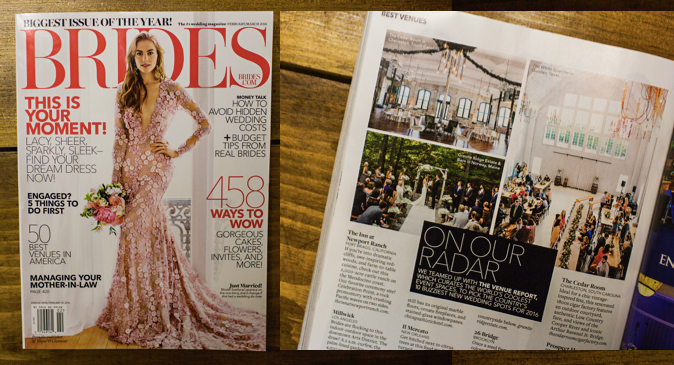 The Wedding featured in BRIDES was shot by Bella Wang Photography