Hidden within our Granite Ridge ranks is Anthony Fratianne. As part owner of Granite Ridge, you might be wondering what I mean by saying he is "hidden." Well, as it turns out, Anthony is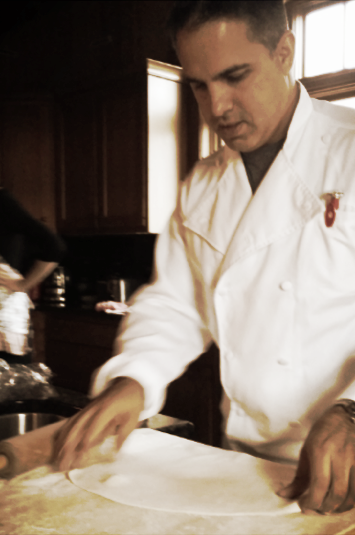 a chef. While he hasn't been classically trained by an outsider's standards, and while he
doesn't work in a restaraunt full time, Anthony has worked alongside and been taught by some of the finest Italian chefs in the country and Italy. When cooking and training in the US, Anthony has predominately worked in Vetri, the flagship restaurant of Chef Marc Vetri, a James Beard winning Italian style chef based in Philadelphia. He has traveled to Italy on countless occasions to further his cooking education. All of this backstory is simply to explain the awesome venture Anthony has embarked on, not only to showcase his cooking skills - but to give back to communities and causes he loves. This venture is known as "Anthony's Table."

Anthony's Table stemmed from the PortOpera's annual live auction gala. Anthony wanted to donate something special to the cause so he decided he wanted to donate a fine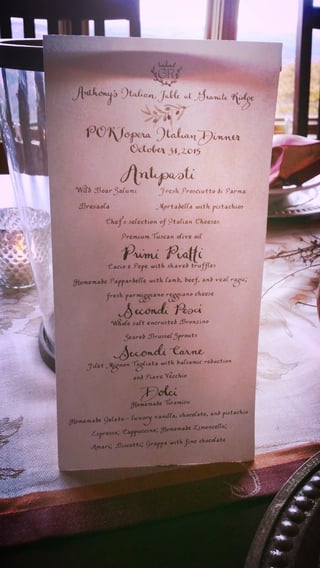 dining experience akin to many he had enjoyed in upscale restaurants around the world. He offered a series of tickets to the multi-course dinner as his auction donation - a prize that ended up fetching the highest bid of the entire night. This hugely successful charity fundraising endeavor led to a beautiful 8-course meal, which took over 20 hours to shop for and prepare, and an overnight at Granite Ridge for 6, all in the name of the Portland Opera. This meal featured homemade pasta, filet mignons, homemade limoncello, fresh white truffles imported by Urbani Truffles (featured on 60 minutes) homemade gelato, fine vintage Italian wines, an authentic Italian breakfast. The menu was hand painted by El's Cards, one of Granite Ridge's favorite vendors. (She has made beautiful cards, place settings and more for multiple brides of ours, always to their immense satisfaction.) With the unexpected success of the event, Anthony is determined to host more in the coming year, all to raise money for charity, the Portland Opera or any other worthy cause that might need a little help. Granite Ridge is hosting the next "Anthony's Table" this coming April, and couldnt be more excited about what else Anthony will think up this year.