Today's Feature Couple: Caroline and Jonathan. I recentely caught up with Caroline to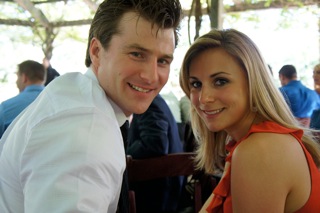 discuss the new details developing with the wedding planning process, and to learn more about their love story.
1. How did you meet?

We met through OK Cupid, an online dating site. Jonathan had been on the site for a few months and I had just joined. He had been on lots of dates but hadn't found the right fit just yet. He was my first date through the site and I knew right away that he would be my last.

2. How did Jonathan pop the question?

We had just celebrated our 3 year anniversary on December 22nd and were home in Maine for Christmas. On the morning of Christmas Eve, we went for a cross-country ski in back of my house in Bethel with my mother and my brother alongside. As we were putting on our skis outside, Jonathan made up some reason why he needed to go inside the house one more time. Come to find out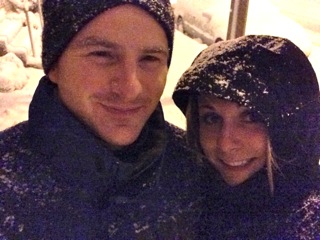 that he was asking my Dad for my hand in marriage at that very moment. My Dad gave him a huge hug and set "Go do it now!" and off he went! We skiied for about 40 minutes or so and luckily Jonathan and I were a little ways ahead of my mother and brother. All of a sudden we came to a little hill on the trail and as we were going down, he put his pole out to make me stop. I didn't understand what was going on and thought he was trying to trip me! He wasn't. Before I knew it he was down on one knee (on skis!) and had a small red box in his hand. My mother and brother were at this point stopped a ways behind and just patiently waiting for my answer. I believe I said "of course!" but it was all kind of a blur. I think I said "is this really happening" a few times too. It was amazing - a private moment between the two of us in one of our favorite spots but with family close by and ready to celebrate over the entire holiday!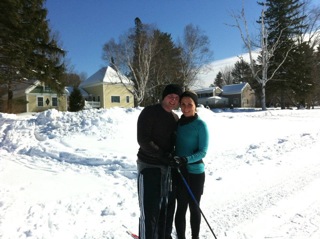 3. Have you thought about your wedding theme?

We don't have really a "theme" but I am inspired daily when I look on line at others beautiful barn weddings. I plan to incorporate whites, champagne gold, the rich blue violet of the native Maine Lupine flower, terracotta and fresh herbs. Simple Elegance but with a relaxed Maine vibe.

4. Are there any DIY components or particularly special elements?

We are planning to do most of the flowers ourselves (with the help of my very talented aunts and mother). This past June when we picked the venue I was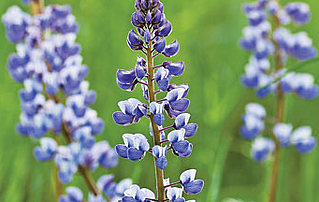 amazed by the abundance of wild Lupine here in the western mountains. I want to incorporate this beautiful flower into our flower arrangements.
5. Have you chosen a photographer? Are there any other vendors you may be excited about hiring?

We have chosen a photographer and we are very excited to be working with him. His name is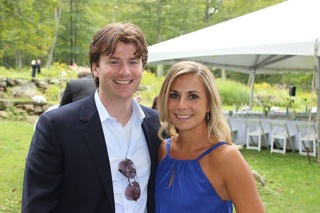 Craig Angevine, owner of Yeah Bud! Photography out of Bethel Maine. I actually have known Craig since we were children and I am thrilled to have such a talented, energetic photographer working with us on our special day.

Food is also very important to us and we are so excited to be working with Heather and Dave Nivus of The Good Food Store in Bethel. I have long been a fan of their fresh approach to "good food" and just recently discovered their amazing BBQ (which we will be serving!). Their beef brisket is not to be missed!

6. What are you most excited about having your wedding at Granite Ridge?

There are so many excited aspects to having our wedding at Granite Ridge Estate and Barn. First and foremost is the fact that we have the entire property for three days instead of just a few hours. I think it will be amazing to have Jonathan's family staying on site (with my family all close by in Bethel). The views are so breathtaking and the estate so well appointed, I think it will feel like a little vacation before the big day...as long as all our DIY projects are done by that time! I am excited to have my barn wedding without having to deal with renting porta potty's or some of the other issues that come with the older barns.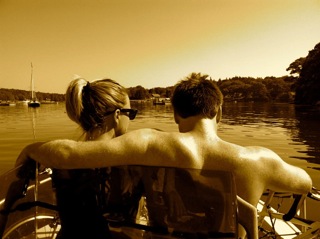 Congratulations Caroline & Jonthan! We are so happy for you both and can't wait to see you celebrate your wedding with us. Cheers!