Today's Feature Couple: Nadia and Dan. This lovestruck couple will be getting married on August 9th, 2014 at Granite Ridge Estate and Barn. They picked their wedding date at first not realizing it was the exact annivsary to the day they got engaged. Read their story, we love it.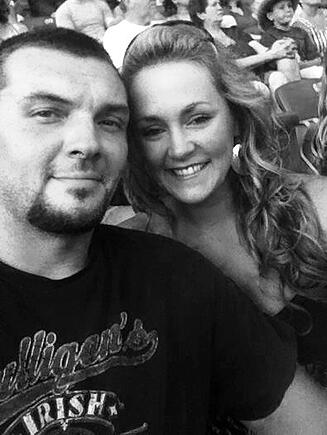 1. How did you and Dan meet?
We met in our early 20's in Orono. I was a cocktail waitress and he was a friend of a friend who came into the establishment for dinner and drinks on a busy Friday night. Just after being introduced Dan told our mutual friend that he was going to marry me. We were became great friends that first summer but then that changed, the stars aligned, and we were a couple that Fall! Our first date was a live Allman Brothers concert
2. How did Dan pop the question?
Each year we take a week long family trip to Rockwood, on Moosehead Lake, and enjoy fishing, swimming, golfing and hiking. This particular day, we hiked up Mount Kineo and at the very top of the mountain there is a fire tower that overlooks one of the most picturesque views of Maine. Dan asked me to marry him there. Coming down from the fire tower there were several couples that cheered and congratulated us. Last month, we chose August 9, 2014 to celebrate our day with Granite Ridge Estate & Barn and all of our friends and family. The date is exactly two years from the day we got engaged.
3. Are you doing any DIY projects?
We will be making own centerpieces, utilizing wood from our property to cut into rounds, with floral arrangements put together by one of my friends. My dad will also be constructing a pergola for the ceremony, which we will on the property of our future house after the wedding.
4. What are you most excited about with having your wedding at Granite Ridge?
Dan proposed on top of a mountain, and now we're saying our vows on top of one, in the most beautiful setting. It really feels like it has come full circle. The friendship with Fratianne family means a lot to us. We are excited and thrilled to enjoy our day among friends and family.